Posted on
Colby falls to Edgar by one, drops to 5-4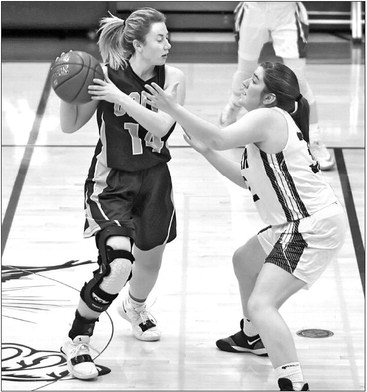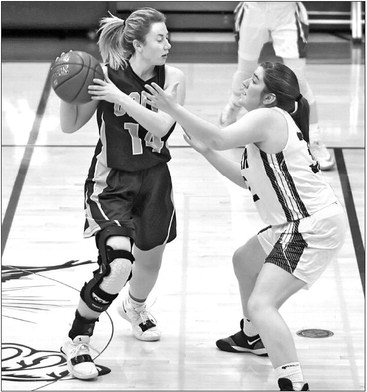 The Colby Hornets will surely be happy to leave December behind as they head into January and the start of a new year, especially after falling on the road by one point against the Edgar Wildcats on Friday night.
Colby (5-4, 4-2 ECC) held an early lead in the first half, walking into the locker room with a 31-23 advantage, but in a pattern seen in losses with Loyal, Neillsville and now against Edgar, the Hornets could not hold on to their early lead, and fell 52-51 in their non-conference meeting with their hosts from the Marawood - South.
It's Colby's third loss in four games, and many of the same problems from the three previous losses continue to plague Colby as turnovers, fouls and inconsistency on offense all combined in the second half to sink the Hornet's chance to exit 2019 with a victory.
The silver lining is that Colby had six different players score against the Wildcats, but only two, Hailey Voelker and Emma Peavey, were in double figures, and no other Hornet managed to score more than four points on Friday.
The 'Cats (6-3, 1-3 MSC) have had their own struggles this season, and after winning their first four games, suffered a three game losing streak before snapping that with a 55-43 Dec. 19 road victory over the Prentice Buccaneers.
Like Colby, Edgar also had two players in double digits on Friday, with Makenna Guden scoring a team high 24 points, and senior guard Marissa Ellenbecker adding 12 points.
Unlike Colby, Edgar had two players scored six or more points, and those small details proved to be the difference makers.
The Hornets have had multiple players turn in strong results through the first third of the season, with Lexi Krebsbach, Lexi Underwood and Olivia Vollrath all scoring nine or more points at least once through the first nine games, but a consistent third scoring option has been hard to come by, and continues to elude the Hornets.
That wasn't a big problem in the first half as Peavey and Voelker bashed, gashed and slashed their way inside for points in the paint to lead Colby to the early first half advantage with 12 and 16 points respectively.
Voelker and Peavey showcased their range, with each knocking down a triple, while using their athleticism and aggression down low to score multiple buckets and also limit Edgar's offense with their defense.
Colby's inside game was in full swing in the first half, something that was missing during their Cloverbelt clash with Neillsville the game before, and the Hornets converted 50 percent of their two point field goal attempts, going 19 of 36 from the floor.
Colby's defense, which continues to hold opponents to season lows, held Edgar to just one player in double figures in the first half, forcing Edgar to rely on Guden's hot hand to stay in the match.
Guden was the only Wildcat to score more than one field goal in the first half, but she hit a pair of triples, and her 17 points in the first half kept the 'Cats within striking distance as Edgar drew confidence from their road win over the Buccaneers the game before.
COLBY GB In the second half the 'Cats showcased a more balanced approach as Gabby Keim and Teresa Hackel got involved, with each scoring multiple times.
Colby continued to rely on Peavey, who scored ten points in the second half, and hit all four free throws. But while five Hornets scored in the final frame, only Lexi Underwood added more than one field goal as Voelker was held to one basket, and the Hornets committed eight fouls, with Krebsbach fouling out in the second half.
The 'Cats were able to get to the charity stripe 18 times to Colby's 13, but each team converted just seven free throw attempts, but in a game decided by one point, each attempt had a huge impact on the outcome.
The Wildcats would go on to out-score the Hornets 29-20 in the latter half, and escaped from Colby with a one point victory, improving to 6-3 on the season while the Hornets fell to 5-4 on the year.
Peavey continues to enjoy a breakout season in her junior year, scoring a game high 26 points. Volker picked up another double-double, scoring 14 and pulling down a team high 11 rebounds.
Vollrath also finished with double digit boards, corralling 10 rebounds to go with four points. Underwood had four points and four rebounds.
Krebsbach finished with two points and two steals. Kersten Wiese rounded things out with two steals, two assists and one point.
The Hornets will enjoy an extended break and hope to kick 2020 off with a bang and get back to winning ways on Thursday, Jan. 2, when they host the Athens Bluejays of the Marawoood - North. Tip-off is scheduled for 6:15 p.m.