Posted on
Falcons show improvement in loss to 'Cards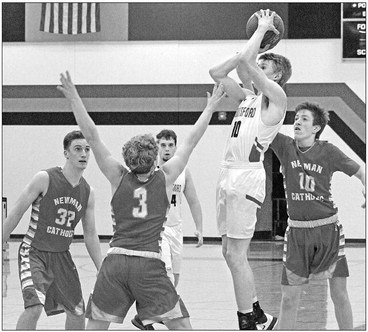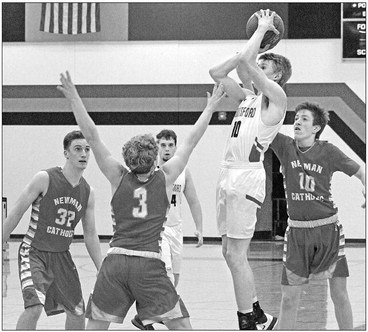 The Falcons played Prentice last week Tuesday, and then pushed the Newman Catholic Cardinals every step of the way in a battle between Marawood North and Marawood South on Friday, Dec. 20.
Prentice, 69-44
The Falcons had their hands full on Tuesday, Dec. 17, facing off against the Prentice Buccaneers (2-3; 2-3 MNC) at home in a conference match-up.
Prentice got off to an excellent start, carried by Peyton Enders game high 31 points. Trent Heikkinen pumped in another 15 points.
Abby also saw two players, Blake Draper and Cade Faber, finish in double digits Draper dropped 19 points, splashing four triples. Faber added 12 points, and added a team high four steals.
Dalton Feddick added five points, Mason Carpenter scored three points and grabbed five rebounds and Reiley Schreiber scored two points but finished with a team high seven rebounds. Trey Beran and Victor Aguilera rounded things out for the Falcons, scoring two and one point as Abby fell 69-44.
Abbotsford returned to action for another home game on Friday, Dec. 20, and went toe to toe with Newman Catholic (26; 2-3 MSC) , nearly besting the Cardinals.
Mason Prey did the heavy lifting for Newman Catholic, scoring a game high 26 points. Charlie McCarty added 15, but the Falcons did not allow another Cardinal to score more than eight points.
Each half was tightly contested, and while the Cardinals would take an early 9-3 lead, Abbotsford never truly allowed the Cardinals to go on a big run.
The Falcons tied things up at 9-9 with a 6-0 run, but the Cardinals extended their lead to 22-14 with 6:26 to play. Once again, Abbotsford came back, and with five minutes to play, took a brief lead at 23-22.
The Cardinals closed out the first half with a 26-23 advantage, but the Falcons had sent a clear message - if Newman Catholic wanted the victory, they would need to earn it.
In the second half both teams found a groove offensively. The 'Cards took an early 49-42 lead, but Abby stayed in the hunt, helped by back to back big games from Blake Draper and Cade Faber.
Draper scored a team high 20 points, and Faber picked up his fourth doubledouble, scoring 18 points and nabbing 14 rebounds. Hunter Soyk, whose sharpshooting has become a weapon for Abby, added 12 points.
Reiley Schreiber added seven points, Mason Carpenter scored five and Dalton Feddick chipped in with two points.
Even with three Falcons in double figures, Newman Catholic did just enough to remain in front, out-scoring Abby 4341 in the final frame.
The Falcons are now 1-6, but will have a chance to add to the win column this Friday when they host Colby at 7:15 p.m.