Posted on
No decision yet on cross-country co-op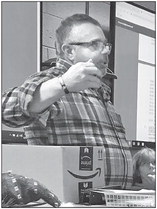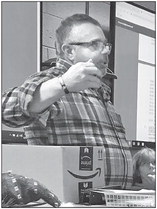 Parents weigh in on both sides
Colby school board members heard arguments both for and against dissolving the district's cross-country co-op team on Monday, but they ultimately put off the decision until they could hear from the team's coach again.
Craig Oehmichen, the father of two Colby runners on the team, presented a detailed statistical analysis of how ending the co-op with Abbotsford would make the team more competitive by dropping it down to Division 3.
Pat Mateer, the father of an Abbotsford runner on the team, implored the board to keep the co-op going so his son can continue competing in a sport he loves.
Superintendent Steve Kolden said cross-country coach Bryon Graun was unable to attend Monday's meeting and asked that the board wait until he could speak to them directly next month before voting on the issue. Graun spoke to the board when the issue came up at last month's meeting, but said he was not fully prepared to present his reasons for wanting to end the co-op arrangement.
Kolden said the district found out that Graun would be allowed to coach two different teams, but that would require Abbotsford to create a team and hire him. However, the two teams would not be al- lowed to practice together, he said.
With no Abbotsford girls currently in the program, board members floated the idea of just ending the co-op for the girls team.
"If we don't have any kids, it's not really a co-op," said board member Eric Elmhorst.
The heart of the issue comes down to the two Abbotsford boys who are currently running for the team and would no longer be able to participate if the co-op were ended.
On the flip side, if Colby were to split off from Abbotsford and establish its own team, it would drop from Division 2 to Division 3, making the runners much more competitive at regional and sectional meets.
Oehmichen broke down this argument with a comparison of Colby and Abbotsford versus Medford, which has a Division 2 cross-country team but also has about a third more students at its high school than Colby and Abby combined.
Subtracting the amount of students in each of the three school districts who play football, Oehmichen said Medford's cross-country team actually has twice the number of available students.
"If you applied this available student ratio to other sports, it would be like our Colby football team playing Wausau West," he said.
Oehmichen said divisions are important even in sports like crosscountry, where only a certain percentage of runners can achieve the top times in the 5K.
"With only the top three runners' times taken for a meet, our boys teams will be statistically unable to compete against all Division 2 teams," he said.
According to times from the 2019 season, Colby's top male runners would have beat 73 percent of the Division 3 runners who made it to state, but only 55 percent of those in Division 2. The girls would fare even better in Division 3, with their times in the 5K beating 82 percent of the top runners, compared to 61 percent of those in Division 2.
Oehmichen said Colby is putting itself at a competitive disadvantage by not having its own Division 3 cross-country team.
"I urge you temporarily suspend the Colby-Abby cross-country cooperative and allow our program and student athletes to have a successful 2020 season," he said.
Chase Oehmichen, Craig's son, said he places higher at conference meets, but then is unable to do so at larger meets with bigger schools.
Pat Mateer spoke on behalf of his son Matthew and another Abbotsford student who currently compete alongside Colby runners as part of the co-op.
"If we do away with the co-op, we're denying a chance to anyone who wants to run and be in the sport," he said. "I've never seen Matthew be so into something as he has been in cross-country."
Even though his son knows that the co-op may end before next year, Pat said he is still running and training in the offseason in case the co-op remains.
"All he talks about is how he wants to improve for next year, and this year he was the second top runner for the team," he said.
Mateer acknowledged the desire of student athletes to advance to state, but he said that should serve as an incentive to work harder to compete against larger schools.
He also pointed to the other benefi ts of participation in sports, such as better school attendance and improved academic performance.
"That's all been proven," he said.
Mateer said he could open enroll his son into the Colby School District, but under WIAA rules, he would not be able to compete on the cross-country team until his senior year because of a one-year moratorium on sports participation. He said he ran into a similar problem when his son tried to play middle school basketball in Abbotsford while attending St. Mary's Catholic School in Colby.
As a result, he said his son lost interest in playing basketball by the time he got to high school.
With only two Abbotsford runners currently on the co-op team, Mateer said the coach should be trying to recruit students right now for next season. He said he would even be willing to do that at Abbotsford's schools. Mateer said it's not fair that his son may be denied participation in a sport he loves just because he attends a smaller school. He said that's why the Abbotsford and Colby school districts need to continue working together to provide opportunities for students. "When it comes right down to it, being in the area we're in, we need each other," he said.
As the host school of the co-op, Kolden said it's ultimately up to Colby's school board whether it wants to renew the program for the next two school years.
"I believe Abbotsford looks at it as it's our co-op, so it's our decision," he said. The deadline for renewing the co-op is Feb. 1, so the board can still vote on it at its Jan. 20 meeting, when coach Braun plans to speak.
Board member Todd Schmidt said hearing again from Graun — who previously spoke in favor dissolving the co-op — is worth the wait.
"I think that's one piece of info we need to have to make a responsible decision," he said.
Other business
_ The board approved the hiring of Zulma Chafloque Diaz as an English Language Learner teacher at the elementary and Reggie Kellnhofer as a high school English teacher. The board also voted to expand the employment contract of special education clerk Jane Rowley by two hours per day.
_ The board approved an out-ofstate travel request from the Colby FFA to attend the World's Toughest Rodeo in St. Paul, Minn., on Jan. 25.
_ The board authorized president Bill Tesmer to "vote his conscience" on resolutions presented by the Wisconsin Association of School Boards at its annual conference.
_ The board approved a 2020-2021 school calender, with a few modifi cations to make it more aligned with the calendar adopted by the Abbotsford School District.
_ The board renewed the district's five-year contract with the Medford-based Rural Virtual Academy, which allows students to attend classes online and still participate in certain extra-curricular activities. About 10 Colby students are currently enrolled in RVA.
_ The board approved a new novice wage of $14 per hour ($14.50 base pay) for hourly employees who work less than 30 hours per week and don't qualify for benefits.
_ The board approved the first reading of a handbook change to define a regular workday as 7.5 hours, excluding lunch, which is in line with the number of hours district staff currently work.
_ The board approved a $918 annual wage for the advisor of the high school show band, a position currently held by Nate Larsen. Kolden said the show choir parents had previously been funding the position through donations, but it really should be a district obligation as his employer.