Posted on
New coach, new athletes share same goals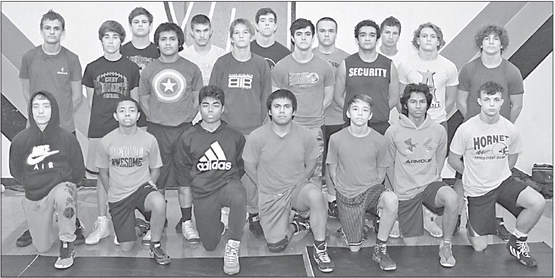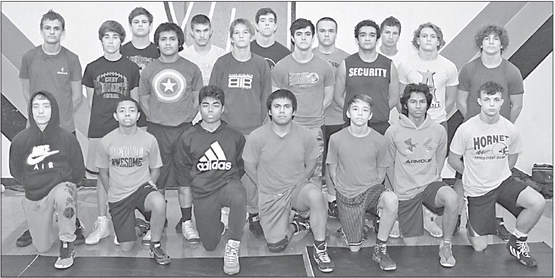 The Abbotsford/Colby wrestling co-op is ready to return to the mats, and the 2019-20 edition of the co-op brings plenty of seasoned veterans, along with a bevy of hopeful newcomers.
There will also be a new head coach guiding the team, with Steve Wozniack taking over for David Ruesch.
Wozniak brings with him years of wrestling experience, having competed in high school for Greenwood, and then at the collegiate level, where he wrestled for UW - Stevens Point.
He was an interim assistant coach at UW - Eau Claire, and an assistant coach for several years in the Eau Claire area. Most recently he's served as the middle school wrestling coach for Abby/Colby the past two seasons.
Wozniak sees potential in his team, but also knows he has his work cut out for him, with multiple new wrestlers like Gady Steinman, Angel Maganda and Devin Thums taking to the mats.
Other wrestlers, like Colby's Joe Hawthorne and Tristan Rue, are athletic, but hav never wrestled before, or event attended a wrestling practice.
"This year, it's going to be a lot of new kids," Wozniak said. "We had in our first tournament, three or four kids that have never wrestled in a tournament before. A lot of them got wings this weekend, so that was pretty exciting. I'm trying to get as many numbers and as many guys out as possible."
Wozniak will be joined by assistant coaches Mike Jakel and Tim Krause, as well as former Abby/Colby wrestlers Sage Soppa and Chance Clement, who both enjoyed success as wrestlers in the recent past.
"Sage is really good with the kids, he was a great wrestler in high school. It's nice to have someone a little younger that can relate to the guys . . . and the guys really like Sage and he's a good technician. Having Chance, having a guy just recently out of the program, still in shape and able to work out with the guys, is a huge benefit."
Wozniak will be counting on his coaching staff, as well as the co-op's returning wrestlers, to set the tone and provide the leadership needed to succeed on the mats and in practices.
The co-op lost a talented and deep senior class, with Chance Clement, Logan Ruesch, Angelo Hutman and Joe Aguilera gone to graduation, but the wrestling co-op has two Cloverbelt Conference champions and a state qualifier ready to take the team to new heights.
"We definitely lost a great group of senior guys last year, but we have River Halopka, a returning state place winner, and then Carter Grewe - who is a very good wrestler, and Mason Wellman, who was a conference champ last year," Wozniak said. "Those three have really stepped up and taken over that leadership."
Halopka made it to the WIAA state meet in Februrary, taking fourth in the 106 weight class, while Grewe and Wellman won Cloverbelt Conference titles in the 220 and 138 pound weight class.
All three will be looking to build off of last year, as will all returning veterans this season.
Among those returners are key contributors Andrew Jeske, Jose Rodriguez, Xavier Digman and Talon Severson, along with other veterans who come in with tournament experience.
Even so, Wozniak knows he has his work cut out for him, with so many fresh faces on the team, not that this is necessarily a bad thing.
"Sometimes having some new kids out, it's almost easier coaching new kids because they haven't developed those bad habits year after year and just listen to the basics," Wozniak said. "Really, we're just stressing the basics and the simple moves that work on all levels." If there is one area where Wozniak is truly excited, it's in the depth of the program, with over two dozen studentathletes out for the sport. This means not only will the co-op be able to fill every weight class, but it will provide for a better practices.
"Depth makes everyone work harder in practice because they know their spots are not safe. The more guys you have in the practice room, the better the team is going to be in meets. If you always have new guys to wrestle with, it gives you different looks. So depth and numbers are huge in the practice room."
The numbers and intense practices should pay off, with the co-op hoping to continue last year's success, which saw them finish second in the Cloverbelt Championship meet in Spencer earlier this year in February. The co-op also finished with a 4-3 record in dual meets and a tournament victory in Auburndale.
"Wrestling is a sport where almost anyone can beat anybody," Wozniak said. "The conference is getting tougher as a whole. We used to see a lot of teams with four or five open spots, and that's not the case anymore . . . and that's a good thing."
What this means is nothing is going to come easy for the wrestlers this season, but Wozniak is looking past the wins and losses and tournament wins. Like most coaches, he is stressing improvement and building a successful program.
"I stress to the guys, especially our new guys, it's not about the wins and losses, it's about improving. When you go up and you're wrestling a returning state champ, you know you're just outgunned," Wozniak said.
"So it's not the wins, it's getting better and better because then the wins will come. I really want them to develop a passion for the sport, and that it's more than just being on the mat - it's a different lifestyle."
Wozniak doesn't expect the aggressive nature of Abby/Colby's wrestlers to change - he wants to continue to see that 'hard-nosed' attitude. Above all, he wants his student-athletes to understand that wrestling is hard - it takes a strong mind and a willingness to work hard to succeed.
"Wrestling, you have to be disciplined . . . it's hard and you're the only one out there. It's all on you. If you want to be good, it's on you. Wrestling is tough but if there's a willingness to learn, understanding you have to change styles and things like that, you can be successful."