Posted on
Hornets win four straight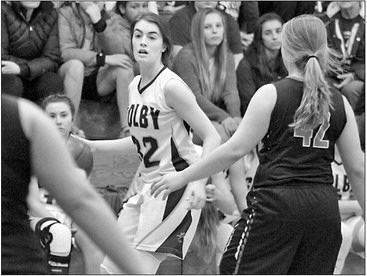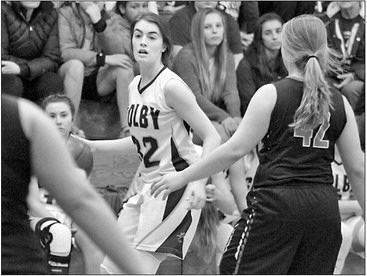 The Colby Hornets picked up a fourth straight victory on Tuesday night, taking down the Gilman Pirates on the road.
The victory joins an earlier Eastern Cloverbelt triumph from last week when Colby defeated Owen-Withee at home on Thursday. The Hornets are now a perfect 4-0 in conference play, and sit first in the Eastern Cloverbelt.
73-63
It took 19 minutes and 30 seconds for the Colby girls basketball team to gain a lead over Cloverbelt rivals Owen-Withee on Thursday, Dec. 5, but once they had it, they never gave it back.
Colby battled from 14 points down to secure a 73-63 victory at home over a scrappy Blackhawks that played lights out for the first ten minutes.
"We started out really rough, had a few girls that fouled out, so we had to have a lot of other players step up," junior guard Emma Peavey said. "They really showed up and we showed that . . . we don't need to rely on just one player."
Peavey was instrumental in the victory, scoring a game high, and new career high, 21 points. Also in double figures was Lexi Underwood with 16, Hailey Voelker with 14 and Lexi Krebsbach with 13 points.
The Hornets were out of sorts in the first half as Owen-Withee used an insideoutside game to keep Colby on its heels. The Blackhawks connected from the perimeter three times in the first half and used touches in the paint to build a 25-11 lead with 9:24 left in the first half.
Colby called a time-out, and made adjustments on defense, deciding to clog up the paint and force the Blackhawks to beat them with three point shooting.
"We talked about stopping them in the paint," Peavey said. "We tried to get them to take shots outside, and once they went outside they didn't play as well."
With the interior was taken away, Owen- Withee struggled, and Colby began to find its range on offense.
Voelker and Underwood kickstarted the Hornets' offense, with Voelker scoring 10 points and Underwood eight in the first half.
The Hornets used an 11-2 run to cut the lead to five with six minutes to play, and then used steals and fast break points to further erode the Blackhawk's lead.
Underwood scored a basket in transition with thirty seconds to play in the first half, and Colby went into the break with the lead and momentum, up 34-32.
Colby continued to put pressure on Owen-Withee, and while the Blackhawks scored several times from three, Owen-Withee could not find paydirt inside, scoring just four baskets from the paint.
The Hornets had no such problems, with Peavey using a monster second half to keep the Hornets out in front once Voelker fouled out in the second half.
Colby took a double digit lead, but with Olivia Vollrath also fouling out, the Hornets' lead slowly dwindled away, and soon it was just a three point game at 58-55.
That's when several players came up with big baskets. Junior Trista Meyer hit inside and splashed a three, Lexi Krebsbach connected from deep, and Underwood and Peavey continued to drive and attack the basket.
"Our inside game, we all drive, and we were able to get inside and score and we made our free throws," Peavey said.
Those repeated drives paid off, resulting in 30 trips to the charity stripe and Peavey cashed in, finishing with an impressive 11 for 13 from the free throw line.
The Hornets used the free throws to
COLBY GB add to their lead, and ultimately survived the challenge posed by the Blackhawks.
Meyer added five points and Kersten Wiese and Vollrath each had two points..
"We talked about confidence a lot, and we got our heads in and just went strong with the ball," Peavey said. "I think this game helps with our confidence moving forward."
53-50
The Colby Hornets overcame a second half surge from the Gilman Pirates to remain the only unbeaten team in the Eastern Cloverbelt conference, extending their conference winning streak to 20, dating back to last year.
Threes from Lexi Krebsbach and Hailey Voelker, and baskets from Olive Vollrath, gave the Hornets a 27-20 lead after the first frame.
Gilman fought back in the second half, out-scoring the Hornets 30-26, but Krebsbach came up clutch, with the senior guard sinking three triples in the half as she scored a team high 15 points.
Voelker added another bucket for 11 points and Vollrath scored twice in the final frame for nine points. Lexi Underwood and Emma Peavey scored seven apiece. Kersten Wiese and Trista Meyer scored two points apiece.