Posted on
Falcons suffer fourth loss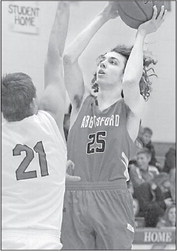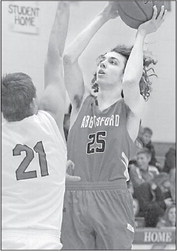 The Abbotsford Falcons dropped a pair of road games, falling to Auburndale on Friday and then suffering a defeat at the hands of the Spencer Rockets on Tuesday. The Falcons are now 0-4 on the year.
Auburndale, 81-24
The name of the game is consistency, and the Abbotsford Falcons boys basketball team are in search for it, after falling to 0-3 on the year with an 81-24 road loss to the Auburndale Apaches on Friday, Dec. 6.
"We're three games into the season and three very difficult games, but they are against three very good teams," Falcons head coach Dean Bellanti said. "We had errors, and we got to learn from the errors. If you make aggressive errors and you learn from them . . . then you're making progress."
The Falcons' schedule continues to do them no favors. Like the Athens Bluejays the week before, Abby was squaring off against a defending WIAA regional championship team. Much like the 'Jays, the Apaches return many of their best players from that team, including three of their top five scorers.
The Falcons held their own through much of the first half, even with the Apaches knocking down several early shots. A Hunter Soyk three, followed by some stout defense inside, made it a 7-3 game after nearly seven minutes.
But from there the Apaches found their rhythm, while the Falcons struggled on offense. Compounding the problem were 32 Abby turnovers, and before long, the Apaches went on a massive run that resulted in Auburndale taking a 35-8 advantage into the locker room.
"Give Auburndale credit for what they do," Bellanti said. "What they do, they do exceptionally well. At halftime, all I could say is 'It's right there. We're doing a lot of the right things, we just have to finish plays with confidence.' They were so wound up. We made things more diffi cult than they needed to be."
The hits kept coming for Abby, with the Apaches quickly extending their lead. The Falcons found a small spark on offense in the second half, with Mason Carpenter scoring several baskets, and Blake Draper and Cade Faber flushing several shots.
"I thought Cade did a pretty decent job, especially in the first half, of handling the ball . . . I really want to get Mason the ball a bit more so that he can be aggressive offensively," Beallanti said.
Bellanti praised his junior forward, and hopes to see Carpenter go after his shots more, and learn to finish through contact down low.
"He's got good length and nice touch, but he's got to learn how to finish through contact and look for his opportunities in practice," Bellanti said. "It was a positive to see him being aggressive and attacking the basket."
Abby doubled their scoring output in the second half to 16, but could not stop the Apaches, who shot over 50 percent from the floor, including nine treys.
The Apaches finished with four players in double figures, with Cooper Weinfurter scoring a game high 22 points.
Blake Draper led Abby with seven points. Carpenter added six points and Faber scored five points and pulled down 12 rebounds to go with four blocks. Soyk and senior foward Reiley Schreiber each chipped in with three points.
61-52
The Abbotsford Falcons took a short trip to Spencer to take on the Rockets of the Eastern Cloverbelt Conference in a non-conference contest on Tuesday, Dec. 10. The Falcons turned in a much better performance against Spencer, but could not notch the upset, falling 61-52.
Four players scored double digits on Tuesday. Reiley Schreiber and Blake Draper led with 12 points apeice. Cade Faber and Dalton Feddick each had 11 points. Mason Carpenter scored six points.