Posted on
Hornets ready for breakout season in 2019-'20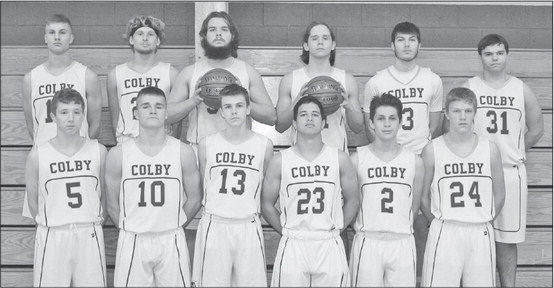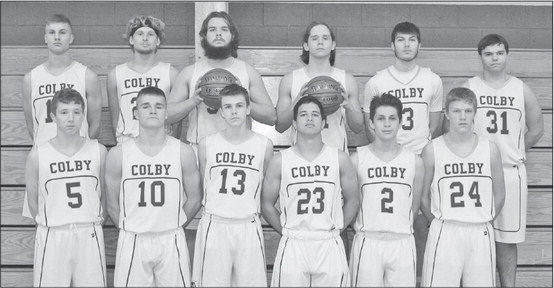 The Colby Hornets boys basketball team is ready to storm the court once more, with their 2019-20 season getting underway this week.
This year's team has size, speed, experience and plenty of new faces that will all factor into the success of this season.
The Hornets are coming off a fairly strong 2018-19 campaign, with returning head coach Jimmy Flink picking up his first playoff win last year, and he hopes to build on that success and confidence.
"I think there's a change in attitude this year," Flink said. "Last year's team toward the end of the year started to put it together and got a big playoff win, my first playoff win.
"I think that's carrying over to this year. The kids are more motivated and I think that winning culture transfers over and I think you can see that this year. It should be a pretty exciting year."
If the Hornets hope to improve on last year's record of 8-16, and 7-9 in league play.
If Colby wants to finish higher than fifth in the Eastern Cloverbelt, they'll have to do it without Matt Roth, Sawyer Stuttgen and Matt Stewart. All three players had earned Eastern Cloverbelt all-conference honors at various times in their careers.
Daniel Meza, Reece Kellnhofer and Saywer Scmutzler also joined Roth, Stewart and Stutttgen in graduating, and Flink will have his hands full in terms of creating the best possible starting five.
"We lost a lot of scoring, but we have a lot coming back, it just needs to be balanced," Flink said. "We should be able to get some easy baskets on the fast break. It might be one guy one night, and one guy another night."
It helps that Flink has a pair of seniors who started last year. Connor Jeske and Harley Schmelzer ended the season on high notes, with both players turning in strong games as the season progressed.
Flink is expecting even bigger and better things from his one-two punch this season.
"Harley and Connor are coming back and both can play in the post and do a really good job," Flink said. "I think this year Harley will play a little bit more outside and he might be one of our better outside shooters. I think those two guys will help a lot just because of their inside presence and rebounding skills."
Flink knows he can build around his returning starters, but just who and what the team will look like is still a work in progress, but already Flink sees several Hornets separating themselves.
Seniors Gavino Lopez, Roman Schmitt, Noah Robida and Isaac Karl will all either be routinely starting, or will be first options coming off the bench.
Flink will also be relying on several sophomores to step up and contribute most nights, and he already has his eyes on which ones are making an immediate impact.
"Brent Jeske is probably going to be first player coming off the bench and might possibly be a starter," Flink said. "He really grew quite a lot and he's a very good athlete and his basketball IQ is very high for a sophomore. He's another guy that's good on the drive and he can rebound. He's a sophomore, so we have to get it into his head that you have to do that on every single play."
Flink is high on Robida and Karl, and feels they can add depth to the Hornets.
"Noah Robida, he's another guy who could start some games. Isaac Karl did a really good job last year and got some minutes towards the end of the year and he can play in the post."
Looking at this year's team, Flink has already identified what he thinks will be this year's biggest strengths - and who the biggest competition will be.
Flink cites Loyal, Neillsville and Columbus as being big tests for his team, but he feels the Hornets can compete with almost anybody.
"I don't think there's any reason athletically that we can't compete with all those teams. I think last year we got a good taste of how to compete, and just continue to play. Overall, looking at this team, we have a pretty good mix of size and speed again. I think we're more ath-
COLBY PREVIEW letic than previous years, and just right on paper, I think we're going to be a lot better rebounding. We got a lot of guys who could probably get double-doubles every game. We have good rebounders and good all-around players."
Flink also knows that this year's varsity team has several important differences from last year's squad, especially when it comes to the outside shooting, and Flink says he will be relying upon drives and points in the paint to be the bulk of Colby's offense in 2019-20.
"I think compared to last year we're going to be not as good at three point shooting. I think we can still hit some shots from the outside, but I think our strength is going to be getting the ball inside to our post and also driving into the lane. I think we have a lot better guards this year that can get to the basket and I think that will help quite a bit."
Even with a relatively new team, the expectations will remain the same, with the focus on growing the program and improving basketball IQs and skills.
"What I expect and want out of all my guards is to push the ball up the floor and hang on to the ball and limit turnovers," Flink says.
"I think that's been a problem over the years for us, high turnover rates. Every time last year when we had fewer than 20 turnovers we pretty much won the game. It's a big deal, them turnovers. When you turn the ball over 24 times you're taking 24 less shots."
Flink is also hoping to see the intangibles increase along with the scoring and defense. It's the hustle and heart he feels that will determine the final outcome of the 219-20 season.
"I want to see a little more hustle. The pace that we want to play is tough and we ask a lot out of the athletes. I don't think the athletes are going to be used to it some are - but we expect them to go out hard every single play up and down the court."
"I think in the past we lost games because we got down and we sort of lost focus and lost that belief. I think this year's team is coming in with a sense that we could do some good things. I see a change in attitude and hopefully that translates to the court . . . it's going to be a fun season and I think we're all looking forward to it."