Posted on
Falcons prepped, poised for improvement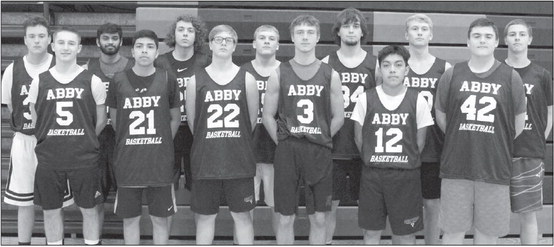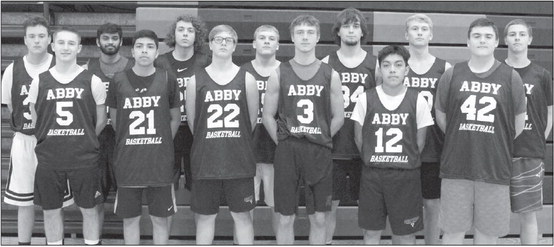 The Abbotsford Falcons grew by leaps and bounds last year, with many of this year's starting five having already played sizeable varsity minutes.
The Falcons will miss some size down low with the graduation of Ezra Kremsreiter and Franny Gamillo, along with points from starting point guard Aaron Schmeiser.
Aiding the cause of the Falcons this year is a pair of returning starters who also earned Marawood - North all conference honors in last year's honorable mention senior Blake Draper and second team all-conference junior Cade Faber.
They will be joined by 6'4" senior forward/ center Reiley Schreiber and 6'1" senior guard Dalton Feddick. Both Feddick and Schreiber were part of last year's varsity rotation.
"We've got some kids that have played some minutes for us," returning head coach Dean Bellanti said of the 2019-20 team. "Blake - he's been a varsity player since his freshman year, Reiley has seen time as a sophomore on varsity and Dalton I believe in the same regard. Then of course, Cade Faber, who is now in his third year on varsity."
For Bellanti, it's not a matter of who his starters will be, but what his bench will look like. Bellanti and his coaching staff will be hard at work this season as they attempt to bring a group of freshmen and sophomores up to speed and into the varsity ranks.
"The question at this point is how our depth is going to be in terms of how quickly can we acclimate those kids into a high school system," Bellanti said. "I've got five freshman that are on the roster right now and they'll do some time on varsity, but even still it depends on how readily we can use them and how well they adapt."
This year's squad will look to improve on last year's mark of 4-17 overall and 4-12 in conference action. The goal is to finish in the top three of the Marawood - North standings after taking fifth last season.
"People are probably wondering a little bit how good we are," Bellanti said. "Quite honestly, we have played everyone competitively and been in just about every basketball game in our conference."
Bellanti expects every team in the Marawood - North to be a test for the Falcons, citing Athens and Rib Lake as two of the teams to beat, but while the wins are important, Bellanti wants to continue to see his players improve on the court, and to see the basketball culture take that next step forward.
"We really need to have leadership when things aren't going the way we want them to, when things get dicey and keeping composure and keeping that trust with each other."
Bellanti also knows what to expect from his team and what the competition will bring. This season the Falcons are smaller, but arguably faster and more athletic.
"I don't think we have that true post player, but in the same respect we have seen that coming for a couple years and we haven't used the post traditionally," Bellanti said, breaking down his team's attributes. "We're looking for a quick attack, move the ball up the floor and I think we have those types of kids that can run the ball well."
The Falcons also bring a good mixture of versatility to the court, with players like Draper and Faber who can shoot the ball, but also players like Dalton who can attack the rim or finish inside.
"We can't be a team that settles for the outside but we can't pass up good opportunities from the perimeter," Bellanti said, describing the importance of being versatile. "We have to be a confident group. I think that part of that growth is understanding that you can get knocked down, or have a bad sequence, but you can come back from it."
With Abbotsford bringing in plenty of speed and quickness, the Falcons expect to see plenty of different defenses, from man-to-man, zones and full court press and double-teams. It's the half-court game that Bellanti says his team needs to improve upon the most.
"Teams are going to try to slow us down and make us play in the half-court
ABBY PREVIEW and that's where we are going to have to continue to grow and develop as a team because that was an area where we struggled with last year. When we got in the open court we did very well, but when those zones came in, that's where we struggled to hit the open look or break it down to get a good look."
On the defensive side of things, the Falcons will continue to run man-toman, and attempt to use their speed to force turnovers and to chase teams off the perimeter.
"If you watched us for the last few years, we stick to man-to-man, and where we decide to pick the ball up, that can vary from game to game," Bellanti said.
"We have to do a better job of recognizing where the ball is, locating it and being quick to get out to it. Really, make them do something with the ball and create a shot and just standing out there. Drive-way jump shots are going to kill us . . . we have to be able to disrupt a player's shooting rhythm."
With the Falcons employing a fastpaced and aggressive defense, the issue of depth and fouls will come into play, along with the conditioning of his freshmen and sophomores.
Thankfully, the Falcons put in a great deal of work, and many of the players are already in peak condition after a long and sustained postseason from football in the fall.
"We've had a good summer," Bellanti said. "I'm intrigued by the potential of this group . . . there are some high expectations. If this group matures, and plays up to its abilities, we could be very good."
The expectations are high, and both players and coaching staff are eager to see what this year's squad can do with their mix of veteran savvy and incoming talent. Above all, growth will be the key, says Bellanti.
"I want to see us grow and grow from a standpoint of how well we play together on the floor and when we get in difficult times how well we managed those difficult times," says Bellanti.
"If we do that, I think we'll see more wins. I think we can compete with the top half of this conference. Every night and every game is going to be a challenge and an important test."