Posted on
Clark County 4-H attends Fall Forum in Green Lake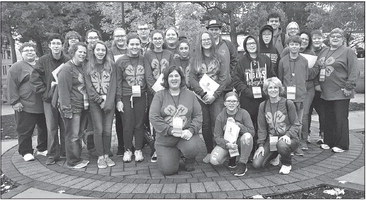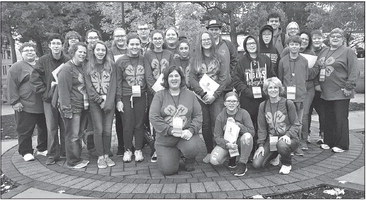 Kyle Johnson, Rayna Hamus and Ella Raatz of the Maplewood Badgers 4-H Club in Clark County recently attended the Wisconsin 4-H Fall Forum in Green Lake, Wisconsin, Nov. 1-3.
The Fall Forum was attended by over 425 youth and volunteers from across the state of Wisconsin, including 26 youth and adult volunteers from Clark County. Fall Forum is an opportunity for youth and adult leaders to attend a statewide training weekend with county and state staff. The Fall Forum is planned by a team of youth and adult volunteers from the Wisconsin 4-H Leaders Council with the support of county and state staff.
While at the conference, Clark County youth and volunteers attended various workshops on topics ranging from 4-H projects to how to budget your money to promoting your 4-H Club.
The purpose of the Fall Forum is to provide an educational opportunity for youth and adult volunteers; develop youth and adult partnerships; and create an engaging and welcoming environment to facilitate discussion between counties and regions. It also provides an opportunity for youth and adult volunteers to be involved in the planning and evaluation of statewide programs; encourages diversity of thought, perspective, interests, and people; and promotes strategies for youth and adults to reach underserved and underrepresented groups.
This year at Fall Forum, a select group of 4-H volunteers, pioneers, financial supporters, and staff who made major contributions to the 4-H movement at the local, state and national levels were inducted into the Wisconsin 4-H Hall of Fame. The induction ceremony took place during the Saturday night banquet.