Posted on
Hornets eager for Cloverbelt three-peat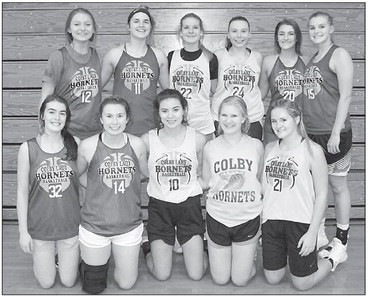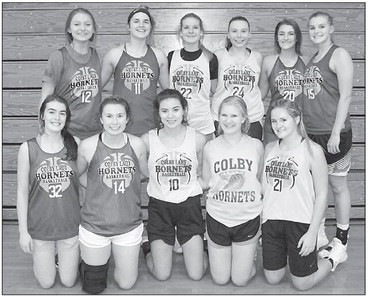 The Colby Hornets girls basketball team is coming off its greatest season in program history. Last year's squad not only won the Eastern Cloverbelt and WIAA Division 4 regional championship, but punched a first ever trip to the WIAA state tournament in Green Bay at the Resch Center.
But it's a new season, and returning head coach Randy Rau, who is back for a 15th year at the helm, knows he has his work cut out for him as he prepares a new team to defend its conference title for a possible three-peat - while keeping one eye fixed on the Resch Center.
"I think getting those girls to understand that now things are a little more on their shoulders," Rau said, outlining his biggest challenge. "They are the leaders, that they have to take the initiative to make things happen, both at practice and during the games."
Another hurdle facing Rau and the Hornets this year is discovering what line-up will yield the best results. Gone from last year are six seniors, including four starters.
Among those gone are all-conference selections Ashley Streveler, Vanessa Lopez and Alyssa Underwood, as well as key senior bench contributors Heather Lynn and Mackenzie Seeman.
Rau will be counting on three of his returning players to set the tone and provide the leadership. Chief among them is recent NCAA Division Two commit Hailey Voelker.
Voelker, an All-State recipient last year, will be vital in bringing the ball up court and scoring, but Rau cites Lexi Underwood, Lexi Krebsbach and Emma Peavey as three players to keep an eye out and to make big plays when the chips are down.
"I think Lexi, Lexi and Emma can definitely shoot the basketball," Rau said. "I am counting on them to continuously make that transformation, to be the next group because pretty soon this group of seniors is going to graduate, and who's going to step up?"
Rau will also need help from the bench, and is looking at the likes of Trista Meyer, Brooke Suckow, Olivia Vollrath and Brooklyn Filtzkowski to help out when called upon.
As of yet, Rau is still learning what roles his players will take, insofar as what position will bring out the best strengths for each player, but he expects that will come with game time experience.
"I think we just don't neccessarily know who's role is what exactly yet," Rau admitted. "You knew Ashley was going take care of the basketball and bring it up. Even myself, we're trying to figure out who and how we're going to fill that role.
"Who's going to be the fantastic passer and stuff like that? Who's going to be the one who plays gritty defense? Some of those roles have got to be worked on and figure out who is who."
Rau believes his offense is going to be a strength this year, and he has some height and shooters, but he feels that there will be some growing pains on the defensive side of things.
Last year's players, Rau says, had a very high basketball IQ, and understood the bigger picture regarding what was happening on the court, while this year's players have to see beyond just the person they are guarding.
"Understanding help defense is going to be huge moving forward," Rau explained. "The game is so fast for a lot of the girls right now that they are so concerned about their girl that they are not worried about help defense.
"Right now we understand parts of it, it's just to keep on improving. But the game will slow down as the season goes."
Even with an essentially new team on the floor, Rau and the Hornets feel that they can compete night and night out in the Eastern Cloverbelt. They know that Neillsville, Gilman, Loyal and Marshfi eld Columbus will likely be tough, but Rau hopes that Colby will the be toughest team their rivals play all year.
"I don't see why we're not within the top three teams in the conference," Rau said about Colby's chances to earn a third straight conference title. "I don't see why we can't compete and battle and we'll see where the chips fall. All we can do is worry about one game at a time."
For now, the thought of titles are a million miles away for Colby. The name of the game is improvement, and Rau hopes the Hornets are playing their best basketball at the end of the season.
"Am I expecting a little rough go in the beginning? Yeah, but I hope as the weeks get done I hope we improve on the other night and I hope on Tuesday we improve some more and that's all we can keep on doing."