Posted on
Zion Lutheran honors daycare workers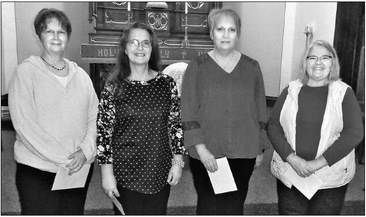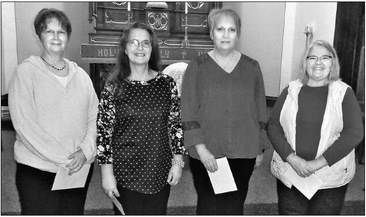 On Nov. 10, the congregation of Zion Evangelical Lutheran Church of Colby celebrated the years of service provided by the dedicated employees of Zion Lutheran Early Childhood Center.
The daycare offers a clean, safe and Christian nurturing environment for children, ages 6 weeks to 12 years of age. The state-licensed childcare facility offers services to the community, Monday thru Friday, from 6:15 a.m. to 5:30 p.m.
The preschool provides a discovery type learning environment in an atmosphere of Christian love to pre-kindergarten children ages 3-5. The program is equipped to help each child become aware of his or her world, stir their curiosity to learn, and help them acknowledge the presence of Jesus in their life.
The Zion Lutheran Early Childhood Center is licensed for 65 children. The caring staff teaches and helps these children grow and learn about God's amazing world.
The employee roster includes kitchen manager Colleen Graham, Sarah Halsell, Lindsey Zimmer, Brooke Jeske, Katie Scheel and Morgan Geiger. Administrative assistant Tina Raasch helps out tremendously, including subbing in classrooms when needed.
Four employees were recognized for milestones in their dedication to serving the needs of children and their families.
Lynn Kanneberg, 18 years of service. Kanneberg is the center director/administrator and teacher in the infant room (six weeks to one-year old). She also fills in and gives breaks in other rooms as needed Karyn Brecht, 15 years of service. Brecht is a daycare teacher who floats between the Butterfly, SonShine and Rainbow rooms, taking care of one to three-year olds.
Karen Boss, 20 years of service. Boss is the church secretary, who also does the daycare billing and serves at times as a daycare teacher. She is the daycare morning opener, working with a mixed age group; she also gives breaks and fills in wherever she is needed.
Pamm Yessa, 20 years of service. Yessa is the preschool teacher for 3 and 4-year olds. She also works in daycare with children of various ages.
The honorees were presented with a gift of appreciation and joined Zion members at a reception following the 8 a.m. worship service.
For more information about the Zion Lutheran Early Childhood Center, call 715-223-2166.