Posted on
Voelker to play ball for Lake Superior State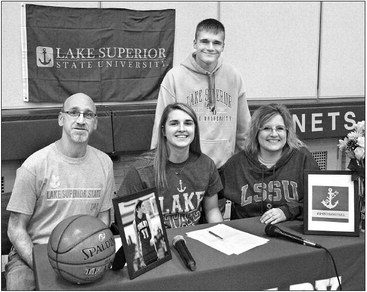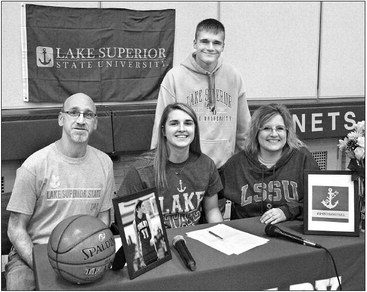 Hailey Voelker, a senior and standout basketball player for the Colby Hornets, has had her share of firsts over the years while donning #11 and the green and gold of the Hornets.
As a sophomore, Voelker was part of a team that earned Colby's first ever Eastern Cloverbelt Conference title. As a junior, Voelker was instrumental in guiding the Hornets to a 25-1 record and their first ever trip to the state tournament in Green Bay earlier this year.
Along the way, Voelker picked up First Team All-Conference honors and Honorable Mention All-State during the 201819 season, all while putting up a stacked stat sheet that included 12.2 ppg., 6.2 rpg., 3 spg. and 2.5 apg.
Last week, Voelker added another first to her already sterling resume when she signed a national letter of intent on Wednesday, Nov. 13. Voelker happily announced her plans to continue her basketball career at Lake Superior State University in Sault Ste. Marie, Mich.
With that act, Voelker will become the first Hornet to play basketball at the NCAA D-2 level. It's a transition she's more than ready for, said Colby Hornets head girls basketball coach Randy Rau.
"I would like to congratulate Hailey on what she's about to accomplish," Rau began. "Very few from Colby, very few, have ever had this privilege. . . there's nobody that probably loves the game of basketball more than she does."
Surrounded by her friends, family and members of the media, Voelker read from a prepared statement as she put pen to paper, thanking Rau, as well as her AAU basketball coach Kris Becker, and Colby/Abbotsford head cross-country coach Bryon Graun for their guidance and help in preparing her for this day.
"I am excited to continue my education and basketball career at Lake Superior State University," Voelker said. "I would like to thank many people, but first and foremost, I would like to thank God for this gift, my family and teammates for all the sports I have played. Being a studentathlete has taught me a lot of different life lessons, and I will take them with me to college."
The choice was not an easy one as Voelker had multiple options to play at the next level. Over the summer, Voelker drew interest from D-3 programs like UW - Stevens Point, and also held an offer from NCAA D-2 UW-Parkside. Voelker also turned in big performances over the summer on her local AAU basketball team, the Wisconsin Playmakers.
That time spent on the AAU circuit, along with coach Becker beating the drum for her, led to greater recognition.
"I had a great coach, Kris Becker, and he was very supportive of me. He really threw my name out there during the recruiting process." Ultimately, it was the connection she felt to the campus and the people who would be her future teammates that infl uenced her decision the most.
"I think I had a feeling, and I think that night I sent my mom a message saying 'I love it here' and I think just the campus size is awesome, and the city it's in is very beautiful."
With her choice to play basketball firmly made, Voelker can now focus on the upcoming basketball season, her last in a Colby uniform. She admits she still has some work to do, and with one more year left at Colby, Voelker says this season will allow her to become a more wellrounded basketball player.
"Obviously our team is excited to come off a state tournament run, but we still have a lot of work," Voelker says. "I think just more of becoming a better player, my ball-handling and more finding myself as a basketball player."
Voelker also had a message for any player who wants to follow in her footsteps - put the work in, but enjoy the ride.
"Just have fun with it. You only get four years at Colby and it's been amazing playing my four years of sports. I am excited, wearing #11 for green and gold has been fun, but I am excited for my new journey."
With her mind firmly made up, Voelker could only smile at the prospect of joining the Laker family in Michigan's Upper Peninsula.
"It's really exciting," Voelker said, describing what it means to be the first Hornet to play at the D-2 level. "It's been a long, difficult process, and to finally be over with it and have a good feeling about where I am going is a really good feeling."
Although she looks forward to playing for head coach Brandon Lokken, Voelker says she will never forget her days playing for Colby - and she hopes she won't be the last Hornet to play on the biggest of stages.
"It's a great atmosphere at Colby to play in front of all these people who support you," Voelker said. "I think it's given me the self-confidence to play at the next level. I hope to inspire younger girls and keep them in the loop for sports and hopefully have them achieve their athletic goals."