Posted on
Former Hornets hoop it up at the next level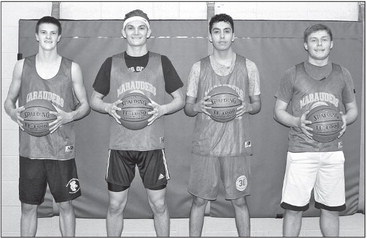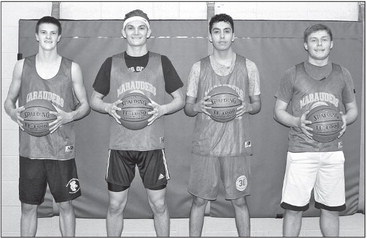 When it comes to organized sports, most high school students hang up their jerseys, put away their cleats and retire their gloves and bats shortly after they walk across the graduation stage.
But for three former Colby Hornets Matt Roth, Sawyer Stuttgen and Daniel Meza-Limen - they are experiencing the thrill of being college athletes.
The trio is currently playing basketball in the Wisconsin Collegiate Conference at UW - Stevens Point at Marshfield this year, with all three Class of 2019 graduates in their first year at the two year junior college.
After lighting up the scoreboards at Colby High during their prep careers, they are taking what they learned while playing for the Hornets and applying it to a Marauder's squad that has set its eyes on a conference and state title.
"We got a really good team this year, and I think we can make a run," Roth says during a break in practice.
In order for that to happen, there's going to be a pretty steep learning curve for the former Hornets, with the college game using a shot clock - and all three seeing more speed and explosiveness.
"It's a quicker game, so you have to get used to the speed, and you also have to pick up new plays and learn quickly," Meza-Limen said.
With pretty much every player standing over six feet tall, the game is much more physical and imposing.
And lest you think the junior college level is easy, the quality of the game is a cut above from high school, featuring many players who were All-Conference honorees, and the best players coming out of their schools in recent years.
That was the case for the likes of Stuttgen and Roth, who picked up All-Conference accolades while playing in the Cloverbelt Conference. It also helps that they've played together for several years, giving them an advantage when it comes to getting to grips with team chemistry.
"It definitely helps having other guys from Colby here," Roth says. "We got a little bit of chemistry between us three since we've played with each other for a long time and we kinda know what we all look for on the court."
The time spent in the Cloverbelt helped make the adjustment easier, says Meza- Limen, with many Cloverbelt teams making deep runs in the playoffs, like Columbus Catholic, who made it all the way to the state title game this March.
And that's a good thing, says Stuttgen, who believes the two year school is the perfect platform for displaying local talent - and making four year universities stand up and take notice.
"I think coming here and playing here just shows the talent around here. A lot of times that talent doesn't get recognized and we like to show how good the players are and how good the coaching is in this area."
It's early on in the season, but a team that went 6-10 in 2018-19, and finished fourth in the Wisconsin Collegiate Conference - West standings, is showing dramatic signs of improvement, including a decisive 98-60 victory over UW - Richland on Saturday, Nov. 16.
That victory came courtesy of some clutch shooting from the Colby boys, with Roth dropping a game high 19 points on eight of nine from the floor, including three triples. Stuttgen had nine points and Meza-Limen added three.
Last year's WCC - West Coach of the Year Jared Ystad is hoping to see even more from the former Hornets, and says each one brings different skill sets to the team.
"Each one brings something to the team and we're expecting big things from them," says Ystad. "With Matt Roth, the kid's a great shooter, it's just a matter of getting him to shoot right now and getting that confidence in.
"Then we have Dan Meza-Limen, great shooter, he's working his way up to get some minutes and getting that trust down and him up to college speed. With Sawyer, he's a good attacker and he can also hit from outside the paint."
Already Ystad can see his players picking up the game and adjusting to the speed and growing more comfortable with their shots. He praised Roth and Stuttgen for making big strides in a short amount of time.
"Matt is a great ball-player - he's so quick with the ball and he's smart and he's unselfish," Ystad said, breaking down each player's strengths.
"With Sawyer, he can get to the rim. He's only 5'11" but he can attack. Dan is an outside shooter, and when he shoots, the ball goes in and it's a smooth looking shot. The speed of the game takes adjusting to . . . but they're getting there."
The three also come in with a bit of chip on their shoulder, and are eager to prove that just because you were a small town talent does not mean you can't have a big stage presence.
"It's a great place to play at when it comes to the next level, especially for kids that are coming from smaller high schools," Stuttgen says. "You get the college experience, get to go against college players and the game is high level. It's a great experience."
For now, it's all about learning the game, gelling with new teammates and taking in the experience of playing college basketball, something that for Roth and Stuttgen and Meza-Limen was a goal years in the making.
"It feels pretty good to say I'm playing college ball," Roth says. "I've worked really hard for it over the last four years. "To finally be here and getting a chance to play college basketball, it's just a dream come true.