Posted on
Colby may discontinue co-op team with Abby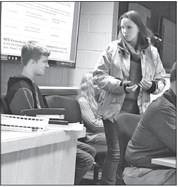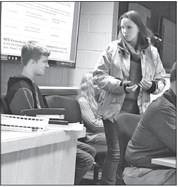 Runners ask school school board to keep cross-country intact
A pair of cross-country runners from Abbotsford came before the Colby school board Monday, asking board members not to discontinue a co-op team that allows them to compete alongside students in their neighboring district.
Ryan Nelson and Matthew Mateer, along with their mothers, spoke against a proposal by cross-country coach Bryon Graun, who would like Colby to have its own team so the runners can be more competitive at a lower division.
Right now, the Colby-Abby cross-country team competes in Division 2 because the two districts' enrollment numbers are counted together. If the co-op were ended, Colby's team would be in D-3.
If the team had been in D-3 this year, Graun said it's more than likely that at least three runners, or possibly the entire team, could have qualified for state.
Graun said competing at the state level opens up opportunities for student athletes they would not otherwise have.
"Whenever I've had a kid go to state, the next week I get 10 emails from college coaches asking about my kids," he said. "This year, we had nobody go to state, I got one email from a coach asking about a kid."
Still, the two runners and their parents urged the board to look beyond competitive advantage and see how much the team means to them.
Margaret Mateer said participating in cross-country has been really beneficial for her son.
"I've never seen him so motivated for doing something as I have when I see him getting ready for a cross-country meet," she said. "I'd really like to see it continued, because I don't think he feels the same way about some of the other sports offered to him right now."
Matthew Mateer confirmed what his mom said when speaking to the board.
"I love cross-country and I don't want to do anything else with any other team under any other coach," he said.
Amber Nelson said her son was initially hesitant to get involved in any extracurricular activities after their family moved to Abbotsford from Prentice, but cross-country changed that.
"To take that away so they can't participate, I know for Ryan would be very, very detrimental," she said. "There may other kids who want to sign up next year as well."
Ryan Nelson asked the board not to deny him and other Abby students the chance to run cross-country.
"I don't think it's all just about the sport," he said. "It's about the friends and the good memories and just having fun — not just stats and how many people are running in a race."
Graun said he feels "really bad" for Nelson and Mateer, but he's trying to do what's best for the entire team.
"I know it would affect these two negatively," he said. "I have 20 other kids on the team that it would affect very positively."
Abbotsford's participation in the co-op has been waning in recent times.
Nelson and Mateer were the only two Abbotsford runners on the team this year, and just one female student from Abby has been on the team in the past four years. It was also noted that no Abbotsford students have participated in the middle school team in several years.
Graun said it's been difficult for him to recruit students from Abbotsford because of how popular football and volleyball are in that district.
When it came time to vote on the issue, though, it was clear that the two runners' statements had made an impact.
Board member Eric Elmhorst, who is also a teacher in Abbotsford, said he'd have a difficult time voting to dissolve the co-op after listening to Mateer and Nelson speak.
"It's not about going to state when you listen to what they're saying," he said.
Elmhorst wondered if the two runners could still participate as Abbotsford "representatives" on the Colby team even if the co-op were discontinued.
Graun said this would basically create a situation with one coach for two teams, which would have to be approved by the Wisconsin Interscholastic Athletic Association (WIAA). This idea raised all sorts of logistical questions and hypotheticals involving the possibility of the girls and boys teams being in separate divisions.
Board member Todd Schmidt said he thinks Elmhorst's scenario would ultimately be "too complicated."
As a longtime supporter of cooperation between the two districts, Schmidt said he would be "hard-pressed" to vote for getting rid of the co-op.
If the co-op were dissolved, superintendent Steve Kolden said Abbotsford's school board would have to vote to create its own cross-country team. He cast doubt on whether Abby students would be able to compete alongside Colby students in that scenario.
"My sense would be the WIAA would say no because you're defeating the purpose of a co-op," he said. "In essence, it remains a co-op; you're just moving both schools into a different division."
The district has until Feb. 1 to decide whether it wants to renew the co-op for the next two school years, so board members decided to table the topic and revisit it in December.
Board president Bill Tesmer said he's personally inclined to keep the co-op intact for the sake of students like Nelson and Mateer.
"We're here to create opportunities," he said. "I would really find it hard to vote down a co-op."
Summer school dates changed
In an effort to prevent "summer slide" among students who may not retain knowledge over a long break, the board voted to reschedule next year's summer school from June to July.
The option approved by the board will have 2020 summer school classes run from July 13-16, 20-23 and 27-30. Under the "traditional" option, summer school classes would have been offered from June 15-18, 22-25 and 29 to July 2.
Board member Cheryl Ploeckelman said moving summer school into July will help prevent students from falling behind, especially those who struggle to keep up with their classmates during the school year.
"Studies show that the gap continues," she said. "As each year goes by, that gap widens."
Kolden said he expects to lose some students and teachers who won't want to participate in July summer school classes, but he thinks the enrollment will rebound over time.
"I guess you really don't know until you do it," he said.
Elmhorst, however, questioned the "summer slide" concept and said he would prefer to get feedback from parents and students before switching summer school to July.
For students who are still learning English, Kolden said shorter gaps between language instruction should be particularly helpful.
Ultimately, the board voted unanimously to make the switch.
In a related matter, the board members took no action on approving a 2020-2021 calendar, giving them more time to find out what changes the Abbotsford School District is planning for its calendar.
New board member appointed
The board appointed David Decker to fill a vacancy left by the resignation of Jennifer Lopez earlier this year. Decker will serve out the remainder of Lopez's three-year term, which expires in April 2022.
Decker was the only one to apply for the empty seat.
In a related matter, the board voted to change its policy on filing board vacancies to make it clear that whoever is appointed will serve out the remainder of the term instead of the next election.
Other business
_ The board accepted the resignation of Kathleen Cook as assistant middle school swimming coach.