Posted on
Abby FFA sends four members to Indianapolis for convention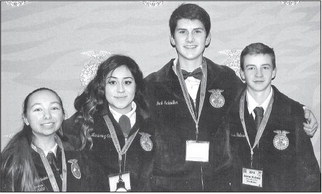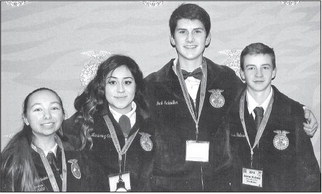 Four members of the Abbotsford FFA chapter and their advisor attended the 92nd annual National FFA Convention, which was held in Indianapolis at the Indiana Convention Center, Oct. 30 through Nov. 2.
The members from Abbotsford included Jesse Kulsea, Melissa Mulderink, Maricruz Ochoa, Jack Schindler and FFA advisor John Slipek.
The group travelled to the convention with Krug Tours from Medford, along with students from Athens, Gilman, Medford and Mosinee.
The convention included nine general sessions, many award ceremonies, presentation of American Farmer degrees, FFA contest results, motivational speakers, a professional rodeo, student and advisor workshops, a large career and business expo, musical selections by the National Band and Chorus, FFA talent competition, a large FFA shopping mall, FFA sponsor recognition, FFA alumni meetings, tours of the Indianapolis area, proficiency awards and career development events.
Highlights of the conference included an opening night performance by Old Dominion, a very popular musical group.
Bob Goff, a well-known author from the New York Times, was the keynote speaker at the first general session.
Culver's restaurant served over 40,000 scoops of ice cream to FFA members at the career show.
Over 70,000 FFA members, advisors, and guests from across the United States attended the four-day conference.
It was announced that the national FFA president for 2019-2020 will be Kolesen McCoy from the state of Ohio. Six national FFA officers from the across the United States are elected to represent the over 700,000 FFA members throughout the country.
The 2020 National Convention will take place Oct. 28-31 in Indianapolis.