Posted on
The next two days were ….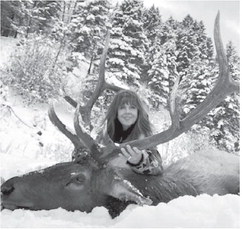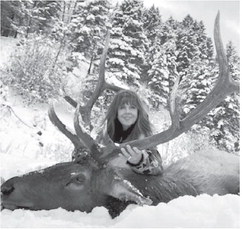 The next two days were spent searching for more trophies, but the hunters came up empty. Conditions continued to worsen, with now over 2 feet of snow, and more forecasted, as well as 30-40 mph winds.
Out alone, Carol saw no sign of elk, but she did see a lot of mule deer tracks, which eventually led to a "muley" buck over 400 yards below her.
She took a shot, but missed, reloaded and shot again. The buck jumped and started walking away.
Better luck the next day.
The day before Halloween, the ATVs couldn't get through the snow, so, with Dave leading the way, the hunters started the hike up to where Carol had encountered the muley. He was there, alright, bedded down about 200 yards above them. A tree was 10 yards from them that Dave thought Carol should use as a rest. She got positioned, but could only see the neck up on the buck.
"I looked at Dave with [an] unspoken question, 'Are you sure this is OK?'" said Carol. "A nod and I was on my own."
This time, one shot brought down her trophy. Meanwhile, the Sime team shot and connected on a mule deer buck, as well.
"Thank goodness for Sam's Honda side-by-side," said Carol.
Halloween came with Trick-or-Treats for sure. The trick turned out to be the weather and the treat was Dave's elk. The husband/wife team headed to the area where Carol shot the muley before, where Dave spotted a bull walking in a meadow.
This one, Dave decided to keep, as future conditions may have prevented him from harvesting that trip. With the wind blowing the worst it had that trip, Dave took a few non-lethal shots so the elk had sky-lined himself.
The bull was within 500 yards, then Dave sealed the deal with his .338 Ultra & Barnes bullet.
"The hike up to him took a lot of effort," said Carol. "Dave took one step that landed him in waist deep snow. Once in the upper elevation where the elk was, the wind had blown the snow off and made it much easier to climb."
Steve and Chad brought a plastic sled up, and helped the Hakes get the elk down.
"This beautiful bull will be in the family forever," said Carol.
Back at camp, the men chained up trucks to get Sam out to town to leave for home, but they didn't get far. The hunters were snowed in and it wasn't looking good. Drifts were 3 feet or deeper in places, and they had received word from a landowner evacuating their camp, that more snow was on its way within the next few hours.
"Dave said start packing, we have got to leave now and we have one shot at this," said Carol.
After picking up a hunter who was hiking out (who had helped someone bring horses in to rescue a 75-yearold man stranded back in the high country), the Wisconsin group forged their way back to civilization.
"There were areas where the trail was impassable, and took excellent driving skills by Dave and Steve to navigate the trucks off the trail, and into areas that were sketchy at best," said Carol, "praying we would miss rocks buried under the snow that would be sure to slice open the chained off road tires."
Finally, the group made it to the main road that night and closed the gate behind them on "Camp Elkatraz."
"What a day," said Carol. "What an adventure."
Although their hunt was cut short, the Hakes aren't complaining.
"We all took the good with the bad and understood that's hunting," said Carol. "We counted our blessings, that at our age, we are still able to accomplish what we just did."
Carol said hunting is unlike fishing, as those who hunt, can't be successful and then release their harvest.
"With that being said, each trophy will be honored," said Carol. "As they hang on the wall, they will be a cherished, memorable story and remain a chapter in the husband heritage story book, that will be told for generations to come."
SUBMITTED PHOTO