Posted on
The end of an era for Cliff's Service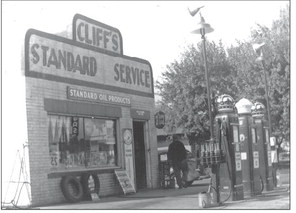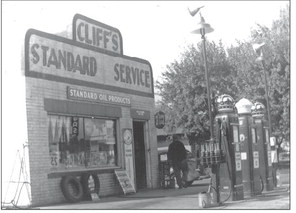 Station removes its tank after a century of pumping gas
By Ross Pattermann
For the first time in a century, Cliff's Service in Abbotsford is no longer serving gas. The garage is still open for automobile repairs, but the conspicuous absence of pumps in front of the shop on Business 29 marks the end of an era.
The gas tank were originally placed in the ground on Oct. 31, 1939, and was removed that same day 80 years later.
"My grandpa bought it on Halloween of 1939," former owner Bruce Klieforth said. "The tank was taken out on Halloween of 2019, so...I think it's kinda fitting."
The station was originally built a century ago, and since that time, it has served gasoline. The cars and trucks changed, but the store remained.
Over the years, it saw a few changes, with the business purchased by Bruce's grandfather, Clarence, in 1939. Clarence added the garage onto the gas station in 1952 for Bruce's father, Irve, after Irve left the army, but otherwise, the station has seen few changes.
It's weathered the Great Depression, two World Wars, the Cold War, and wars in Asia and the Middle East.
Outside of selling real estate for Kramer Schiferl for 10 years, Bruce has spent most of his life working for the family business.
"I worked there ever since high school basically. I started working for my dad when I was 14," Klieforth said. "Other than doing real estate, that was the only job I ever had."
When asked for the secrets to Cliff's Service's longevity, Klieforth explains that there really is no secret. It all boils down to providing excellent customer service.
"It's all about the customers, and if you treat the customers right you're going to last a long time," he said. "I saw a lot of gas stations come and go in the 52 years of being there, but I just tried to treat people right, like I wanted to be treated. It worked for me for a long time."
It also required that other staple of successful businesses — hard work and long hours. It was six days a week, and sometimes 12 hours a day, which began to wear on Bruce after so many years.
"The gasoline business was tough sometimes," Bruce recalled. "There were times when gasoline went up to $4 a gallon, and then there were times when I was losing money. It was touch-and-go there for awhile, but I kept it going. Now, it would have been tough to take over the gas — it costs a lot of money, and I would have needed to upgrade by June."
It's part of a growing trend, Bruce says, with small, privately owned gas stations struggling against larger corporations, such as Kwik Trip, who can weather the ups and downs of the gasoline market easier, and can drive prices. There is also the constant need to upgrade the pumps and technology. In the end, Bruce decided it was time to let the station go — though the mechanic shop will continue to provide quality care for people's automobiles.
"You can't compete," Bruce says. "They're buying in such big volumes, and they're cutting out a layer of mark up. They're buying directly from the supplier, so they're making what the middle man would have made and plus. That's why you can't compete anymore."
Even so, Bruce admits that not a lot changed over the 80 years the gas station remained in his family. Outside of the cars getting better.
"The things we did pretty much stayed the same," he said. "The same business plan worked for all those years."
Bruce has no regrets walking away, but that's because he leaves knowing he kept the legacy alive for as long as he could. Just by being around for as long as he has, Bruce says he bucked the odds, and he's proud of that.
"There's a certain amount of pride, having a business that's been around for so long," Bruce says. "There's a deal that, when a family owns a business, and it passes on to the next generation, only 20 percent make it.
"Once it gets to the third generation, like me, only five percent make it. So, I feel pretty fortunate to have outlasted the odds by quite a bit."