Posted on
Swimmers wrap up season at sectionals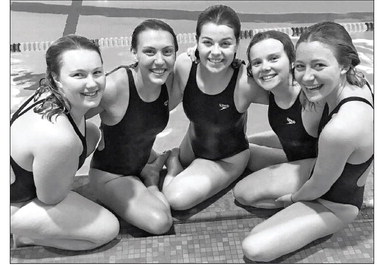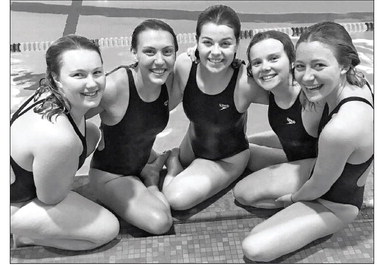 By Ross Pattermann
The Colby/Abbotsford swim and dive co-op finished their 2019 season at the WIAA D-2 sectional meet in Wisconsin Rapids on Saturday, taking 12th as a team with a final score of 59 points.
Rhinelander edged out Rice Lake for the top spot, 264 to 263, qualifying as a team for state. Wausau West placed third, with 257.5 points.
The event kicked off on Friday, with the dive portion of the meet, and ended on Saturday, with relay teams and individuals all bidding to send someone to the D-2 state meet this Friday and Saturday at UW - Madison's Natatorium.
The co-op's attempt to send someone to state fell short, but 2019 was marked by dramatic improvements, and the sectional meet saw multiple swimmers and relay teams achieve personal bests.
"Colby/Abby did not advance anyone to state, however, they had a good meet," head coach Monicat Tesmer said, recapping the two day event. "As a team they had 23 personal records broken!"
The co-op spent Friday night attempting to send at least one diver to the state meet. With the top 16 divers advancing, Colby/Abby had two divers in the competition.
Junior Morgan Weber placed tenth, with a score of 224.90, while senior Erin Voss ended her dive career in 11th place, with a score of 184.35.
The following day saw 14 teams battle it out for a chance to represent their school at the state meet. The first event of the day was the 200-yard medley. The team of Sahanna Kussrow, Voss, Josie Hoppe and Lexi White placed 13th in 2:15.06.
Next came the 200-yard freestyle. Junior Brooklyn Filtzkowski was 16th with her time of 2:13.86, nearly six seconds faster than her seeded time.
The co-op did not field a swimmer in the 200-yard IM, but did have four swimmers in the 50-yard freestyle. Senior Elizabeth Stange was 18th out of nearly 40 competitors, finishing in 26.75. Junior Lanie Hediger was close behind, tying for 21st with a time of 27.54. Sophomore Paige Klement placed 28th in a time of 28.89. Senior Bobbie Lee took 32nd with her time of 29.77.
Morgan Weber represented Colby/ Abby in the 100-yard butterfly, taking 16th in 1:08.37. Colby/Abby
The co-op had three swimmers in the 100-yard freestyle. Stange placed 17th overall in 59.09, senior Sierra Ramker bettered her seeded time by nearly two seconds, finishing 26th in 1:03.38 and sophomore Lexi White was 30th in 1:04.19.
Colby/Abby saw three swimmers race in the 500yard freestyle. Filtzkowski had the highest individual placement of the meet for the co-op, knocking off 12 seconds from her seeded time of 6:18.29, to finish 13th in a time of 6:06.01.
Hediger also competed in the 500-yard freestyle, and finished just behind Filtzkowski, taking 14th in 6:12.66, three seconds better than her seeded time. Freshman Ivee Conley rounded things out, taking 26th in 7:22.80.
The 200-yard freestyle relay saw Colby/Abby take tenth, with the team of Weber, Hediger, White and Stange finishing in a time of 1:50.11.
Three members of the co-op took part in the 100yard backstroke. Klement cracked the top 20, taking 19th overall with her time of 1:10.68, over eight second better than her seeded time of 1:18.72.
Sophomore Zanza Haemer was 26th with her time of 1:14.97 and Kussrow placed 27th in 1:15.03.
Voss represented the co-op in the 11th event of the day, placing 16th in the 100-yard breaststroke with her time of 1:21.35.
In the final event of the sectional meet, the 400yard freestyle relay, the team of Weber, Hediger, White and Stange finished in tenth place, with their time of 4:03.47.
With the completion of the meet, five seniors saw their swimming careers come to a close, as Bobbie Lee, Sahanna Kussrow, Erin Voss, Elizabeth Stange and Sierra Ramker competed in their final meet.
"Although it is always bittersweet for the seniors, the rest of the team really was able to see how well they did, and it's nice to see the excitement for next year," Tesmer said after the sectional meet. "The seniors have worked hard and should be very proud of themselves in how they have matured and improved as swimmers and divers."