Posted on
Girl Scout posts new signs around school forest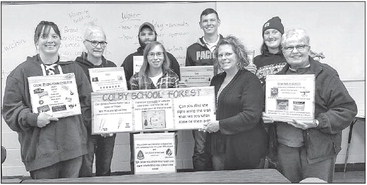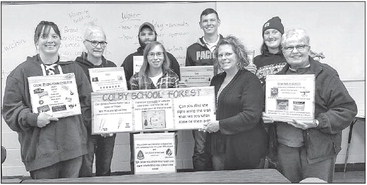 Alana Brill, a ninth-grader at Colby High School, recently earned one of the Girl Scouts' top awards by designing and creating new informational signs for the Colby school forest.
A member of Girl Scout Troop 7238, Brill earned a Silver Award by completing a community service project with help from a mentor, ag instructor and FFA advisor Taylor Ensign.
Since a majority of the trees in the school forest are red or white pines, Brill wanted to educate people about how those types of trees are used.
Doing research, she found hundreds of uses for pine. She asked the Colby FFA Alumni to donate $100 for her project to cover the cost of materials, which they gladly did. Her Girl Scout troop also donated $48 to help with the cost of materials.
Starting her work in April, Brill bought boards made out of pine, cut them to size, routered the edges, and sanded them down. She used a computer to design the signs before printing them out and using a glaze to seal the paper onto the boards.
Brill also use a wood burner to print the words "Colby School Forest" onto the sign at the head of the walking trail.
Finally, she spray painted the posts and attached the signs to them.
Altogether, she made eight signs, including one larger sign at the beginning of the trail that welcomes people to the forest and thanks the FFA Alumni and her Girl Scout troop for donating money towards the project.
The six smaller signs are spread throughout the forest trail and tell visitors how pine is used for building materials, food, fuel, shelter and pine pitch. One sign describes all the "other" things made out of pine that people normally don't think about.
The signs were put up in the forest on Nov. 3.