Posted on
40 guests enjoy Victorian High Tea at CCL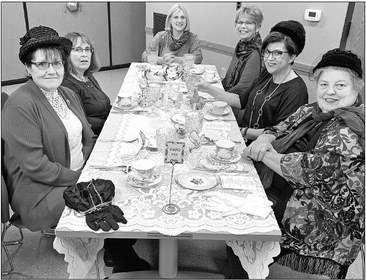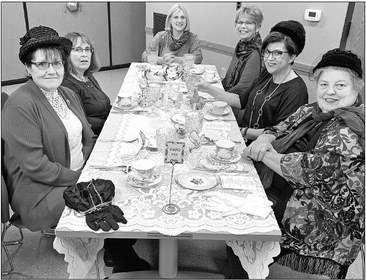 The Friends of the Colby Community Library hosted a Victorian High Tea on Nov. 6 in the RCU Community Room at the library. The room was decorated as a tea room, with vintage dishes and silverware, cloth napkins, and lace or linen tablecloths. Guests selected from a beautiful array of cups and saucers to use for the tea.
Forty guests attended the 6 p.m. event, which included three courses of tea and three courses of food.
The Nov. 6 date was chosen as it was the birthday of Pearl Vorland, a great supporter of the library. Pearl, who lived to be 100 years old, would have turned 106 this year. Guests were invited to take home the goblets from the tables, as a souvenir of the event and in honor of Pearl's birthday.
Tea attire was recommended but not required. Many of the guests donned hats, gloves, shawls, vintage dresses, shoes and jewelry. Some topped off their ensembles with furs. Bonnie Hoernke and Ruth Blume greeted guests and relayed table assignments.
Library director Vicky Calmes introduced Jackie Zoellner, of Marshfield, as the tea matron for the evening. Zoellner directed the serving schedule of the courses and entertained with tea trivia and tidbits of tea etiquette:
_ The Victorians developed many different kinds of tea parties - high tea, afternoon tea, cream tea, royal tea, etc. The CCL event was a high tea, which included three services of different teas and three courses of food. To be a high tea, the first course of food needs to include at least one hot item. High tea courses are savory (sandwiches, hot food, etc.), scones with toppings, and sweets.
_ Afternoon tea is usually served between 3-5 p.m. and is not meant to replace a meal. High tea is often a meal in itself.
_ It was an honor to be the hostess and pour the tea at a tea party. The hostess was considered to be a lady of grace and distinction
_ At the start of the tea party, gloves come off and napkins are spread on laps. When drinking tea, ladies should always hold the saucer in their left hand as they lift the cup to their mouth with their right hand (or the opposite if left-handed). This requires the tea drinker to sit up straighter and creates a more elegant profile.
_ Guests may stir the tea to cool or blend additions, but the clink of a spoon at the tea table should never be heard.
_ It is considered rude to stare over the top of your teacup as you are drinking.
The CCL courses of tea included Lady Grey, Floral Delight (with rosebuds to add), and Lemon Zinger.
Foods served for the savory course included chicken wild rice soup, salmon cucumber sandwiches, chicken cashew salad sandwiches, fig and sharp cheddar sandwiches, along with an edible vegetable garnish. The scone course featured buttermilk scones with cherry preserves, Devonshire cream, and lemon curd. Served during the sweet course were chocolate oyster treats, lemon tea cookies, apricot thumbprint cookies, and pumpkin spice cupcakes.
Door prizes, of assorted teapots and tea, were awarded at each table. Winners were Gail Pernsteiner, Colleen Sprotte, Laurie Krebsbach, Amy Kampmeyer, Sue Howe, Dorothy Pagel, and Nancy Schwalenberg.
Irene Hass was chef extraordinaire for the evening, preparing homemade fancy and delicious foods. Baked goods were created by Leah Haas, Karen Huber, Terra Newman, Laurie Krebsbach and Vicky Calmes.
Helping with serving and kitchen duties were Melanie Fetting, Casey Reynolds, Vicky Fischer, Traci Geiger, Morgan Geiger, Brittani Mertens, Carmella Fredrick, Sandy Larson, Irene Haas and Vicky Calmes.
The Victorian High Tea was the final event in the countdown of the decades to the 140th birthday party for Colby's public library. The public is invited to come celebrate on Thursday, Dec. 5, from 9 a.m. to 7 p.m. with food, trivia, memorabilia, door prizes, and crafts.
Thrivent Action Team helped fund the tea through member Colleen Sprotte.