Posted on
World musician Todd Green to perform Nov. 16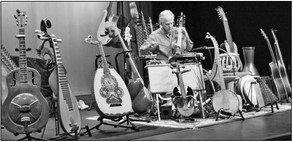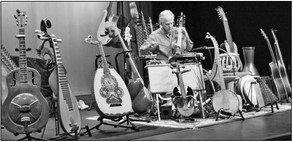 As a classically trained musician who, over a lifetime of study and performance, has developed a deep reverence and passion for many different musical cultures, Todd Green's goal is to inspire his audiences to stretch beyond their current horizons and embrace a new instrument, a new rhythm or an entirely new style.
With so many rich musical traditions on the planet, Green believes everyone will find something that appeals to them, if they are willing to give it a chance.
Concluding a weeklong residency, "A World of Music," Green will perform at the Lu- Cille Tack Center for the Arts in Spencer on Saturday, Nov. 16 at 7:30 p.m.
Creating original music on over 30 acoustic string, flute and percussion instruments from the Middle East, Central Asia, Far East and South America, Green intersperses his playing with entertaining and informative explanations, pointing out the many common threads between these instruments and the western instruments with which his audience is more familiar.
And while most of Green's instruments have been around for hundreds of years, his custom- built, high-tech electronic mixing system layers these often-ancient sounds into very unique pieces of music.
Throughout this fascinating world tour, Green strives to "bring down the barriers that divide us by experiencing other cultures through their music."
Regardless of one's background, Green's concert at the Tack promises to offer an enlightening and memorable evening to all who attend.
This performance is sponsored in part by the generosity of: Ron and Marcia Draeger, Dr. Bruce and Catherine Wineman, the National Endowment for the Arts, Wisconsin Arts Board and Wisconsin Public Radio.
Visit lucilletackcenter.com or call 715-659-4499 for tickets and more information.