Posted on
Colby closes out 2019 season at Carson Park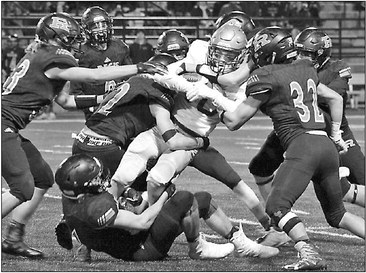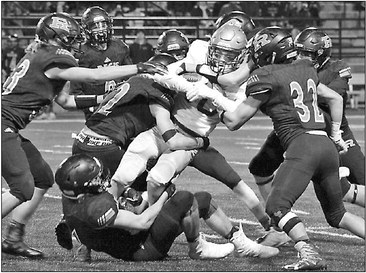 The Colby Hornets traveled to Carson Park on Friday, Nov. 1, for a Level Two play-off match-up against the number one seed and undefeated Regis Ramblers. The Hornets had played the Ramblers earlier in the season, falling at home 40-9, in what would be their sole loss in conference play.
Colby was hoping to reverse the script on Friday night, and dearly wished to play the part of spoiler, but the number one ranked team in all Division 6 proved too much for the Hornets to handle, and Colby lost by a score of 36-0 ,ending their season with an 8-3 overall record.
Hornets head coach Jim Hagen stated, "On this night, Regis was the better team as they outplayed us on both sides of the football. We had a hard time on offense moving the chains, and couldn't get any momentum going on offense whatsoever, gaining only six first downs and being limited to 98 total yards on eleven possessions.
"Defensively, we did OK at times, but they are just so physical up front and have a number of really good running backs and it is easy to see why they are undefeated and moving on to Level 3."
Colby finished the night with six first downs, 67 rushing yards and 31 passing yards for a total of only 98 yards. Meanwhile, Regis had 16 first downs, 305 rushing yards and 77 pass yards for a total of 382 yards.
Regis scored on runs of 58, 25 and nine yards, along with a pass play of 44 yards. Senior running Gavino Lopez carried the ball nine times for 36 yards, and senior running back Tyler Klement had 16 carries for 33 yards.
Junior running back Joe Hawthorne, along with senior wide receivers Harley Schmelzer and Isaac Karl, each finished the night with one catch.
Senior quarterback Roman Schmitt completed seven out of 14 passes for 31 yards and two interceptions. A highlight on defense for the Hornets was an interception by Schmelzer, his third of the season.
On the season, Colby finished with an overall record of 8-3, and 7-1 in conference which resulted in a second place finish in the Cloverbelt Conference, which will also be Colby's last year in the Cloverbelt.
Furthermore, this is the second year in a row that the Hornets made it the second round of the play-offs, and the thirteenth season in a row in which Colby has qualifi ed for the play-offs.
Colby out-scored their opponents 339 to 170, and amassed 3397 yards to their opponents 2647 yards. Tyler Klement ended the year with 167 carries for 1112 yards and 16 touchdowns. Gavino Lopez had 118 carries for 817 yards and 10 touchdowns. Roman Schmitt completed 60 out of 97 passes for 922 yards and 10 touchdowns.
Harley Schmelzer had 14 receptions for 262 yards and three touchdowns. Joe Hawthorne had 14 catches for 210 yards and three touchdowns, while Isaac Karl had 11 catches for 209 yards and four touchdowns.
Defensively, sophomore Tristen Stange led the team in solo tackles with 32 followed by Hawthorne and Gavino Lopez with 32. Connor Jeske led the team with nine tackles for loss and five sacks.
Gavino Lopez led the Hornets with four interceptions, followed closely by seniors Harley Schmelzer and Noah Robida, who each hauled in three apiece.
Hagen stated that "This was a really good season, and we lost to two really good teams in Regis and Spring Valley whose combined record is 21-1. The diffi cult part of ending the season is losing the fourteen seniors who have contributed so much for the football program."
This year's seniors are as follows: Hunter DeVries, Dylan Geiger, Alex Holtz, Manny Hoppe, Connor Jeske, Isaac Karl, Brandon Kilty, Riley Kilty, Tyler Klement, Jack Krause, Gavino Lopez, Noah Robida, Harley Schmelzer and Roman Schmitt.
Colby will look to notch a 14th consecutive playoff appearance next year, where they will join Abbotsford in the Marawood Conference in 2020.