Posted on
Abby advances to Level Three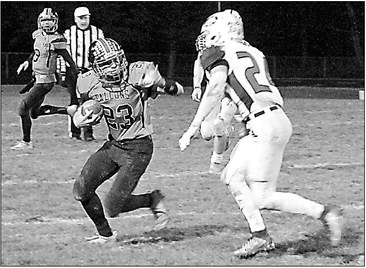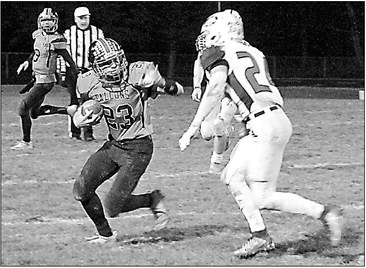 By David Keech
Much like a prizefighter taking a boxer's best shots and still standing, the Abbotsford Falcons came away with a hardfought win in their Level 2 game with Auburndale on Friday night.
A game-deciding interception by junior Angel Diaz with a minute to go sealed the 26-21 win for Abby. In a game that saw each team take turns grabbing momentum, it didn't take long for the figurative trading of punches to begin.
It was the opening kickoff from Martin Aguilera that got things rolling. The junior's kick hit with a loud thud off an Auburndale offender and was recovered by the Falcons. It was a play that wasn't intentional, shared Falcons head coach Jacob Knapmiller, "That kick, it was an accident. We were squib kicking. That was huge for momentum."
The Falcons started at their own 48 yard line, and capitalized on the excellent field position in no time. Cade Faber danced into the endzone on a 15-yard run with just a minute and a half gone, and the first punch had been launched.
Auburndale was ready to respond. The Apaches took less than two minutes to march down the field on their first possession, and a Kyle Peterson one yard run had everyone wondering if the game would be a track meet type of affair.
It was Auburndale's turn to surprise Abbotsford on the kickoff, but despite recovering the kickoff at midfield, the Apaches could not capitalize. Auburndale went nowhere, but a punt forced Abbotsford to begin on their 17. It wasn't a problem as the Falcons marched down the field and took a 14-7 lead when Mason Wellman scored from a yard out with 1:27 remaining in the first quarter.
But Auburndale came right back with a Peterson one yard run early in the second quarter to make it 14-14. Abby went right back on the attack on their next possession, only to lose a fumble deep in Apache territory. Momentum was on Auburndale's side as Dylan Paun's 31-yard touchdown reception from Cooper Weinfurter gave the Apaches a 21-14 lead with 3:23 to go in the first half.
Knapmiller said the Apaches outperformed the Falcons in the first half.
"They executed really well and we didn't. They ran what we thought they would, but defensively we didn't adjust," Knapmiller explained. "Our offense was fine other than a fumble and a big personal foul penalty."
Abby came out on a mission in the second half. Faber's second touchdown, this one from seven yards out, brought the Falcons to within one at 21-20.
"We talked at halftime about what we have to fix," said senior quarterback Dalton Feddick. "We were hyped up after the coaches talked with us, and we just had to go out and do it."
Feddick led all rushers with yet another remarkable effort, gaining 210 yards from the quarterback position.
"We did a slight blocking tweak on offense that led to big yards, but our focus was on reminding our kids of what was practiced all week defensively," Knapmiller explained.
The Apaches continued to rely on their passing game, but it was a momentum changer from the Abby defense that turned the tide. Starting out in excellent field position from their 43, Auburndale's Weinfurter was picked off by Ty Falteisek, and the Falcons took advantage.
Falteisek's nifty four yard run through the heart of the Apache defense put Abby back on top 26-21 with 1:32 left in the third quarter.
Auburndale went back to work, and, marched down the field with a mix of pass and run plays that had the Falcons on their heels. The Apaches turned the ball over on downs, deep in Abbotsford territory. However, with just over eight minutes to go, the Falcons' offense looked to ice the game and win.
Abby relentlessly marched down the field on a time consuming drive that stalled at the Auburndale seven yard line. A missed field goal gave Auburn- dale the ball at their 20. It was the play by Diaz that sealed the win and gave Abby its fourth straight trip to Level 3 football.
Senior defensive lineman Reiley Schreiber supplied the quarterback pressure on Weinfurter, and his hit resulted in the pop fly that Diaz caught and secured to seal the win.
"A huge credit goes to the guys that made big plays like Ty Falteisek with the interception and Angel and Reiley at the end of the game," Knapmiller said. "But overall our defense played well in the second half as a group and our offense did its part to keep them off of the field with some long drives in the second half."
Falteisek had 88 yards rushing on 19 carries, and Faber added 66 yards on nine carries. The Falcons will play at home against #6 seeded Coleman, and Diaz said the Falcons are ready.
"This win was exciting. Level 3 Playoffs, the game is now here," Diaz proudly shared.
Feddick added the Falcons are out to prove just how good the 2019 team is. "This win is really special. Some just don't think we are as good as we were last year, and we're out to prove that we are."