Posted on
Runners finish season at sectional meet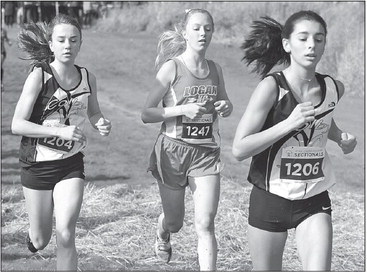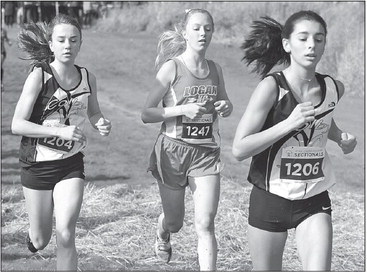 With the sun shining and just a hint of wind the Colby/Abbotsford cross country teams could not have asked for a better day to host and run the WIAA Sectional Cross Country Meet.
Fifteen teams would run for the top two spots and 100 individuals were going after five spots in efforts to run at the WIAA state championships on Nov. 2, with the top runners for Colby/Abby hoping to be in the mix in both the girls and boys races.
In the girls race 2018 state champions Medford were hoping to get back to Wisconsin Rapids to defend their title. Medford, along with Wisconsin Dells and La Crosse Logan, were all in the top 16 in the latest WCCCA Coaches Poll so the field was loaded. With such a high caliber race team wise, Colby/Abbotsford's top three, Willow Oehmichen, Daisy Feiten and Abbie Hediger, were hoping to put in their best efforts with a chance to run at state individually.
Oehmichen ended up having to fight through an illness and ended the day as the team's third runner in 34th, with a time of 23:04. Willow had a great freshmen season leading the team in all but two meets this season. She is already setting some big goals for the second chapter of her cross country career in 2020.
Feiten and Hediger pushed each other in the last mile of the race, but ended up just outside the qualifying spots in the end. Daisy was 20th, and ran a season best time of 22:08.
Right behind her came Abbie in at 21st, and in a time of 22:10. Both ladies ran their best races of the season and Abbie capped off a career where she was a team leader the last three seasons and was a three time All-Conference runner.
Payton Roth was up next for the Hornets, to end an excellent freshman season, in 54th place with a time of 24:09.
"Payton is still learning what she can do as a runner and I see great potential from her in the coming seasons," said head coach Bryon Graun.
Mercedes Sarkkinen came in right behind Roth in 56th, with a time of 24:21. The sixth and seventh runners were Hailey Voelker in 87th (26:59) and Trinity Severson in 91st (27:37). As a team the Colby/Abbotsford girls finished sixth, with 185 points. Medford took the top spot with 35 points and Wisconsin Dells finished in second with 67 points. Both teams will move on to state this weekend in Wisconsin Rapids.
The boys race was also full of some of the states top teams. La Crosse Logan was ranked as high as third in the WCCCA Coaches Poll this season while Medford, Elk Mound, and G-E-T all were in the top 16 at some point. In the end La Crosse Logan took home the gold with 43 points followed by Elk Mound in second with 68 points.
The Colby/Abbotsford boys were short changed with senior Nick Kleparski sick, and finished 13th out of the 15 teams with 329 points.
Individually, junior Chase Oehmichen finished in the same spot he did a year ago, at 13th. Oehmichen missed out on an opportunity to run at state by 14 seconds, with a time of 18:02.
Matt Mateer capped off a solid sophomore season in 57th place in a time of 19:50. Talon Severson and Richard Streveler finished back to back, as they often do, in 87th and 88th, with times of 21:40 and 21:44.
Colby/Abbotsford's final two runners were Ryan Nelson in 93rd (23:10), and Braxton Smith in 99th (25:08).
"It truly was a great day for cross country. I am very proud of the team I coach. They have become a family who loves and supports one another and I am honored to be their coach," Graun said. "It was bitter sweet. We really were hoping to get some athletes on to state, but I at the same time I couldn't be more proud of their efforts they put in here at our home course."
With Abbie Hediger and Nick Kleparski being the only top five runners the teams will lose to graduation, the Colby/ Abbotsford cross country teams have bright futures, and are already setting lofty goals for 2020.