Posted on
kicked the PAT, and as ….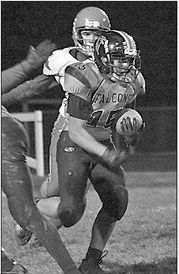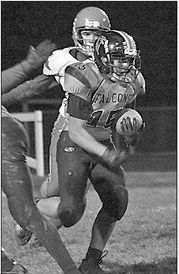 kicked the PAT, and as the third quarter ended the one seeded Falcons found themselves down 27-26.
In the fourth quarter the real Falcons finally showed up, and their deliberate ground game began to finally click, but first Knapmiller went to an unlikely source to provide a spark.
As Crivitz began to key on Feddick, and Faber and Falteisek left the game with injuries, Knapmiller called up Jair Menjivar, a 5'7" sophomore.
Menjivar has run the ball sparingly, but on Friday he ran with the confidence of a varsity veteran, helping Abby convert crucial third downs.
"Jair hasn't played much at all on varsity, and has shown ability at times, but hasn't had opportunities," Knapmiller said about the speedy sophomore.
Menjivar made the most of his chances, racking up 40-yards on just six carries, and Abby converted six of nine third down situations. Abby did not allow Crivitz to convert a single third down.
The Falcons ability to control the line of scrimmage with its ground game gave Abby all the ammunition it needed to prevail in its shoot-out with Crivitz.
Abby scored three more times, with all three TDs provided by Feddick's feet, and with the Falcons winning the time of possession battle, Crivitz ran out of time.
"We feel like our offense doesn't just control the one side of the ball, it controls the whole game," Knapmiller said, describing Abby's offensive mentality.
The win not only ensures the Falcons' season continues, it gives Abby double digit wins for the fifth consecutive year.
"This year is another year of 10 wins but with a totally unique team, as were the past four years," Knapmiller explained. "This year's team had to come further than most, with lack of depth, lack of off-season preparedness, lack of unity and most importantly, lack of experience. To be in Level Two, and playing football in November is awesome!"
The Falcons overcame injuries and an explosive air raid attack from Crivitz on Friday to punch a ticket into Level Two of the D-6 playoffs, setting up a match with the Auburndale Apaches, whom they defeated at this stage last year.
The Falcons will be eager to see if they can make history repeat itself when they host the Apaches at 7 p.m. this Friday. A victory there moves Abby just two games away from a date with Camp Randall and a chance to make even more history.