Posted on
Falcons volleyball felled by Fall Creek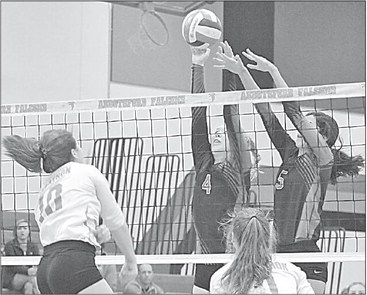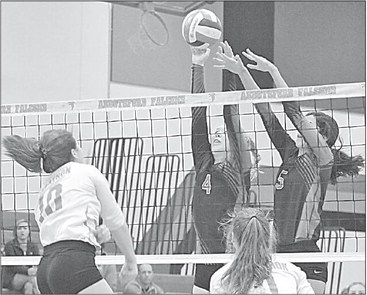 By Ross Pattermann and David Keech
For the second year in a row, the Fall Creek Crickets put an end to a deep playoff run by the Abbotsford Falcons volleyball team in a regional final, picking up a three set win by scores of 25-8, 25-20, and 28-26.
Prior to that, the Falcons topped the Marathon Red Raiders in a hard fought, four set battle on Oct. 24, to set up their WIAA D-3 regional championship clash with the third ranked Crickets.
Marathon
The Abbotsford Falcons found themselves locked in a survive and advance battle with the Marathon Red Raiders on Thursday, Oct. 24.
The Red Raiders might have been the visitors, but they brought with them a loud, vocal cheering section that gave the match all the feel of a neutral site.
Each team's cheering section willed the other to victory as both teams traded big spikes and acrobatic blocks and digs.
In the end, the Falcons who came up clutch, ousting this year's Marawood South runner-ups in four sets.
"They overcame, that's what matters," Falcons head coach Lee Schreiber said. "This is a great team tonight that definitely could have beaten us. They came in as an underdog, and they challenged us right to the last whistle."
The two teams had faced off against each other earlier in the year, with Abby knocking off Marathon in two sets. That match provided vital information that the Falcons used in their regional semifinal.
"We knew they had a good middle, and we knew that they could hit lines," Schreiber said. "I knew the things that they accomplished this season, so I knew this was not going to be an easy task by any stretch of the imagination, but the girls stepped up to the task."
The first set proved instrumental as both teams battled nerves and unforced errors. Marathon took an early 7-5 lead, but Abby came fighting back to make it 12-10. The Red Raiders went up 19-17, but Abby earned the first set 25-23.
"I think it's important to set the pace right out of the gate, that first win is big, especially at home," Schreiber said about Abby's early start. "I think it was huge to set the pace."
The Falcons found themselves in another fierce battle in the second set, going down 17-15, only to rattle off a 10-4 run to close out the second set 25-21.
Just when it seemed Abby had the match in hand, the Red Raiders came storming back, jumping out a 7-3 lead. Abby snapped off a 6-2 run to make it 9-9, but Marathon applied the pressure, and took the third set 25-20.
The fourth set started out the way of the third set - Marathon took an early 6-2 lead, but the Falcons net game began to wear down the Red Raiders' resistance.
Abby regained the lead at 17-16, and then never trailed again as they took the fourth set 25-21.
Leading Abby was Olivia Hammel with 13 kills and 27 digs, Jayda Friedenfels with 12 kills and 20 digs and Alyssa Beran with 10 kills. Ava Decker had a full stat sheet, finishing with eight kills, 21 assists and 15 digs.
Also contributing was Haylee Soyk with six kills, Kaylee Boller with four kills, Jayden Falteisek with 22 assist and 26 digs and Courtney Bittner with a team high 28 digs.
Fall Creek
The fourth seeded Falcons gave the top seeded Fall Creek all they could handle, in a match that was closer than the score would indicate, culminating in a battle for set number three that gave fans on both sides plenty of excitement.
The Falcons started out slow, trailing 10-3 in the first set. The Crickets closed out the first set strong, flexing their muscles on a 15-5 run.
Abby came out on fire, however, in set number two. A 15-9 lead, powered by senior leadership from Jayden Falteisek, Alyssa Beran and Jayda Friedenfels had the Falcons optimistic, but Fall Creek fought back to close out the set with a 16-5 run.
"We had awesome leadership from our three seniors this season," shared Abbotsford head coach Lee Schreiber. "Jayda, Alyssa and Jayden were terrific role models on and off the court and the program is sure going to miss them. "
The senior trio was instrumental in leading the Falcons to a conference championship, Schreiber added.
"It is always tough to have the season come to an end but what an amazing journey we had this year. So many great memories were made by this group of young athletes.
"The Falcons end their season with a 31-8 record which is proof that this was a talented squad. Winning the Marawood North Conference Championship was definitely a result of our senior dedication."
Trailing 2-0, the Falcons proved their mettle with an even stronger showing in the third set, which was full of momentum swings. A 5-0 run to start the set and a 12-8 lead had Abby fans believing their Falcons would triumph, and push the match to a fourth set.
However, a series of momentum killing calls that went in favor of Fall Creek lent fuel to a comeback from the home team, but the Falcons fought on.
Fall Creek surged ahead to take a 16-14 lead, but Abby came back after a timeout with motivation, as Falteisek's set to Beran and a Beran block ignited Abbotsford's charge down the stretch.
Falteisek led the Falcons with 15 assists and had 15 digs, and Friedenfels added seven kills and 12 digs. Beran led Abbotsford with two blocks and six kills.
Fall Creek held a 22-19 lead, only to see Friedenfels start a four point run with a kill. Freshman Haylee Soyk's kill knotted the score at 22 and her power tip tied the game again at 25.
Trailing 26-25, Falteisek's set and sophomore Olivia Hammel's kill tied the game at 26-26 before Fall Creek closed out the game and picked up the win. Hammel picked up 13 kills and 18 digs for the Falcons, with Courtney Biitner leading Abby with 21 digs.
Schreiber is excited about next year, as they bring back multiple All-Conference recipients.
"Looking ahead, we will work hard in the offseason to prepare for 2020," Schreiber added. "Although we will be losing three incredible players, there will be high hopes for next year [with Abbotsford] returning four All Conference underclassmen players."