Posted on
Abby's fierce run game overpowers Crivitz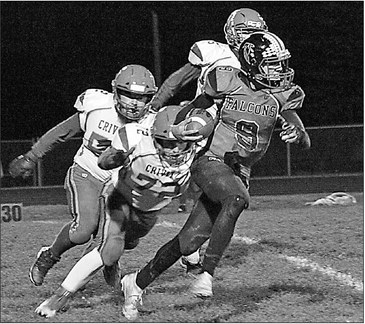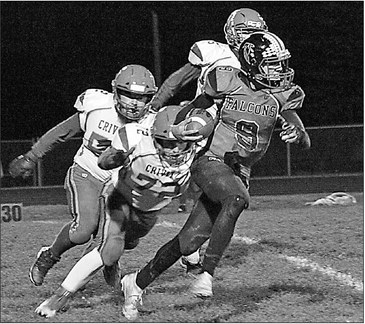 By Ross Pattermann
The Abbotsford Falcons took the best that the Crivitz Wolverines had to offer, weathered the storm and overcame the toughest challenge of the season to earn a 48-41 win in their postseason opener.
That outcome appeared in doubt at various points in the game as a stubborn Crivitz squad that squeaked into the postseason with a 4-5 record gave the Falcons everything they could handle.
It didn't help that the Falcons gave Crivitz help, with special teams coughing up big plays in the kick and return game. Several errant punts also gifted the Wolverines short fields to work with.
"Our special teams is always a point of emphasis," Knapmiller said. "It hurt not having Martin [Aguilera] kicking until later in the game. Coverage is key though, and we lacked that on both punts and kicks."
Crivitz had multiple scoring drives that started in Abby territory, and with a pass game that finished with over 250 yards, and another 175 on the ground, the Wolverines piled up more points on Abby than any other team in 2019.
But Abbotsford has been in tight games, and played tough teams all season long, and turned to their own powerful ground game to do the damage against the Wolverine defenders.
The Falcons abandoned the passing game in favor of the rushing game, and with the offensive line opening up big holes, the Falcons chewed up massive chunks of yardage as they compiled over 500 yards on offense, all of it on runs.
Cade Faber got the party started, breaking free for a 72-yard touchdown that put Abby up 6-0. The Wolverines answered on their next drive, scoring from five yards out. Crivitz kicked the PAT and took a 7-6 lead.
Abby went back to work, regaining the lead off a Ty Falteisek six yard carry. Dalton Feddick ran the two point conversion in, putting the Falcons up 14-7.
In the second quarter each team traded big plays, with Crivitz giving up on its run game after Blake Draper forced a fumble. The burly and high energy Draper would finish with a game high 14 tackles and two forced fumbles.
"Blake is the rock of our defense," Knapmiller shared. "He is top ten in the state in tackles right now because of his effort. Our defense doesn't have guys that are superb athletes all over like Edgar or Stratford, so we have to rely on our big time guys to step up and do a lot more than in most systems."
Abby bottled up much of the Wolverines run game, and so Crivitz took to the air, scoring on a pair of deep passes, one from 35-yards out and another from 33-yards out.
Faber scored Abby's lone second quarter TD, diving into the endzone from seven yards out. After one half of play it was a 20-20 ball game. Faber finished with 135 yards and two TDs on ten carries.
The big plays continued late into the second half as each team continued to trade scores. Feddick scored for the second time - part of a night where he had a career high 249 yards rushing on 34 carries and five TDs.
The two point conversion was unsuccessful, and Crivitz took its second lead of the night off another deep pass, this one from 24-yards out. The Wolverines with 13 kills and 27 digs, Jayda Friedenfels with 12 kills and 20 digs and Alyssa Beran with 10 kills. Ava Decker had a full stat sheet, finishing with eight kills, 21 assists and 15 digs.
Also contributing was Haylee Soyk with six kills, Kaylee Boller with four kills, Jayden Falteisek with 22 assist and 26 digs and Courtney Bittner with a team high 28 digs.
Fall Creek
The fourth seeded Falcons gave the top seeded Fall Creek all they could handle, in a match that was closer than the score would indicate, culminating in a battle for set number three that gave fans on both sides plenty of excitement.
The Falcons started out slow, trailing 10-3 in the first set. The Crickets closed out the first set strong, flexing their muscles on a 15-5 run.
Abby came out on fire, however, in set number two. A 15-9 lead, powered by senior leadership from Jayden Falteisek, Alyssa Beran and Jayda Friedenfels had the Falcons optimistic, but Fall Creek fought back to close out the set with a 16-5 run.
"We had awesome leadership from our three seniors this season," shared Abbotsford head coach Lee Schreiber. "Jayda, Alyssa and Jayden were terrific role models on and off the court and the program is sure going to miss them. "
The senior trio was instrumental in leading the Falcons to a conference championship, Schreiber added.
"It is always tough to have the season come to an end but what an amazing journey we had this year. So many great memories were made by this group of young athletes.
"The Falcons end their season with a 31-8 record which is proof that this was a talented squad. Winning the Marawood North Conference Championship was definitely a result of our senior dedication."
Trailing 2-0, the Falcons proved their mettle with an even stronger showing in the third set, which was full of momentum swings. A 5-0 run to start the set and a 12-8 lead had Abby fans believing their Falcons would triumph, and push the match to a fourth set.
However, a series of momentum killing calls that went in favor of Fall Creek lent fuel to a comeback from the home team, but the Falcons fought on.
Fall Creek surged ahead to take a 16-14 lead, but Abby came back after a timeout with motivation, as Falteisek's set to Beran and a Beran block ignited Abbotsford's charge down the stretch.
Falteisek led the Falcons with 15 assists and had 15 digs, and Friedenfels added seven kills and 12 digs. Beran led Abbotsford with two blocks and six kills.
Fall Creek held a 22-19 lead, only to see Friedenfels start a four point run with a kill. Freshman Haylee Soyk's kill knotted the score at 22 and her power tip tied the game again at 25.
Trailing 26-25, Falteisek's set and sophomore Olivia Hammel's kill tied the game at 26-26 before Fall Creek closed out the game and picked up the win. Hammel picked up 13 kills and 18 digs for the Falcons, with Courtney Biitner leading Abby with 21 digs.
Schreiber is excited about next year, as they bring back multiple All-Conference recipients.
"Looking ahead, we will work hard in the offseason to prepare for 2020," Schreiber added. "Although we will be losing three incredible players, there will be high hopes for next year [with Abbotsford] returning four All Conference underclassmen players."