Posted on
Masters of the Marawood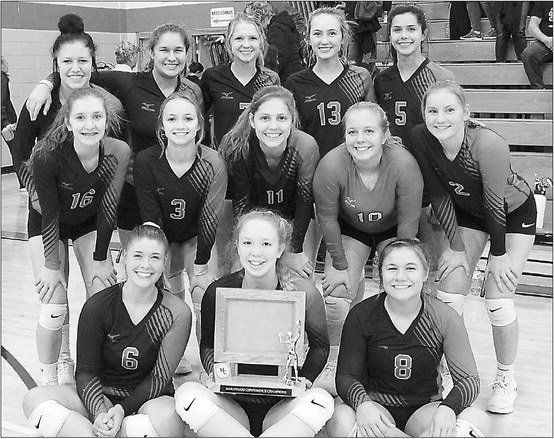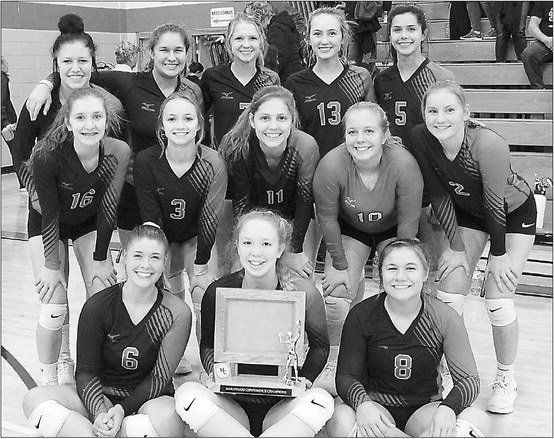 By Ross Pattermann
Abbotsford volleyball has been one of the most storied programs in the state of Wisconsin. The Falcons have captured seven state titles, including two threepeats (1981-1983; 1997-99) and 12 total appearances at the state tournament.
"When it comes to volleyball in the state of Wisconsin, Abbotsford is always on the top of everyone's mind because of what they did back in the 1990s and early 2000s," Falcons head coach Lee Schreiber explains.
But if you really want to know anything about the Abbotsford volleyball program, all you have to do is take a quick peek at the trophy case in Abbotsford High. A cursory glance will show row after row of gleaming titles - tournament wins, conference crowns, regional and sectional plaques and those golden state titles.
That crowded trophy case is about to get a proud new addition as the 2019 Abbotsford volleyball team wrote their name into the history book with the first conference crown in over a decade.
For Schreiber and his players, it was a long time coming, and a message to the state that Abbotsford volleyball is still here, still making noise, and still a force to contend with.
"I think it's very important for the program to set this standard, and it's important to the girls that they never gave up."
Lee is aware and well-acquainted with Abbotsford volleyball's storied history, it's a history he's seen with his own two eyes, being a part of the program for nearly two decades, and while Abbotsford has won its share of crowns, this one feels different. This one feels like the start of something bigger.
"I think [this title] is important for this group because Abbotsford had been such a dynasty in volleyball for so long, and then it kinda tapered off and we went through some rebuilding years," says Schreiber.
"This was a true testament and a battle, right from the start, it was never easy. Nothing was ever given to them, they had to earn every win, and practically come from behind in everyone of them."
The Falcons went into the season knowing they had the tools to contend with every team in the Marawood North, and nearly every team outside the conference.
The Falcons racked up tournament wins in Edgar, Marshfield and Clintonville. All of these gave them the momentum they needed to add a 19th conference title to Abbotford's collection.
"I thought that we definitely had the potential to do this coming into the season," senior setter Jayden Fatleisek says confidently. "We were really close last year with Prentice, but we had a young team, but we knew with the players coming up the potential was there and we would have a good team."
Prentice had dashed Abby's hopes last year, and the Falcons knew that if they were to be victorious this season, they would have to go through them.
"We knew because of last year . . . we knew this was probably going to be the decider match of the conference," Schreiber said. "We thought coming into it we were well prepared."
The Falcons got that chance at home on Tuesday, Sept. 24. What followed was a five set classic that will be talked about for years to come. Abby fell behind early, dropping the first two sets, only to come storming back, take sets three and four.
The fifth set nearly went to Prentice, with Abby down 13-11, but the Falcons displayed spines of steel, took Prentice's best shot, and then rattled off the next four points.
"Those girls played with their hearts, and scored those lost four points, and we took that win, and not that this was conference that night, but we felt we had cleared a big hurdle," Schreiber said.
Dispatching Prentice at home was a major victory, and put Abbotsford in control of their own destiny, but the Falcons knew that one win did not wrap up the title, and that they still had plenty of work to do if they wanted to stay out in front in the Marawood - North.
They still had to battle past the likes of Phillips and Athens and Rib Lake - and do so at one point without their powerful senior hitter Jayda Friedenfels.
"Phillips was gaining some looks. They were ranked in Division Three, right around where we were, and we always know that the coach up there is a defensive minded coach, and we knew that they were going to be scrappy."
The Falcons took the Loggers down in three, and then moved through Rib Lake after a tough first set, and being without Friedenfels.
But through it all, the Falcons trusted themselves, and trusted each other. It was that trust, says Schreiber, along with a complete team from top to bottom, that allowed the Falcons to ride the ebb and tide that comes with any sport and season.
"There's not a lot of weaknesses that teams can exploit," Schreiber said. "I've never had seven complete players that we have this year; this is maybe as complete a team this year."
The title was paid for in sweat, hours in the gym, hours of film and more hours spent on preparation. It wasn't given, it was earned. It's an achievement that cannot be taken away.
The Falcons won their first match in the WIAA regional playoffs, on Tuesday, Oct. 22, and are poised for a deep run. Just how deep nobody knows, but there's a buzz among those in the program, a quiet sense that the program that won seven state titles, the program that has been to state a dozen times and the program that has nearly two dozen conference crowns, is back.
And as the Falcons prepare for their next opponent, they wouldn't have it any other way.
"I believe that the program has turned a corner," Schreiber says. "We're always in the conversation, been at the top of the conference ever since I started coaching, I just feel that, looking at what's coming, there are some really good athletes coming our way.
"I can truly say that I've been blessed as a coach . . . we are going to be successful for a long time. Conference champs? I think we'll always be in that conversation . . . state champs, that's a whole other animal, but the first step is here and you stick with it long enough, and you get what's owed to you."