Posted on
Falcons are kings of the Cloverwood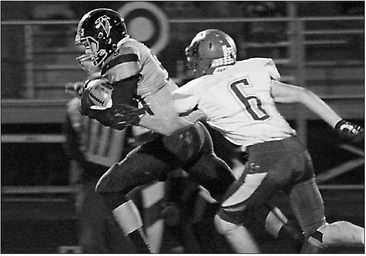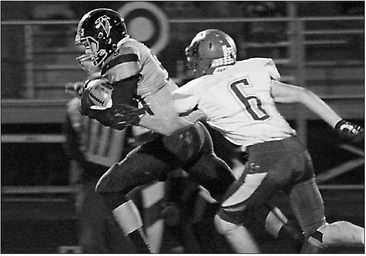 By Ross Pattermann
There can be no argument, not after Friday night. The Abbotsford Falcons are the kings of the Cloverwood, and will retain their title as undisputed conference champions after defeating the Athens Bluejays in their regular season finale 50-19.
"The biggest lesson is not to take winning championship for granted," Knapmiller said about Abby's conference winning season. "It is something you cannot assume will ever happen again. Very proud of this group of guys for coming together."
The Falcons took the best that each team had to offer all season long, overcoming injuries, powerful running games, bruising tacklers and terrible weather. Through it all, Abby always found ways to come out on top.
Friday night was no different as the Falcons withstood an early challenge from Athens. Twice the 'Jays took a brief lead, but each time the Falcons got back to work, using their potent ground game to pull away from Athens.
The victory not only gives the Falcons a perfect 9-0 record, it allows the Falcons to leave the Cloverwood as champions, with Abbotsford set to join the Marawood Conference after the Wisconsin Football Coaches Association statewide realignment plan was approved earlier this year.
"Anytime you can go undefeated you have to feel pretty good," Knapmiller said. The Falcons navigated their way past a tricky 'Jays squad that was all to eager to play spoiler. Abby and Athens have played in some epic games over the years, and Friday's match was another worthy edition in the two schools' rivalry.
The 'Jays struck first, using a series of big runs that culminated in a 32-yard scoring run from Dayne Diethelm with 8:24 left in the first quarter.
Athens kicked a successful PAT, and the Falcons were suddenly down 7-0. The Falcons showed off their offense, moving methodically towards the endzone on their first series.
Dalton Feddick put the Falcons on the board with a four yard QB keeper that made it 7-6, but the score remained this way as Abby failed to punch the ball in during the two point conversion.
Neither team found the endzone again in the first quarter, but Abby wasted no time scoring in the second. Less than one minute into the second quarter Abby scored off a six yard run by sophomore tailback Ty Falteisek.
The 'Jays next drive ended in a punt, but they got the ball back after recovering a fumble. Athens regained the lead for the second time off a ten yard touchdown reception from Carter Brunke to Sawyer Schreiner. The PAT was no good, but the 'Jays held a 13-12 advantage.
It would be short lived. Feddick, who needed just 45 yards to reach one thousand rushing yards on the season, ripped through Athens' defenses, carving them up with a pair of 51 and 59-yard TD runs.
"The big plays are huge, and our offensive line has been solid and they deserve a ton of credit," Knapmiller said. "Our line has really embraced the grind up front and doesn't get as much credit or accolades as they deserve!"
Feddick used that offensive line to rush for a new career high of 241 yards and four TDs on just 16 carries.
The 'Jays weren't done yet flinging the ball downfield for a 52-yard pass completion between Dayne Diethelm and Jake Denzine. With under two minutes in the first half, Athens scored on a three yard carry from Diethelm to stay within a single possession, with Abby up 2619 at the break.
Athens would never score again, and a massive second half from Abby paved the way for a lopsided margin of victory as Feddick, Falteisek and Cade Faber all scored in the second half.
"Dalton is a tough kid," Knapmiller said. "Ty also runs tough, but is super raw talent. Cade is just smooth and makes nice cuts in space. He also gives us that pass threat that is needed in our offense."
Feddick added to Abby's lead with a 12-yard TD in the third, and Falteisek's two point conversion made it 34-19.
Faber got in on the mix, scoring from two yards out, and another Falteisek two point conversion made it 42-19. The Falcons defense held firm, with Faber recording several pass break-ups.
Abby's offense continued to click, part of a night where the Falcons converted two fourth down plays, and went six of eight on third down attempts.
Abby's final touchdown came in the fourth quarter off a one yard carry from Falteisek. A two point conversion made it 50-19. Falteisek would finish with 103 yards and two scores off 16 carries and Faber added 54-yards on nine carries and one TD.
Abby's defense was keyed by another big night from Blake Draper, who racked up 18 tackles, and is currently tied for twelfth in the state with 122 total tackles. Mason Wellman added nine tackles and Feddick finished off his big night by recording ten tackles.
The victory results in Abby picking up its third conference crown in four years. Abby also wraps up a first seed for the WIAA D-6 playoffs, where Abby will host Crivitz for a 6 p.m. first round playoff game on Friday, Oct. 25.