Posted on
Halder Sportsman's Club supports those who support it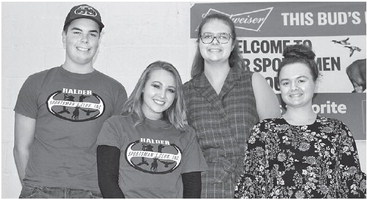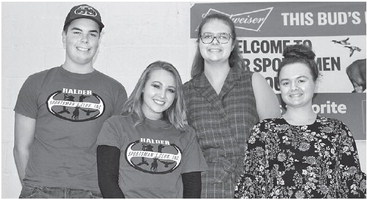 BY CASEY KRAUTKRAMER
THE RECORD-REVIEW Halder Community Hall was plumb full of outdoor hunting enthusiasts, who were discussing their favorite pastime with each other, during the 18th annual Halder Sportsman's Club Banquet held on Oct. 19.
John Gorman is a Halder Sportsman's Club member and organizer of the club's popular banquet. He said the Halder Sportsman's Club was started 19 years ago because area residents wanted to support a local sportsman's club, rather than a national sportsman's organization, like Ducks Unlimited and Whitetails Unlimited.
"We allow only 250 people in the Halder Sportsman's Club, because that's the total number of people who fit into the Halder Community Hall, but there is a waiting list of people who want to join," Gorman said. "The Halder Sportsman's Club only buys prizes for our banquet from local businesses like Charlie's Hardware in Mosinee."
The club also has Athens catering business On the Square provide food at its banquet. Gorman is proud to say the Halder Sportsman's Club has donated over $26,000 in scholarships for its members' children to help them pay for their college tuition. The club awards scholarships to students from Edgar, Marathon, Marshfield, Mosinee, Stratford and Wausau.
At this year's banquet, the Halder Sportsman's Club awarded $500 scholarships to Tracy Baumann of Marathon, Ben Bauer of Marshfield and Jessica Bandall, Camillle Gorman and Angelica Ramsey of Mosinee.
Kevin (Cubby) Maguire is president of
See HALDER on page 17 Halder
Continued from page 16
the Halder Sportsman's Club. He is also an instructor for the club's youth and adult rifle, archery, All-Terrain Vehicle (ATV) and snowmobile safety courses held at Halder Community Hall.
Maguire said the Halder Sportsman's Club, which also sponsors a youth softball team in the Halder Community Club League, is a great thing for the Halder area.
"The club doesn't bother businesses for money donations and instead lets them choose to donate if they want to," McGuire said.