Posted on
Stratford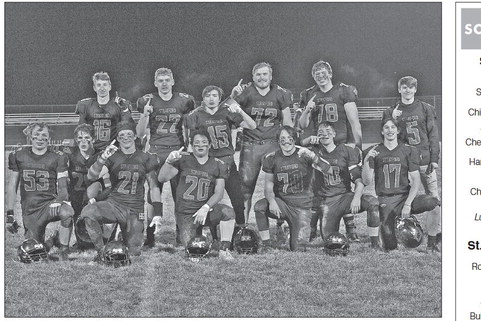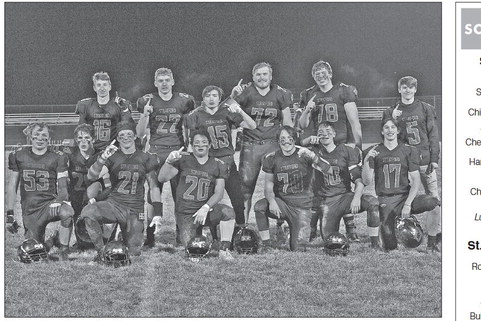 COMMUNITY LIVING
Send Stratford news to: RR@tpprinting.com phone: 715-223-2342 fax: 715-223-3505 P.O. Box 677 103 West Spruce Street Abbotsford, WI 54405 Middle school honors
Stratford Middle School has announced its honor roll for the first quarter of the 2020-21 school year.
High Honors
Grade six: Madelyn Berdan, Joshua Bosmans, Tyler Budtke, Nathan Cordes, Ella Dennee, Amber Drexler, Connor Finke, Carter Foster, Camryn Gresham, Kolton Haupt, Jaela Jochimsen, Dakota Knetter, Connor Kreft, Madelynn Kroening, Cloey Lattin, Dylan Lewerenz, Owen Lueck, John Mews, Carly Pankratz, Hayden Polzin, Chloe Post, Emmercyn Schiller, Breleigh Shanks, Brianna Sherden, Avery Skaya, Dylan Strasser, Christopher Stuttgen, Addisyn Thompson, Carter Trowbridge, Mario Verdone, Jenna Weigel, Alexis Wiesman and Brennan Zimmerman.
Grade seven: Trygve Aschenbrenner, Brady Berg, Amanda Budtke, Ryan Christopherson, Lily Dabbert, Hayden Fecker, Eire Fisher, Lucas Forrest, Mason Hollatz, Mathias Kaiser, Alexa Krieg, Kaylie McHugh, Sylvia McMeeken, Cody Randow, Calvin Rasmussen, Jack Remus, Isabelle Schill, Gracie Schmidt, Meadown Schmidt, Riley Spindler, Brody Thomer, Tria Tubbs, Brooks Vanderhoof, Jacob Weiland, Hailey Wiesman and Lucy Zaleski.
Grade eight: Jesse Bauer, Addison Bauman, Drew Bruesewitz, Gavin Cepress, Alec Chapel, Trenton Cournoyer, Andrew Dickinson, Ethan Heeg, Matthew Kolb, Cayden Leonhardt, Abbigail Lewerenz, Reid Miller, Laney Pankratz, Emma Roeper, Emerson Roy, Hunter Schmidt, Jett Schoenherr, Kalyn Schueller, Maggie Schwabe, Breleigh Skaya, Paige Spindler, Maci Stueber, Alex Trowbridge, Jack Tubbs, Walker Weis, Derek Wiese, Caleb Wrensch, Daisy Yoder and Garrett Zuelke.
Honors
Grade six: Olivia Ballerstein, Willie Casperson, Joanna Castellanos, Ava Gillette, Gunner Hernandez, Evan Langreck, Rhyan Millard, Devin Moore, Lucas Sauter, Savana Schulte, Ka Yat Karsten Sze, Jovanni Verdone, Brody Weber, Jaden Weis, Ariel Williams, Jacob Woodford and Lila Yoder.
Grade seven: Coltan Breit, Colin Cournoyer, Hailey Fecker, Aleydi Martinez-Torres, Ireland Moran, Jaegar Ormond, Seth Ostricki, Robin Serwe and Zander Zawislan.
Grade eight: Cooper Bosmans, Kayla Casperson, Kassedey Downey, Kaden Foster, Collan Johnson, Lydia Junemann, Dylan Lange, Claire LaPointe, Carter Lueck, Samantha Mielke, Mckenzie Novotny, Mason Oertel, Scott Robus, Jasmine Weiland and Haley Woodford.
High school honor roll
Stratford High School has announced its honor roll for the first quarter of the 2020-21 school year.
High Honors
Grade nine: Abbigail Dennee, Brandon Drexler, Peyton Drexler, Rachel Fischer, Matthew Folz, Payton Glenn, Addison Grabow, Ashley Hollatz, Sailor Kauffman, Koehler Kilty, Ava Kramer, Misty Krug, Aliya Manecke, Nathan Remus, Landon Schallock, Hawkens Schmidt, Roman Schmidt, Alexander Shanks, Ashlyn Solinsky, Cole Tichy, Sadie Weigel, Carissa Weis, Kressa Wenzel, Henry Zaleski, Landon Zawislan and Gavin Zoellick.
Grade 10: Ryan Becker, Tessa Berg, Brooke Bohman, Samantha Budtke, Annalee Casperson, Lexie Christopherson, Evan Danielson, Brooke Faber, Sara Fischer, Jasmine Grell, Ella Heidmann, Billie Hoffman, Rachel Jennings, Victor Junemann, Sydney Kafka, Mercedes Kramer, Lauren Kraus, Lance Krieg, Samantha Krugler, Trista Larocque, Allison Lindner, Bailey Linzmaier, Sophia Meyer, Ian Mikelson, Jackson Ormond, Kenidi Palmer, Sonia Peterson, Conner Radtke, Chloe Schafer, Braeden Schueller, John Seitz, Olivia Seitz, Emma Jo Sutton, Conner Weigel, Remi Weis, Ava Weix, Ashton Wrensch, Lily Yoder and Benjamin Zuelke.
Grade 11: Brett Bangart, Noah Barrett, Jaden Bauer, Hailey Chapel, Kaedyn Dahl, Cecilia DeFoe, Alexis Folz, Lydia Golbach, Kaden Griesmer, Tyler Heckel, Darin Heeg, Carolynn Hiebl, Dylan Hollatz, Dillon Kirsch, Kambria Leonhard, Heidi Moen, Tanner Oertel, Addison Schafer, Kara Schara, Sabrina Schmidt, Zackary Seitz, Olivia Spindler, Brenda Stack, Devin Ulrich, Elizabeth Wenzel, Megan Wiese, Allison Wiesman, Lauryn Wiesman, Garet Zoellick, Sarah Zuelke and Allyson Zuleger.
Grade 12: Breanna Ackley, Kaitlyn Asplund, Tyler Bastman, Riley Bauman, Sydney Busche, Yvonne Curtice, Drey Drexler, Cole Ebner, Camryn Fisher, Riley Flink, Mikayla Guldan, Gracie Hauke, Jacob Heiden, Tyler Holcomb, Zachary Johnson, Sydney Kauffman, Joseph Kloos, Tucker Knoeck, Alexander Krueger, Hannah Krueger, Olivia Leffel, Adam Lieders, Sarah Martin, Cody Miller, Shawna Moen, Kolby Mueller, Abbygail Oertel, Autumm Oertel, Logan Rueth, Colten Schillinger, Miranda Schneider, Maria Schoenfuss, Dalton Schoenherr, Kayla Serwe, Jacob Skroch, Jamilee Weiland, Keegan Weiler, Kale Weisenberger and Tristan Wirkus.
Honors
Grade nine: Braden Bloom, Jacob Dahlke, Madelyn Danielson, Hannah Gilbert, Lucas Gudgeon, Austyn Johnson, Brianna Landwehr, Andrew McCormick, Libby Schade, Margaret Schmidt, Ethan Telschow and Blake Weber.
Grade 10: Audrey Dillinger, Jaden Fischer, Keegan Fisher, Sawyer Grabow, Izaiah Hadlock, Ashley Lindner, Tessa Miller, Alexander Mueller, Katrina Purvis, Dawson Rueth, Conner Serwe and Caylee Van Horn.
Grade 11: Brayan Anguiano Contreras, Laura Aschenbrenner, Mei Bean, Caden Brusewitz, Camden Daul, Delaney Dennee, Gavin Drexler, Ashtyn Kuehn, Elijah Lucio, Kylee Manecke, Cameron Mootz, Anna Peterson, Alyssa Soczka, Maria Stuttgen and Jaidyn Wright.
Grade 12: Kaley Bloom, Kaitlyn Eiberg, Halle Fecker, Kelsey Fons, Luke Gaulke, Kix Grabow, Grace Greenberg, Emily Hughes, Thomas Kaiser, Joshua Leick, Makenna Leonhardt, Terin Neuenfeldt, Isaac Nikolai, Dane Poppy, Jeffrey Redman, Laura Robus, Tanaya Schillinger, Brock Syring, Max Vanderhoof and Antonio Verdone.
Blood drive
Versiti Blood Center will hold a blood drive from 9:30 a.m. until 3:30 p.m. on Wednesday, Dec. 9, at Stratford High School.
People should park in the north lot near the Fanetti Wrestling Center and enter the north gymnasium doors to access the blood drive.
Those who want to donate blood are asked to stay hydrated well in the days before their donation, and also eat big meals prior to donating blood.