Posted on
Physical therapy can be a key to better health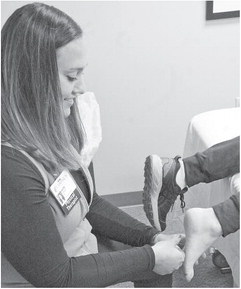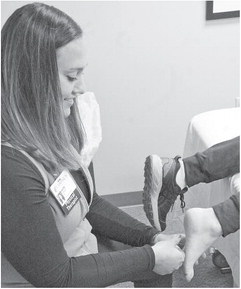 October is Physical Therapy Month and is an opportunity to learn more about how physical therapy can help with health and well-being.
To promote this and help educate community members about the benefits of physical therapy, Aspirus Therapy and Fitness - Medford will be holding four weeks of open classes on Wednesday evenings in October beginning at 5:45 p.m.
According to Katie Zenner, a physical therapist with Aspirus Therapy and Fitness - Medford, the classes will focus on common issues and impairments on different parts of the body. Topics will include, upper body, lower body, mobility, core and pelvic floor.
Their plan for the classes is to teach participants four to five exercises that they can do at home on their own to address common issues in those areas.
Zenner noted that in the summer many people are active outdoors and become more sedentary in the fall and winter months as the weather turns.
While touching on common concerns in these areas, Zenner noted that the classes will be for general education and not for specific treatments.
The classes will be held at the Aspirus Therapy and Fitness - Medford facility and no pre-registration is needed.
Physical therapists are part of the medical team that works to keep people healthy. Just as doctors and specialists work on their specific areas, physical therapists are musculoskeletal experts with a significant focus on addressing muscle and joint pain.
Zenner explained that physical therapists work with patients to determine the best way to address their specifi c needs. One of the strengths of physical therapy is that the appointments are typically longer and more frequent, allowing the therapists to spend more time with the patients to learn about their specific needs.
She noted there are different modalities that are used to address pain, such as ultrasound, electrical stim and dry needling which can be used in conjunction with teaching exercises to patients to do at home.
"Our ultimate goal is to get people to their full function," Zenner said.
Physical therapists will develop a plan with the patients to get to that full function. This may involve someone coming in for treatments every two weeks, sometimes as much as three times a week because they may need that level of hands-on or pain management treatment.
"It depends on what the person is here for," Zenner said.
When people come in for their first session with a physical therapist, it will include an evaluation and a review of medical history about the specific reasons for their visit. From this they will develop a plan and provide the education needed to get a person back to full performance.
On subsequent visits, the patients may work with physical therapists or physical therapy assistants in order to address specific needs.
"It is very personalized," Zenner said, noting that the rehabilitation to get a competitive athlete back into form will be different than for others who are looking for more general pain relief.
She said their goal is to allow people to keep doing what they enjoy doing, whatever that may be. She said a patient came to them saying he was planning a trip and wanted to get in shape to be able to take that trip.
"We developed a goal and a plan to reach that goal," she said.
Within Aspirus Therapy and Fitness - Medford, the therapists have areas of specialty and work corroboratively with one another.
Zenner has been a therapist for nine years and has been with Aspirus for four years. Her areas of specialty include working with dry needling, vertigo and wound care. Other areas of specialty include pediatrics, pelvic floor and lymphedema as well as general orthopedics.
In dry needling, very thin needles are inserted into specific muscles along trigger points to provide intramuscular stimulation which can increase mobility and reduce pain.
Zenner has to go through specialized training to get the certification to do this kind of therapy. While she can work throughout the body, the most common areas are shoulder and neck. This can be done in conjunction with manual massage to relieve pain and get people back into their favorite activities. She said needling has been an effective way to get people over the hump of plateauing during their physical therapy process.
Zenner said that most patients are referred from their primary care doctor, but they also get referrals from specialists, chiropractors, podiatrists and also from dentists for things like TMJ (temporomandibular joints).
Physical therapy offers many benefits through addressing specific pain or injury to getting people back to work or enjoying their lives following accident, injury or medical conditions such as a stroke.
Zenner and the staff at Aspirus Therapy and Fitness - Medford invite people to learn more about physical therapy and the positive impact it can have on their lives.