Posted on
1 dead, 2 injured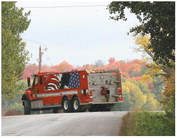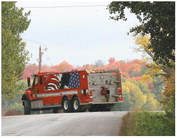 UPDATE September 28, 2023 : Taylor County Sheriff Larry Woebbeking released the names of those involved in the September 26 crash. The driver was identified as Blain Lain and the passengers were Zachary Mesun and Breanne Flint (deceased).
September 26, 2023:
Speed, drugs cited as factors in one-vehicle crash on Oriole Dr.
One person was pronounced dead at the scene and two others were airlifted following a one-vehicle high-speed crash in the town of Medford Tuesday afternoon.
According to Taylor County Sheriff Larry Woebbeking, on September 26, 2023, at 2:54 p.m. the Taylor County Sheriff's Office received a 911 call reporting a one vehicle accident with multiple injuries.
The crash location was reported to be on Oriole Dr. north of CTH O in the town of Medford.
Emergency services were dispatched, including fire, ambulance, and law enforcement. Taylor County deputies were first on scene and found that all of the vehicle's occupants had been ejected during the crash.
Two males and one female were located. The two male occupants were transported by ambulance and flown by helicopter for treatment of their injuries. The female had succumbed to her injuries and was deceased at the scene.
Preliminary investigation into the cause of the accident indicates the driver was one of the injured males and the other two were passengers. The vehicle was traveling southbound on Oriole Dr. at speeds in excess of 100 mph when the driver lost control of the vehicle while crossing a bridge.
After losing control, the vehicle left the west side of the roadway at a high rate of speed overturning multiple times during which the occupants were ejected. The vehicle continued, overturning until eventually coming to rest approximately 191 yards (573 feet) off the roadway. The accident remains under investigation; speed and drugs are considered contributing factors in the accident.
Names are being withheld pending notifications of the families.