Posted on
Hash Brown Egg Bake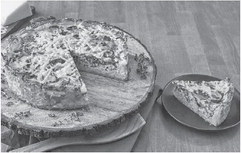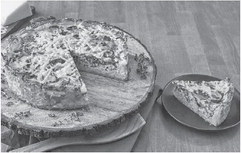 Ingredients HASH BROWN CRUST:
1 package (20 ounces) frozen shredded hash brown potatoes, thawed
8 ounces Saxon Snowfields Butterkäse Style cheese, shredded (2 cups)
1/2 teaspoon each salt and pepper EGG FILLING:
2 tablespoons butter, cubed
1 medium sweet red bell pepper, chopped
1 cup sliced fresh mushrooms
1 teaspoon minced fresh thyme
1 bag (5 ounces) fresh baby spinach (about 5 cups) Salt and pepper
8 large eggs
1/2 cup heavy whipping cream
8 bacon strips, cooked and crumbled
8 ounces Saxon Snowfields Butterkäse Style cheese, shredded and divided (2 cups) Hash Brown Crust: Place hash browns between paper towels; press to remove excess moisture. Combine the hash browns, butterkäse, salt and pepper in a large bowl. Press onto bottom and up sides of a greased 9-inch springform pan. Freeze for 1 hour. Heat oven to
425°F. Bake crust for 15 minutes. Cool on a wire rack.
Egg Filling: Meanwhile, melt butter in a large skillet over medium heat.
Add the red bell pepper, mushrooms and thyme; cook and stir for 4-6 minutes or until vegetables are tender. Add spinach; cook and stir until wilted. Remove from the heat. Season with salt and pepper. Whisk eggs and cream in a large bowl. Season with salt and pepper. Stir in the bacon, 1 1/2 cups butterkäse and vegetables. Pour filling over crust. Bake for 30 minutes.
Remove from the oven. Place pan on a baking sheet. (Pan will be hot!) Carefully run a knife around edges of pan. Sprinkle with remaining butterkäse. Remove sides of pan. Bake for 10-15 minutes longer or until center is set and a knife inserted near the center comes out clean. Let stand for 10 minutes before serving.
Cheesemonger Tip Butterkäse means "butter cheese." Snowfields Butterkäse Style cheese is made with autumn and winter milk. Aged for at least
3 months, it has rich buttery and sweet almond flavors with a bright, lemony finish.
Source: www.wisconsincheese.com
Shoppers took a break from their holiday shopping to enjoy some coffee and food at Uncommon Ground in downtown Medford.