Posted on
Looking back on 36 years of service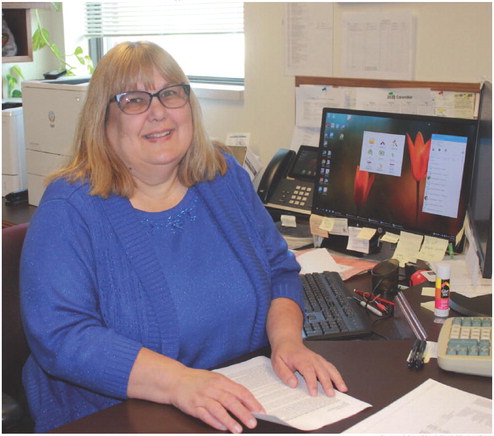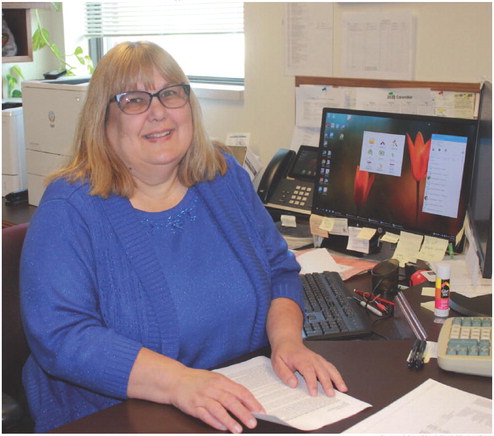 Rose Thums getting ready to pass the baton to new leadership in Taylor County clerk of court office
If you have ever been to the Taylor County Clerk of Court's office you've probably have come across Rose Thums a time or two.
Thums has been with Taylor County Clerk of Courts for 36 and a half years.
Growing up in Whittlesey and graduating from Medford, she felt geared toward the legal profession after taking a business legal class in high school.
In college, she attained an Associates Degree of Secretarial Science-Legal from Northcentral Technical Institute, which is now known as Northcentral Technical College (NTC).
After graduating from college, she moved to Madison where she worked as a legal secretary for two different law firms, one of which is still in business today.
In 1986, she moved back to Medford and got a job with Taylor County as the Deputy Clerk of Court in the Clerk of Court's Office. Today, she holds the Clerk of Court position.
The Clerk of Court is an elected official who runs for office every four years, along with the Sheriff. The responsibilities of the Clerk are to keep record of all criminal, family, small claims and civil actions including all traffic and ordinance violations. The Clerk also collects fines, forfeitures and court costs ordered by the court.
Thanks to the advancement of technology, all of the paper documents are scanned into a file which saves a lot of time in their office. They keep track of the files through e-filing.
"The electronic world has changed a lot of how things are done in our office," Thums said.
The Clerk keeps brief minutes of what happens in court, while the court reporter takes down word for word what is being said in the courtroom. The Clerk of Court opens and closes the cases and prepares the Judgement of Conviction. Jury selection process and records are maintained by the Clerk's office. The Clerk could get summoned for jury duty, but would more than likely not get selected because they tend to know too much about each case.
The Clerk of Court's office works closely with other offices within the courthouse, as well as other Clerks in other counties throughout the state. The offices they work with within the courthouse are: child support, probation and parole, the district attorney's office, sheriff's department, circuit court, register of deeds, and human services.
The office also processes passport applications including passport photos.
"The best part of my job is that it's different every day, you walk into the office, you never know what is going to happen," Thums said.
Even though the law is always changing Thums feels the most common change in her career as the Clerk of Court has been the number of people who represent themselves in divorces.
"When people represent themselves in divorces, it takes a lot longer to file the paperwork because we have to explain procedure to them. Our job is to not give legal advice, but rather to explain procedurally how things have to be done in which order,' Thums said.
Thums stated that the most challenging part about her job is how some people don't understand she has a protocol to follow. She does work for the people of Taylor County, but she also has to follow state statutes.
"Our job is a fine line between procedure and not giving legal advice," Thums said when asked how is the best way to describe the job she does.
The most memorablecase that Thums has ever been a part of was while she was Deputy Clerk of Court and only had a few years under her belt. The trial was for a double murder case with jurors that had to be bussed in from another county. The jurors had to keep out of the public eye and away from any media influence. The jurors could not go home at night, they had to stay in their hotel rooms, which had the tv and phones removed from each of the rooms. The bailiffs would have to sleep during the day because they couldn't sleep while the jurors were asleep. The Clerk at the time had to find restaurants where the jurors could be separated from the public.
"We don't have as many jury trials that we used to have but we have at least four per year," Thums added.
Thums has worked with two judges throughout her 36 year career for Taylor County but has also worked with other judges from other counties if the Taylor County judge isn't available. She has however worked with five different District Attorneys in her time. Attorneys from other counties have said that Taylor County has one of the most easy going Clerk of Court offices around. That is a compliment that Thums take pride in.
Through all the good and the bad, Thums credits the people she has worked with to have kept her going throughout the years.
Thums said, "I've truly enjoyed working for Taylor County."
"The best part of my job is that it's different every day, you walk into the office, you never know what is going to happen. " — Rose Thums "I've truly enjoyed working for Taylor County. " — Rose Thums