Posted on
County looks at emergency command center needs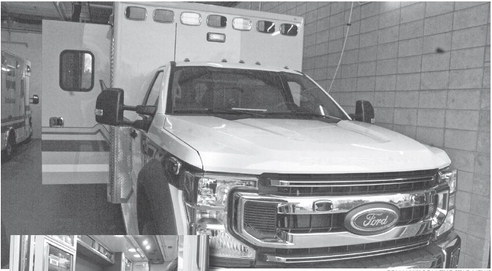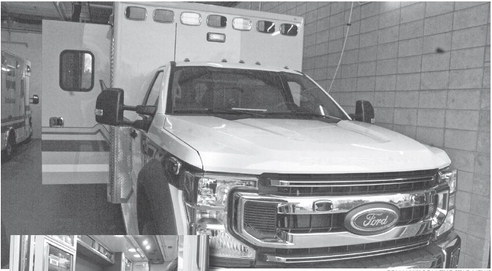 Committee to look at equipment, space needs for emergency response
Taylor County's emergency operations center consists of a small rolling cart and some outdated landline phones kept in the sheriff's department training room on the ground floor of the courthouse.
This is a challenge for Emergency Management coordinator Daniel Gellert as he plans an upcoming hybrid training exercise involving multiple agencies.
He told members of the Taylor County Law Enforcement and Emergency Services Committee on Friday that part of the exercise is to test the function of the communication assets in the county in case an incident happens and they have to activate the emergency operations center.
He said while the upcoming exercise will be mostly a table-top exercise he hopes to have a full-blown exercise within the next three years.
The challenge he said is that the training room space currently designated to be used as the operations center lacks equipment.
"Maybe this space isn't really what we are looking for," Gellert told committee members.
Sheriff Larry Woebbeking agreed. "I have never thought that this was the proper space for it," he said, noting that the sheriff's department would have need of the space if they had an emergency situation.
According to Gellert, beyond weather emergencies, he said the biggest emergency concerns facing the county would be with refrigeration coolant system leaks at the local factories. He said that in the case of a major ammonia leak, the courthouse is actually in the evacuation zone so establishing an emergency operation center there wouldn't necessarily be the best option.
Committee chairman Lester Lewis noted that any place they selected would need to have good cell phone service to reflect how most of the communication would be taking place. The ground floor of the courthouse does not have good reception.
The county will continue to look at options for potential operations center locations.
Ambulance updates
A retired Taylor County Ambulance will see new service as an Aspirus bariatric transport ambulance that will be stationed in Mosinee.
Members of the law enforcement committee approved selling the ambulance to Aspirus for $7,500. The ambulance had been purchased by the county in 2009 and was taken out of service with the arrival of the new 2022 model.
He said that while the ambulance only has 76,000 miles on it, it has been Wisconsin wintered for the past 13 years. He said Aspirus was interested in purchasing the old ambulance to be refurbished and used to transport people who are in excess of 600 pounds. He said the Aspirus system currently does not have an ambulance for that purpose and said being able to purchase this used one from the county would get one in service sooner. There is currently a two-year delay in getting a new ambulance from the time it is ordered.
"Is that a fair market value?" asked committee member Chuck Zenner.
Finance director Larry Brandl noted the last surplus ambulance had been sold for $5,000 and that they typically get $4,000 to $5,000 for them through government auction sites. "We don't usually get a lot for them," he said.
Lewis raised the question if, since the ambulance is still usable, why they are replacing them on the rotation schedule they are.
"Should we lengthen that service window out? If it is a serviceable vehicle that Aspirus wants to use, why aren't we lengthening our service years that we are using this vehicle?" he asked.
The ambulance is 13 years old, Deal said. He noted that while there was one in recent years that was sold early because of on-going mechanical issues with it, the standard has been a 12 year rotation. He said that moving forward, especially with the move to truck-mounted chassis, there shouldn't be an issue with getting 15 years out of ambulances versus the current 12.
He said the plan for the bariatric transport is to have it based at the airport at Mosinee, which is a centralized location, and that it would be available system-wide if the situation arose.
Unlike emergency road ambulances which must be ready to go at all times, the transport vehicle would typically have a one or two day notice of needing to make a transport.
Deal went on to report that they recently crossed the threshold for 1,000 calls for 2022 and expected that by the end of the year the county would have about 1,250 calls.
He noted that these numbers are impacted by some high users with one patient in Medford having 100 calls over 2 months and another patient in the Gilman area which accounted for a significant number of the Gilman calls that have come through in the past year. He said that number should go down as they have talked with social services to get alternative transport for the individual rather than using the ambulance.
Overall about 65% of the calls are in the Medford area, with Rib Lake seeing about 25% and Gilman accounting for about 10% with the remaining being other calls.
Committee members questioned efforts to have the ambulance service fully staffed. Ambulance stations in Medford, Rib Lake and Gilman are staffed 12 hours a day, seven days a week with full-time crews. Ideally, paid-oncall volunteer drivers would cover the remainder of the shifts, this has not been the case with just three of the six volunteer spots in Gilman filled, and Rib Lake down to one volunteer.
"There are no certified EMTs in the Gilman area, they just don't exist," Deal said of the number of currently licensed people in the area to pull from.
"What are we doing about recruiting and training?" Lewis asked, stating that more needs to be done with it.
Deal said they are working with the Medford school district's health occupation students to develop future crew members. Deal explained that of previous volunteers one aged out and another decided to pursue a nursing career.
In the absence of the volunteers the night shift calls are being handled by full time crew members who end up being paid overtime for the calls.
Deal explained that the Aspirus system has addressed issues with its hiring process to have ambulance positions for the county as being always open so that people may apply through the Aspirus website.
In other business, committee members:
  Received an update on jail matters from Woebbeking. The jail is at 53 inmates with 35 of them from Marathon County. He said they continue to be short handed in the jail and that he has some new hires going through the drug screening process. "It continues to be a revolving door and something we will continually work on," he said.
  He also gave an update on efforts to address issues in the jail inspection report. He highlighted one of them being the size of the televisions in the jail. While committee members said they did not put a high priority on that, Woebbeking said that ensuring the inmates are happy helps the jail staff not have to deal with as many issues. "Happy inmates are happy correctional staff. It helps us in the long run," he said, noting a few hundred dollars on a new television is worth the investment.
  Approved filling an additional deputy position to bring the total to two vacancies. "Do you need this position?" asked Zenner, noting that they need to look at every vacancy. Woebbeking explained that they have two to three deputies in shift to cover just under 1,000 square miles of area. He said in addition with jail staff shortages deputies are being called on to assist in the jail as needed, something that didn't happen in the past.