Posted on
Electric co-op community aids Florida co-op staffs hit hard by hurricane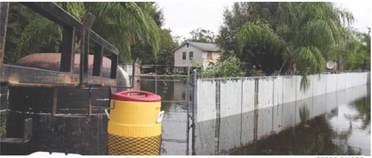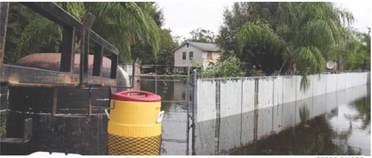 Derrill Holly
National Rural Electric Cooperative Association
Hurricane Ian damaged or destroyed a lot of homes in Florida, and employees of electric cooperatives–who spent more than a week supporting power restoration efforts–are among those facing years of rebuilding.
"This storm impacted multiple Florida co-ops from south Florida to the Georgia line. Just like the communities they serve, co-op employees were also impacted, but still persevered and continued working to restore power to their co-op members," said Mike Bjorklund, General Manager for the Florida Electric Cooperatives Association.
The statewide association representing 17 of the state's electric co-ops is administering a fund activated to help co-op employees faced with making repairs or replacing lost or damaged property.
Peace River Electric Cooperative's 125 employees spent more than a week restoring power to its members. The co-op opened its facilities to staffers and their families before the storm, with some remaining in the Wauchula headquarters for several days after the storm's ravaging winds swept over the co-op's territory early last Thursday.
"Our employees are truly servants to our community," said Randy Shaw, PRECO's CEO. "Despite having catastrophic damage to their homes, they put their personal losses aside to help get our community back on its feet."
When Ian made landfall September 28 as a high-end Category 4 hurricane, its record storm surge, 155 mph winds and torrential rains caused massive flooding. That flooding still has not subsided in several communities where employees live, keeping many from being able to inspect the damage or begin to help their families recover.
"PRECO's 10-county service territory stretches from coast to coast across central Florida," said Charlotte Heston, PRECO's vice president of corporate services. "The worst of the storm swept through the central part of our territory and thousands of homes and vehicles have been flooded."
Hurricane Ian still had winds in excess of 111 mph as it moved through the service territory of Peace River Electric Cooperative, damaging homes and flooding neighborhoods.
Many manufactured homes were smashed or toppled, and scores of vehicles were inundated by floodwaters. Some homes were torn apart by the storm's force, scattering clothing and other personal items over large areas.
"The employees who live in the area surrounding our Wauchula headquarters suffered some of the worst damage," said Heston. Wind damage from the storm included lost siding, downed fences and splintered roofs. Many homes are expected to be uninhabitable for months or must be demolished before rebuilding.
"When the storm lingered over central Florida for nearly 24 hours, we got historic flooding," Heston said. "I've lived here all my life and I've never seen flooding like this."
Washed-out roads and high water have kept some staffers from returning home to inspect the damage. Others who've been able to see the damage returned to stay at the co-op's offices while arranging for temporary housing or making temporary repairs.
"We have a staffer who couldn't drive to his home for three days because of high water," said Heston, who spent almost a week living in her office. "When we opened our headquarters as a shelter for employees and their households, the inn was full. Some people remained here with their families and their pets for several days after the storm."
The co-op had its entire staff working 16-hour days throughout the storm and restoration period, and those who've been able to return home showed up for their shifts, performing any tasks they were trained or able to do until restoration was completed Tuesday.
"One of our member services staffers has more than four feet of water in her home," said Heston. "She had to be rescued from her home but has been on the job answering phones and helping members ever since."
She has also been among the staff and family members using laundry facilities at the headquarters, where offices, break rooms and hallways still serve as sleeping quarters.
"People see the line crews, but our member services, administrative staff, and support personnel have been here every day," said Heston. "They worked through the weekend and, even after the long shifts, those who've been able to return home are doing what they can to clean up the damage and take care of their families."
A municipal utility that serves the city of Wauchula just completed power res- toration Thursday, so co-op staff who live there had no power or water, which are essential to making repairs and cleaning up.
"We've got an employee who brought his family here to shower," said Heston.
"Some of our staff are facing a very long haul getting their lives back to normal," said Mark Sellers, PRECO's communications coordinator. "They've not only lost their homes, cars and personal trucks, they've lost everything."
Louise Blackman, Peace River Electric Cooperative's vice president of member services and business technology, camped out in her office as Hurricane Ian swept through the co-op's service territory.
The statewide association activated its FECA Disaster Relief Fund on Wednesday. The initiative is similar to other funds set up after hurricanes or major disasters in Florida and other states in the past. Employees at several of the statewide association's member co-ops face challenges like those confronting PRECO workers and their families.
Staff and directors from co-ops across the country have often donated to those relief efforts based in part on their own memories of the hardships and challenges that follow natural disasters.
"Co-op people are part of the communities they serve," said Sellers. "They live where they work, and when storms like Ian occur, they share the same challenges faced by their neighbors. They also know that life gets a little better for everyone once power is restored and the lights are back on."
PRECO received help from hundreds of mutual aid workers during the week. It took the co-op nearly a week to fully restore power to all members who could safely receive it at their homes and businesses. Many of those mutual aid crews have moved on to other areas where restoration of co-op power is still under way.
NRECA, its sister industry associations and their staffs have consistently supported co-op-sponsored relief efforts following major disasters. Arlington, Virginiabased NRECA is donating $10,000 to the FECA-administered fund from proceeds that association employees have made to their Cooperative Development Fund.
Donations raised will be made available to staffers from several Florida co-ops who experienced losses related to Hurricane Ian.
Donations to assist co-op employees with hurricane recovery can be sent to FECA Disaster Relief Fund, FECA, 2916 Apalachee Parkway, Tallahassee, FL 32301, addressed to the attention of Jeff Banka, director of accounting.