Posted on
Local pastor and wife adopt children from Haiti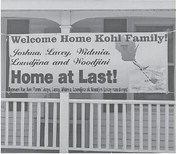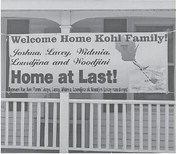 EMILY GOJMERAC
REPORTER
Senior Pastor at River of Hope church, Josh Kohl and his wife, Lacey, a phlebotomist at Aspirus and administrative secretary of River of Hope church, have always dreamed of having a family of their own.
After trying to have a baby of their own, to no avail, Josh and Lacey started pondering the idea of adoption. In 2015, they started researching places that offer adoption. They first considered adopting locally through a foster care system, but were told that the only ones who are the most in need would be children with special needs.
"Special needs adoption wasn't for us because we would not be able to give them the life that they deserve," Josh said.
Once local adoption was off the table, they started considering international adoption. They considered the choices of Russia, China (which had a wait period of 9 years), Ethiopia and Bulgaria. Those choices became obsolete when they found out they had to live there for 6 months to get to know the children that they may be adopting.
"The six-month stay is a great thing, because it is important to have that bond with the children as much as you can" Josh said "But that just wasn't going to work for us, we both had jobs that we couldn't leave for that long of a time."
While they were coming up with ideas of which countries to pick from, Lacey mentioned Haiti. With both of them not knowing anything about Haiti, other than the earthquake that swept through the country in 2010, they decided to dig deeper.
Once Haiti was decided, Josh and Lacey started researching. They came across the agency called Love Beyond Borders, which is an organization out of Colorado, to help with placement. They also worked with Catholic Charities who was their home study agency. Which meant that they had to come into their home, perform interviews with Josh and Lacey, and go through vigorous training, which Josh and Lacey said was extremely benefi cial to them. In 2019, Josh and Lacey were allowed to travel to Haiti for a span of 15 days to meet and get to know the girls.
Josh said "We originally wanted to adopt the two younger girls, Lourdjina, age 11 and Woodjini, age 9. We knew they had an older sister, Widmia, age 16. While we were in Haiti we were able to meet all three of the girls, and once we met them, we fell in love with all three of them."
Before they knew it, they were starting the paperwork to adopt the oldest sister as well.
Josh and Lacey had to fight to get Widmia added into the adoption process.
Ordinarily, once the initial trip to the home country is complete, the parents can go back and forth to the home country and spend time with the children as many times as they want. Although, due to COVID restrictions, that wasn't an option. They were able to talk to the girls via Zoom and get to know them that way.
"I think we talked to the girls through Zoom about 4 or 5 times within the span of 2 years," Lacey said.
To ease the transition for the girls, Josh and Lacey are working hard to keep the Haiti traditions alive. They will be celebrating their holidays and even learning Creole, their native language.
Josh said "We hope to go back again to Haiti because we never want them to forget who they are."
If there was any advice that Josh and Lacey could give to families who are hoping to adopt, it would be this:
• Do your research.
• Listen to people.
• Take advice.
• Develop a support system for before, during, and after the adoption process.
• Don't be afraid to ask for help.
• Find a therapist to help ease the transition for the new member of the family and to be able to establish a bond with the family.
• Be willing to change. If you're not willing to change your life, then you are not ready to adopt.
• Look at things from a different perspective.
"Sometimes it is hard and there were times when we wanted to quit the process, but the end result is so worth it," Lacey said.
People tell Josh and Lacey that the girls are so lucky that they got adopted.
Josh says "No, we are the lucky ones because they made our family complete."
SUBMITTED