Posted on
Solemn goodbye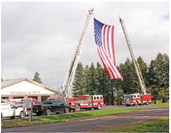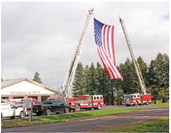 Last Call ceremony marks funeral of long time Stetsonville chief
NEWS EDITOR
It takes a special kind of person to be a volunteer firefighter.
It takes someone who puts service in protecting other people's lives and property above their own personal interests. It takes someone willing and able to answer the call when it comes no matter the time of day or night. It sets aside their personal sacrifice and discomfort to help neighbors, friends and strangers in need.
Mike Danen was that kind of person. Danen served on the Stetsonville Volunteer Fire Department since 1973. He was elected chief in 1981 and served in that capacity for 36 years until 2017. Danen continued to be a member of the fire department and could be easily spotted at fire and accident scenes, doing his part to serve his community.
Mike Danen died on September 20. On Saturday, Oct. 2 his fellow firefighters from Stetsonville and surrounding fire departments gathered during his funeral held at Sacred Heart Catholic Church to show their respect for his unfailing service.
Prior to the start of the service an honor guard kept vigil over Danen's ashes and firefighters in attendance took part in a ceremony saluting him. Following the funeral services, firefighters stood at attention during the Final Call ceremony before his ashes were transported to Stetsonville Fire Department where a giant American flag was displayed from two ladder trucks.