Posted on
Rose Sromek is still sassy at 100 years young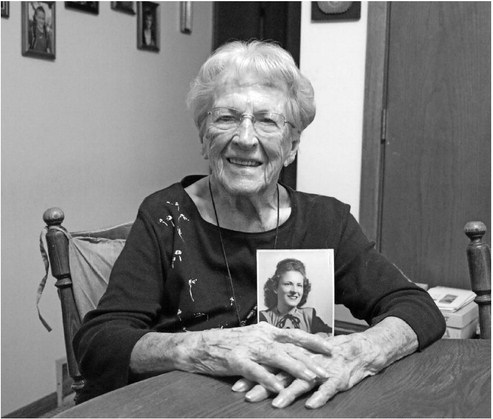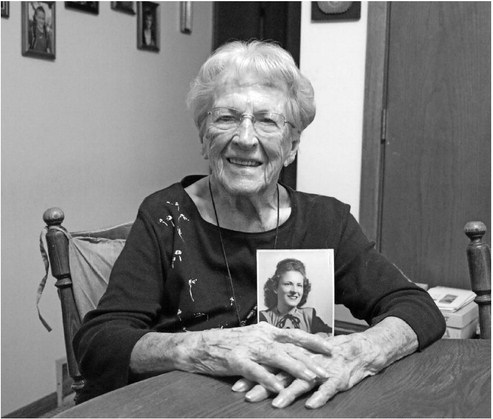 She's now hit the century mark, but Rose Marie (Polak) Sromek, of Lublin, is still what her family calls a sassy and fabulous woman. Although she's slowed down somewhat, Rose still enjoys visiting and playing cards when family comes over, and she keeps a smile on her face throughout it all.
Her mother and father, Jacob and Angeline Polak, were from Poland, but Rose was born in Lublin, Sept. 25, 1921. She grew up in Bellinger, where her parents farmed, with a wood stove for cooking and a smaller stove for heating the house.
"We had a small farm, with a log house and log barn," said Rose. "Even our toilet was about a block away from the house."
There was no running water, so the seven kids used a hand pump outside and carried the water inside the house. It was indeed a small home, as the log structure was a one-room house, with three in a bed, as a way to stay warm.
"We had a horse and buggy to start out with," said Rose. "We'd go to church that way."
Rose says her family took the wagon to Thorp, to shop, but usually walked to church growing up and sometimes got a ride from someone who owned a car. She said they weren't afraid of hard work, but didn't really realize it was hard work.
"We all survived, everybody else was doing the same thing," said Rose.
When attending the little country Riverview School that was about two miles away, Rose went to the oneroom building with 30-40 kids. She says it was a lot of fun, with 15 minutes of recess in the morning, a half hour lunch and another 15 minutes of recess in the morning.
Rose was actually skipped one grade and the teacher tried to skip her a second time, but she didn't want that, because she loved school and wanted to stay with her friends. So, her mother said there would be no more skipping.
"I knew I wouldn't go to high school and I loved school," said Rose.
The high school was 10 miles away at the time and no school buses ran routes, so none of the Polak kids could attend high school. After passing out of the younger grades, Rose was 12 or 13 when she moved to Minneapolis, Minn., to take care of children.
She then worked at Telex, manufacturing hearing aids, until she married her husband, Stanley "Stan"Sromek, who was from this area. Rose met Stan at dances at the Kit Kat Club in Thorp, when she returned home on visits.
Stan and Rose were married June 22, 1946, and in 1947, their son, Greg, was born, followed by daughter, Sharon, in 1948. For much of their married life, the couple lived on the Polak home farm (half a mile to the west of their current house), which is now owned and operated by son, Jerry, who came along in 1953. The fourth and final child born to the couple, was daughter, Judy, in 1957.
Situated on the home farm, Rose milked cows by hand.
"So, we had those milk cans and every day, we'd take them to Bellinger, to the cheese factory," she said. "Every so often, we'd get a paycheck for milk we'd take down there."
She also had a large garden and canned the harvest, including 200 jars of beans, 100 quarts of pickles, pickled beets and a 50-pound crock of sauerkraut, along with making homemade bread every weekend.
"We always had cocoa and homemade bread before we'd go to bed," said Rose, with a fond smile. "It was a wonderful time, I guess. I enjoyed it."
To save money, Rose also made clothes and sewed dresses for the girls to wear to school, and made her daughter's wedding party dresses, as well as doing a little embroidery over the years.
"I think I made quite a lot of them," said Rose.
She also worked at Wolf Pharmacy and People's Exchange Bank in Thorp, as well as the bank in Lublin. She got the job in Lublin, because she can speak Polish and there were so many Polish-speaking customers. Rose admits she still speaks her family's native tongue now and then.
"Sometimes my sister and I get together – let's just talk Polish today – but there's hardly anybody that talks Polish," she said.
Because Stan worked in Chicago, Ill., for a number of years, at tooling and dieing, and only came home on weekends, much of the chores fell to Rose and the kids. To her, it seems as though Rose and Stan raised two families, with the gap in the children's ages.
That didn't stop the couple from polka dancing in Thorp and Gilman. In fact, Stan was a drummer in first a jazz, then Polka band, with his brothers, called the Rhythm Rascals.
"I used to like to go to those Polish dances and my husband did, too," said Rose. "So, that was our pastime."
Rose also recalls lots of time with family and walking to the neighbors' homes to visit. Parties were mostly held at the bar that used to be across the road from the home farm, where people gathered to spend a few leisure hours.
"Almost every weekend, we'd go some place," said Rose. "Everything is so different nowadays."
In the 100 years she's been alive, Rose has seen more changes than can be imagined, with the TV and iPad probably the biggest things. Rose is especially amazed that she can talk to someone on the iPad while looking at them on a screen. She says she didn't dream she would live to be 100.
"I never even thought of it," she said.
In her life, Rose also loved to travel and fly on airplanes. She's been to both oceans, the Gulf of Mexico, and even to Las Vegas, Nev., but she never made it to visit her family's homeland of Poland.
"I would have liked that," said Rose.
After the old home farm she grew up on and lived her married life was taken over by Jerry, Stan and Rose moved to the current house. Stan passed away in 2016, after 70 years of marriage.
Rose says she is very grateful for her family (which includes six grandchildren and 10 great-grandchildren) and except for Greg, who lives in Neillsville, the other children are only a few miles down the road.
"We didn't have much money, but we had a lot of fun and we had nice families," said Rose, thinking on her secret to long life. "You just get up and do what you're supposed to do, and keep smiling."