Posted on
One dead after semi, pickup collide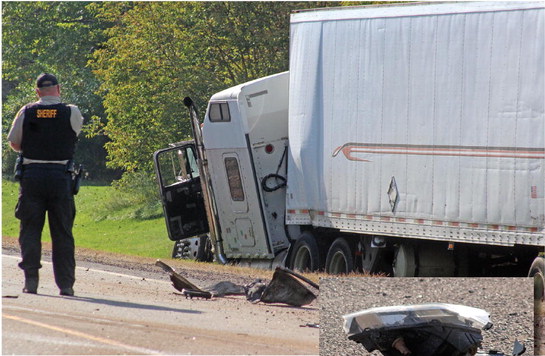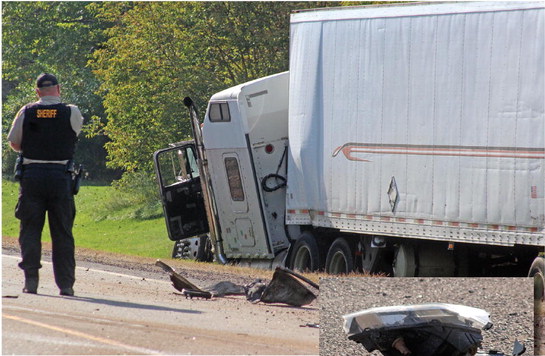 Edgar man killed in Friday morning crash at Apple Avenue and Hwy 13
An Edgar man is dead following a collision with semi-tractor/trailer on Friday morning.
The driver was identified as 36-yearold Scott Soczka of Edgar, Wisconsin.
According to Chief Deputy Corey Dassow, on Friday, October 1, at approximately 9:24 a.m., the Taylor County Sheriff's Office Dispatch Center received several 911 calls reporting a two-vehicle crash on Hwy 13 at the intersection of Apple Avenue in the town of Little Black. It was reported that a semi-tractor/trailer unit and a passenger truck were involved. It was further reported that the driver of the passenger truck was critically injured.
According to Dassow, Taylor County Deputies, along with Stetsonville Fire, Medford Ambulance and MedEvac were dispatched to the scene. Emergency responders found a black Ford F-150 passenger truck with extensive damage in the roadway and a lone male occupant trapped inside the vehicle.
Emergency responders found that the male driver was trapped inside the truck and was unresponsive. Emergency responders determined that the driver was deceased. The driver of the semitractor/ trailer unit was transported to Aspirus Medford Hospital for medical evaluation.
According to Dassow, preliminary investigation indicates the semi-tractor/ trailer was southbound on Hwy 13 trav- eling around 55 mph when the northbound Ford passenger truck made a left (west) turn onto Apple Avenue in front of the semitractor/ trailer. The semitractor/ trailer impacted the passenger truck, causing significant damage to the passenger truck.
Based on the preliminary investigation, it appears that the driver of the passenger truck failed to yield the right of way while making a left-hand turn. There were no other occupants in the vehicle at the time of the crash. Dassow said that currently, it does not appear that alcohol or drugs were factors in the crash.