Posted on
Easing back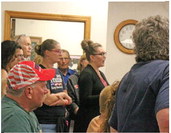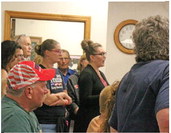 Medford school eases contact tracing, shifts enforcement to county
NEWS EDITOR
The Medford school district is putting parents in the drivers seat when it comes to determining if students should be kept home after being in close contact with someone who tests positive for COVID-19.
In front of a standing room only crowd of area residents that spilled into the district office lobby Monday night members of the Medford School Board voted in favor of a plan developed by district administrator Pat Sullivan to try and curb the number of school days being lost by students on close-contact quarantines.
"It has been a tough decision for us to make," Sullivan said of the plan that was developed by the district's administrative team. He noted the driving issue was the number of students who were missing days of instruction and the impact it was having on their educations. He said last week the district had 200 students out across the four schools due to close contacts. Under the plan, those who test positive for COVID-19 must continue to isolate themselves for the recommended time. In addition the district will still continue to contact trace for students and staff who have come into contact with a reported positive case.
"We are still in the contact tracing business," Sullivan said, noting he felt as both an administrator and a parent, that parents should have the right to know if their student was a close contact.
School officials will contact families by phone and letter that they were a close contact. He said he anticipates these phone calls to be much shorter going forward without having to have parents attempt to argue on if their student was five and half feet rather than six feet away from a positive case.
Major changes to the school procedures will be that if the close contact student is not exhibiting symptoms it will be their parent's choice if they participate in school, practices and events.
In addition to informing parents that their children have been in close contact with a positive case, the district will also be turning that list of close contacts over to the county health department. It will be up to the health department personnel if they issue quarantine orders. Sullivan emphasized that if people get a quarantine order from the health department, they must follow it.
He said the district is getting out of the business of voluntarily helping the health department. "We aren't doing that anymore, we are leaving it up to the parent," he said.
Board member Don Everhard asked about students who are showing symptoms or are sick at school. "We are still sending kids home who have symptoms," he said. "We have being doing that since the beginning of time." Sullivan noted that it is not just COVID-19 but any other illness they would send a child home if they were sick at school.
Sullivan noted for the record that county health director Patty Krug expressed her opposition to the changes proposed in contact tracing for students. The district effectively shifted the work to the county health department to do. Sullivan also noted the opposition from the school nurse over the change in procedure.
The administrative proposal was met largely with support from board members with discussion primarily focused on making it easier to have students who are out remain caught up with classwork.
Board member John Zuleger proposed an amendment to add an aide in each of the buildings as a way to make getting information from teachers to parents easier. He said the system didn't seem as fluid as it was last year.
Sullivan responded that it was in part due to the number of students who were out for being contact traced. He said with the changes that number would drop.
"For some kid that one day of missed instruction is a lot," said board member Jodi Nuernberger.
Board president Dave Fleegel said the board has already discussed that issue when the decision was made to go back to normal class schedules and put the focus back on in person instruction. Last year the district had teachers prepare two ways of teaching each day for the classroom and virtual students and had shortened the in-person school day to give teachers additional time to work with students.
The virtual option ended up being a struggle for many students and their families with it being a challenge to maintain good, or in some cases even passing grades.
"I am not ready to throw our staff under the bus," Fleegel said, noting the teachers are doing what they are supposed to be with providing work. Board member Don Everhard agreed and drew from his experience as a former building principal that the aide positions would be quickly pulled into numerous directions based on the needs of the moment.
Board member Jodi Nuernberger questioned if the county health department had the staff to handle doing the contact tracing without the school helping them. She expressed concern that a student could be sitting next to someone who was a close contact but who didn't stay home.
Everhard replied that the numbers showed that of the 390 total students placed on quarantine since school started this year, there have only been seven students who ended up coming down with COVID-19.
Fleegel said he appreciated that statistic but also noted there is also a high percentage of people who feel no need to test if they are contact traced. He noted that while the number of confirmed cases is low there is a question of how many others might be out there. "We all know it is muddy," Fleegel said.
Other questions were raised about the possibility of monitoring students who have been exposed such as taking temperatures every morning. Sullivan said that such a step would be "extremely difficult" for the school to do, but they would do it if the board told them to.
"If you direct us to do it we will do it," Sullivan said.
Medford Area Elementary School principal Dan Miller said with the other tasks being done in the morning at the elementary school it would take another staff member to take temperatures for an hour every morning.
Board member Brian Hallgren was the most vocal in his concerns about the proposed plan. He referenced the nearly hour-long citizen input that had preceded the board discussion noting the level of misinformation and disinformation based on political leanings that were expressed and urged people to look deeper than what they are hearing from their sources, noting he needs to do the same with his sources of information.
Regardless, Hallgren said the board members and the community are coming together for a common goal. "We have to figure out what is best for kids as a whole," he said.
Hallgren has long been an advocate for a more cautious approach from the school district to the pandemic. "I still don't understand why we don't take every precaution we possibly can to protect our kids," he said.
Nuernberger raised the concern that having the school not sending people who have been exposed home could simply deny when they would be home and that instead of just seven positive cases, the district could end up with many more resulting in an increase in time lost.
"I think we need to get kids back in class," said board member Cheryl Wibben of the need to keep as many children in school as possible. "I am tired of being told that whatever decision I am making is wrong," she said, noting that by putting it in parents' hands it gives them the choice.
"We have to work together," Fleegel said, noting that the district's focus is trying to educate children and that they were not taking COVID-19 lightly.
He urged parents that they need to politely talk with classroom teachers about getting work caught up. "Not a demand, not starting with you SOB," Fleegel said. If parents don't feel they are getting proper response from teachers the next call is to the building principal to get the issue addressed.
"It is pretty hard to care if someone is screaming at you at the other end of the phone call," Fleegel said. He said while people are supposed to strive to rise higher than that it can only go so far before someone blows.
Board member Aemus Balsis objected to the provision in the procedure where the district would turn the list of contact tracing over to the county. He said this just will delay students getting ordered into quarantine. "I think it is passing the buck," he said.
In the end, an attempt to amend the procedure to include additional staffing failed after principals said it would likely add another level of complication rather than improve things. Likewise, an amendment to not turn over the contact trace list to the health department failed on a 5-4 vote. Board members voted to adopt the procedure as proposed.
Prior to the board's discussion and vote, they heard from several residents expressing concern and calling for changes in how the contact tracing was being handled.
Prior to the start of the public comment, Fleegel asked those speaking to be civil and noted there were students in the room attending for their American government classes and to keep language appropriate in front of them. He also requested that if another speaker raised the same points, if they could simply express their agreement with it rather than repeating them. While occasionally applauding points made by some of the speakers, the large crowd remained polite and considerate to those speaking and while listening to the board discussion.
Several spoke of mental health challenges in their students as a result of being on repeated quarantines and not being able to work or attend school.
Others residents raised concerns about masks and their belief in their potential to do more harm than good.
Resident Bob Bennet described masks as being as effective in stopping the virus as a chain link fence is for stopping a mosquito, referring to them as being a tool for suppression.
Medford schools currently does not have any mask mandates in place in the school buildings with students and staff allowed to wear masks if they choose to do so. The board had previously set up policy with a threshold based on the number of positive cases where a mask rule could be put in place, but even at the peak of local cases last winter that threshold would not have been met.
Kristie Ulrich reported on her petition for changes to the quarantine rules receiving more than 500 signatures. "I do not think by any means that Medford is untouched by COVID-19. But allow the parents and students to make the choice for their children to stay home or go to school. I understand we need to monitor the close contact cases, but let it be the choice and symptom monitor. Obviously if students are ill, then they should stay home and monitor the symptoms. I feel the issue many parents have, is the vaccinated get to stay in school and the unvaccinated are sent home immediately, when in close contact with a positive case. When the vaccinated can also get COVID and spread it," she said.
Other speakers questioned why students who had previously had COVID-19 and had natural immunity now, were being contact-traced. Others questioned why quarantining would continue even after a negative test result was received.
"Isolating our children at home due to an exposure at school is not the answer," said Kim Wojcik. "First, we are not set up to properly home school our children during this quarantine time. There are some "Zoom" options for classes but not all. With online learning not being set up this year, there is little to no guidance from teachers as they just do not have the time. Their slate is full with a packed schedule of teaching in person. We are now on day 7 of quarantine and we have yet to receive an email or letter in the mail to outline the process as we were told. Out of 7 classes, one teacher has reached out to try to keep my son on track during his isolation time," she said expressing a frustration shared by many other parents in the room.
"There are so many inconsistencies in the policies this year, that our quarantines are not even accurate at this point," she said. She also raised the mental health impact of the quarantines. She shared the experience of a relative who is a pediatric nurse at St. Joseph's Marshfield Children's Hospital who told her the suicide attempts for teens has multiplied several times since the pandemic has started.
Wojcik went on to criticize the system that allowed vaccinated students to remain in school while having non-vaccinated students sent home. "School policy should not treat people differently," she said.
Joe Bauer echoed concerns about treating vaccinated and unvaccinated differently. He said he was concerned about the contact tracking violating due process for the students and vaccine rules creating a "subservient class."
Marilyn and Larry Matyka also expressed their concerns. "We need to step up and change or our freedoms are leaving," Marilyn Matyka said.
Fred Smith said he felt frustrated as a parent. "You guys are letting us down," Smith said. "You have to keep our kids safe somehow," he said, but at the same time noting they need to be in school to get the education the students deserve.