Posted on
Cristy Hartmann (29:52.7). Hawk Amy ….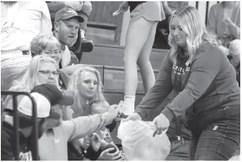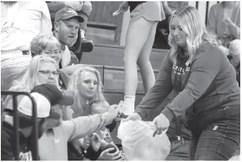 Cristy Hartmann (29:52.7). Hawk Amy Espinoza was 71st at 35:31.7.
Rice Lake senior Alexi MacDonald was the individual champion with a time of 19:30.3. She had the only sub-20 minute time. Barron's Fran Peterson was second in 20:28.8 and Flambeau's Kristen Lawton was third in 20:51.5.
Rice Lake won the team title with 28 points, 19 fewer than Cameron. Barron was a distant third with 119 points, followed by Ladysmith (128), Bloomer (135), St. Croix Falls (136), Clear Lake (141) and Prentice-Rib Lake (186). Flambeau, Chetek-Weyerhaeuser, Spooner, Cumberland, Shell Lake and Frederic-Luck were all incomplete.
Prentice-Rib Lake continued to dominate the area's middle school boys circuit, winning that meet with 50 points, 30 better than Shell Lake. Henry Regier was third in 11:28 to lead the Hawks, while Josh Hartke was eighth in 11:57.8.
Prentice-Rib Lake will next compete in the Sept. 30 Athens Invitational to be held at Erbach Park.