Posted on
County board approves redistricting plan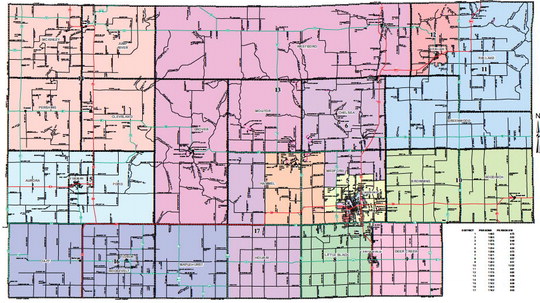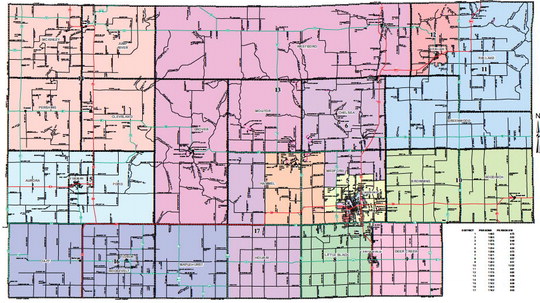 County Board district boundaries will remain largely unchanged under a redistricting plan approved Tuesday morning.
The only major changes occurred with the four city supervisory districts because of changes in city boundaries over the past 10 years and shifting of population in different areas. According to Michelle Grimm of the UW-Extension who assisted with the nonpartisan local redistricting process, all four of the city of Medford supervisory districts changed some with the goal of keeping each district at around the 1,100 resident mark.
Board member Mike Bub who represents the northwest corner of the city on both the county board and city council, questioned the changes noting he was told borders were moved in an effort to keep incumbents in their districts.
Grimm explained that historically, the county has tried to take where incumbents lived into consideration when lines were moved. "We kept the incumbent in their district," Grimm said.
City alderman Laura Holmes lives on the edge of her district and if the county had kept the border straight would have been no longer in the district she represents. A goal of the county was to keep the boundaries uniform and matching major roads or physical features such as the Black River.
"So it is not really gerrymandering, but kind of gerrymandering," said board member Tim Hansen.
"Gerrymandering isn't illegal, some people just don't like it," Bub replied.
Aldermen noted the physical area of some districts of the county versus other, more compact areas. Specifically, it was noted that supervisor Lester Lewis' district covered a very large portion of the county including the towns of Westboro, Grover and Molitor causing a supervisor to suggest that pretty soon he would have the whole county.
"The trees don't vote," replied county board chairman Jim Metz. Members of the redistricting committee worked to keep the populations of the districts as close as possible.
Later in the county board session following the public hearing, the redistricting plan was presented. Under state law, the boundaries of the districts are realigned every 10 years following the U.S. Census. With the delay in the Census information being released this year, the redistricting process was condensed in order to ensure district boundaries were set prior to nominations for the spring elections beginning.
Hansen noted the resolution approving the redistricting stated it was the tentative plan. "When does it become final?" he asked.
"Hopefully in a couple minutes," quipped board member Chuck Zenner.
Hansen said he was not sure if it had to be sent on to the state or other body. The board's action set the districts for the county for the next 10 years.