Posted on
Upgrading camera system will help with investment in Gilman park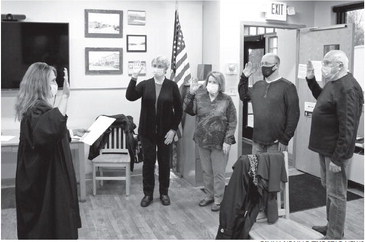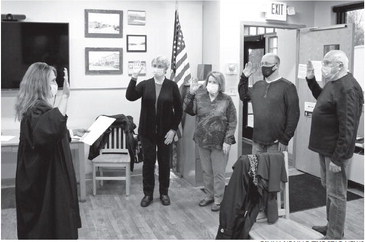 The park in Gilman sees a lot of use, not just in the summer, with ballgames and events, but also in the wintertime, with the Christmas lights display, which brings in many people from other communities. That's why the Gilman Village Board discussed getting new cameras at the park, during a regular meeting April 14.
Gilman Police Chief Tom Tallier says he would like the park to have wide angle cameras and is looking to upgrade the equipment, as technology changes. Currently, the equipment is stored in the concessions building, which does not get heat over the winter, and affects the monitors and DVR, as well as resulting in the wire crimping and poor image quality. Tallier plans a WiFi type system, so the cameras can be spread about and have all LED lighting.
"A lot of times, where you want it or need, is at night, so we gotta have better lighting…we kind of did some thinking outside the box," said Tallier.
An option for storage would be to use the lift station, which has heat, power and a phone line, and is located just on the other side of the bridge. Tallier said they can get by with fewer cameras, because of the range on them, and will place cameras at either end of the bridge in the park.
Although there is no concrete estimate yet, Tallier figures it will be less than $5,000, and mentioned that the village does have restricted funds as part of law enforcement that can be used.
Trustee Eileen Grunseth asked how long it would be before the cameras could be installed, to which Tallier says it should be up and functioning by June Dairy Days, since, without running wiring, the cameras are easier to install. Members agreed, once the estimate is given, to have Tallier bring the matter before the Parks Committee for approval, to expedite installation.
"Investing in our park right now, you can't go wrong with that," said Tallier.
Rick Johnson, director of public works, also mentioned a future expense that could occur, as he is having trouble with the sampler at the treatment plant, as well as the refrigerator.
"That sampler out there, it's a struggle with it every year, if not twice a year," he said.
"Have we ever replaced that sampler?" asked Grunseth.
Johnson said no, because the village purchased it new in 2010, but says they should have gotten the same kind as the one in the lift station. To replace the sampler to match the other, it would be around $10,000.
"If we're in a position to make this change, maybe we should start thinking about it," said Grunseth.
"It's something you should in the future," agreed Johnson. "It never was a good unit."
Members also discussed installing a bench in the park for $878, in memory of village board members who have passed away. The bench would face the playground equipment and have an inscription or plaque, saying who it was dedicated to. Although it was originally brought up that the bench could be in memory of member Mike Kinas, who recently passed away, village president Jane De-Staercke says she thinks it's a nice idea to broaden the memorial to all past and future members' memory.
Funds for the endeavor would come out of general government outlay, with all members in agreement to purchase the bench.
"I think it's a good gesture," said trustee Greg Steinbach.
DeStaercke also reported a discussion during a recent Tree Board meeting, on the replacement of trees lining the village sidewalks.
"We have to keep in mind, that our trees are memorial trees," said DeStaercke. "We probably need to be formulating some kind of a plan for replacement or removal, when necessary."
For now, the village will consult with DNR forester Don Kissinger about one of the trees in front of Grand Central Station, which may need replacement.
DeStaercke also mentioned that she met with Ron Weltmar from Gilman Cheese, who brought forth a new plan of intake and distribution, where a specifi ed route will take the delivery trucks to the plant down Fourth Avenue, Third Avenue and Second Avenue. While some may not like that Fourth Avenue has to be used, with the south dock for trucks, it's the only way.
The plant is not cutting down on production, but thought the change in route would be better than signage.
"If anything, it will be an increase in production, this will just be a much more efficient way," said DeStaercke.
"There's going to be a lot less truck traffic in town – a lot less," said Tallier.
Landscaping on the side of the village hall/library was also approved during the meeting, which will feature a gazebo, clock and donated benches. The area will face east and west, and should be highly visible from Main Street.
"This project will be at no cost to the village," said DeStaercke.
Clerk Candice Grunseth said the library has funds to pay for the project, but pointed out the village does have to pay for electric for the area, which will not increase expenses much.
C. Grunseth also mentioned that if anyone has any burning concerns, they should contact Tallier, not the DNR, as previously thought.
While this year's Arbor Day celebration will take place Thursday, April 29, at the Gilman School, no public is allowed, but Kissinger will Zoom in for the fourthgrade classes. There will still be a poster contest for the students to take part in.