Posted on
Student artists featured in regional show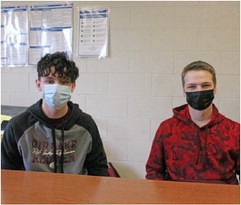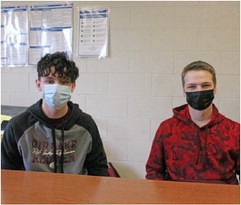 Dakota Dassow, Ashton Keiser of Rib Lake in Marawood Conference art show at Center for the Visual Arts
Rib Lake High School seniors Dakota Dassow, 17, and Ashton Keiser, 17, are among youth artists throughout the region whose works are on display at the Loft Gallery at the Center for the Visual Arts in downtown Wausau.
There are 33 pieces of artwork made by students from nine Marawood Conference schools on display at the gallery as part of the annual Marawood Conference Art Show. The show runs through April 28.
Keiser explained that their art teacher Jodi Radtke selected their work as being the best artwork out of the class.
"There were plenty of good ones that they could have put out there," Keiser said, noting the high quality of work by his fellow classmates.
Keiser's work was a wood print of rapper "Juice Wrld." He said he was inspired to do the piece because the rapper was a favorite performer of a friend of his. "It was one of my buddy's favorites and I did that artwork piece for him."
With a wood print, the image is carved on a piece of wood and then inked and used much like a stamp to create the print. Keiser described doing the wood carving as some of the most challenging work he has done. "I was carving for a couple weeks straight," he said, noting that the slivers of wood would get up his fingernails and everywhere in the process.
Keiser has been involved with art since he was a young child and always enjoyed drawing. With the art classes at Rib Lake he has been able to work with pencil drawings as well as exploring other mediums such as 3-D art.
PM
Dassow's artwork in the show is a pencil drawing of a wolf, and deer skull with a mountain range. Dassow's preferred medium is pencil and colored pencil but he also does painting. He said he really got into art during his freshman year, but was drawing before then too.
Dassow plans to pursue a career in art. He is currently working as an apprentice to Medford tattoo artist Dustin Rehbein and plans to seek a career as a tattoo artist.
After graduation, Keiser said he is planning a career working in concrete in Minnesota. Keiser said he plans to continue drawing and working with art. "It relieves a lot of stress," he explains.
"Whether you are good at it or not, you can express yourself with art," Keiser said, noting that it is important not to let people get you down about your artwork. "Everybody has their own opinions," he said.
Dassow agreed. "It is the emotion you put behind the art, not the skill you put into it," Dassow said, noting that a piece put together with a lot of emotion can carry a lot more meaning than a piece with more precise technique.
Keiser said he had all the old sketchbooks he drew in as a little kid. "It puts a smile on your face when you look at what you used to do and what you can do now," he said.
"I was looking at sketch books from middle school and I thought I was so good back then," Dassow said, noting that his skill level has increased a lot since then.
Both Keiser and Dassow said they were happy to have had the chance to take art classes in high school and having the experience of trying different media. Keiser said it is important in art to keep experimenting and trying new things. They said having more and updated resources in the art program would be helpful to develop artists in the future. However they recognized there was only so many resources to go around. "We make it work," Keiser said.
The 2021 Marawood Conference art show features artwork from 9 high schools; Assumption, Edgar, Marathon, Stratford, Prentice, Athens, Rib Lake, Phillips, and Abbotsford. The show is also available to view virtually online at https://www.facebook.com/ cvawausau.