Posted on
End of an era as Russ Gowey signs off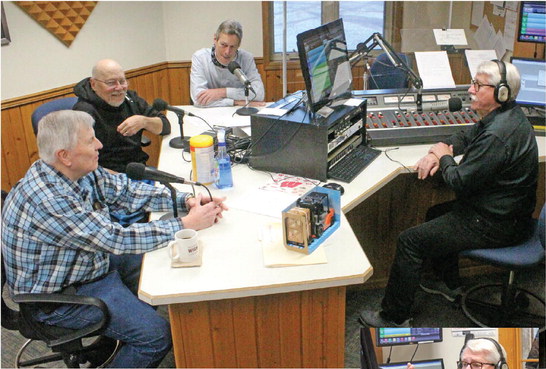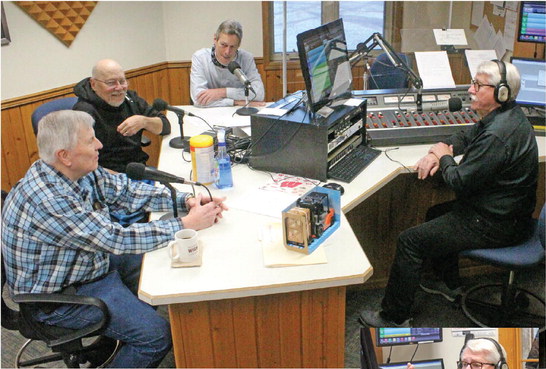 Longtime morning host at K99/WIGM retires after 50 years on the air
For more than 50 years people in the Medford area have been waking up to Russ Gowey wishing them a good morning.
of working full-time at the radio station and a few years of part-time work before that, he was ready to call it quits.
"I am done. I just don't want to do this anymore," he said, noting that he has loved working with all the people he has come into contact with over the years.
During his last week in the studio, Gowey was joined by former longtime radio station coworkers Denny Gebert and Duey Frey. The trio, along with
Last month, Gowey, the longtime morning radio host at K99/WIGM Radio in Medford, made the decision to retire and signed off for the last time on Friday, February 26.
"It was time," Gowey said. He explained that he woke up one morning and decided he just didn't want to do it anymore and wanted to do other things. That day, he came into the office and put in his notice that after five decades
After five decades of wishing the Medford area a good morning on K99/WIGM Radio, longtime radio host Russ Gowey (right) decided to retire. During his last week on the air he was joined by fellow long-time local radio personalities Duey Frey (l. to r.) Denny Gebert and station owner Brad Dahlvig to share stories about working at the station and the changes that have taken place over that time. Gowey says his goals in retirement are to sleep in and spend more time with his grandchildren.
BRIAN WILSON/THE STAR NEWS station owner Brad Dahlvig, reminisced about the decades of playing music, working with advertisers and interviewing guests.
K99/WIGM is celebrating its 80th anniversary this year. With his decades of service, Gowey has served the station and the community for the majority of that time. Together with Gebert and Frey, they have well over 100 years of broadcasting experience between them. Gowey explained his typical day would begin at 4 a.m. as he would drive out to the intersection of Stetson Ave. and Hwy 13 south of Stetsonville. Often over the years he would be coming to work before the snow had been cleared from the road and have to fight through a snowbank to just get on the highway.
"I really don't want to get up at four in the morning any more," Gowey said, noting that his wife, Judy, has urged him to sleep in. Gowey said while he plans on still doing some part-time work, he is looking forward to spending more time with his grandkids. Gowey's two children both live nearby and he has seven grandchildren.
In broadcasting, as with other media, the normal progression of a career is to start in a small market and move to a larger one. Gowey bucked that trend choosing to build his career and his family in the community that he loved. He said he had options to move on to other places but chose to stay in Taylor County seeing it as a good place to raise a family.
"I didn't want to live in a big city," Gowey said. "The best decision I ever made was to raise our kids in this community."
Gowey said he owes much to his wife Judy who has stood by him throughout their marriage. Gowey explained that he proposed to Judy, after signing off the air following a midnight mass on Christmas Eve, but that she had stolen his heart years before when they had started going out before entering high school.
As a young couple, they purchased a mobile home and lived in Mink Capital Terrace in Medford for several years. He remembered as a young man recording a commercial and thinking, "There is 10 cents to pay off the mobile home."
When he started at the radio station working parttime he made $1.75 per hour. When he moved to full time he went to salary at $100 a week and after completing schooling at Brown Institute in Minneapolis, he went to $110 a week. Over the years, he would take on outside jobs to help support his family while doing what he loved being on air and greeting the people in the community.
In radio, timing is everything. Everything needed to be counted back from the top of the hour when the station would play the ABC News update. For many years earlier in his career, the national transmission would be transmitted from station to station across the country.
In modern studios, the stacks of records that would have been common in Gowey's early days, have been replaced by computer monitors and automation. However, in those early days there was no automation and it took talented human hands running the board to sign on and off the air and to rip off the pages from the neverending teletype machine and search through dozens of feet of printouts for the news and updates people needed to hear that day.
While Gowey can still count down the minutes and seconds to the top of the hour, and rattle off the best tracks to play when the disc jockey needs a bathroom break, he is looking forward to relaxing and enjoying his well-earned retirement and a chance to sleep in.