Posted on
Medford school barn gives FFA members hands on farming experience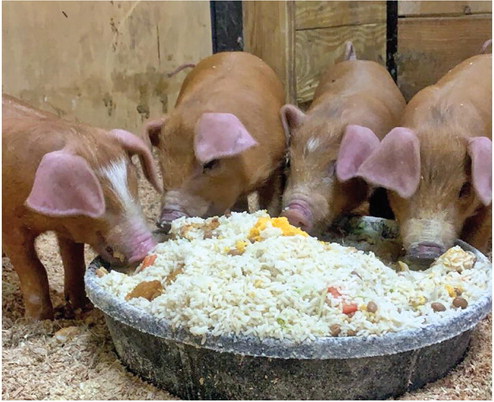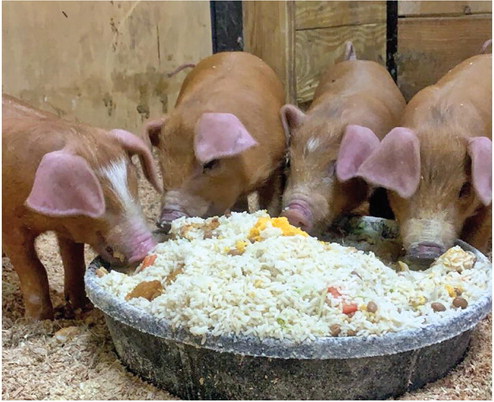 The MASH Barn has been enjoying the unique start to the school year.
There are lots of educational and life concepts that happen here at the school barn every day. The Medford Agriculture teachers are Lisa Kopp and Casey Anderson and they both teach elective courses 8th-12th grades.
Why are agriculture electives so important?
According to the 2020 Farm Journal and Wisconsin Dairy Herd Management, "As of Jan. 1, 2020, Wisconsin had 7,292 licensed dairy farms. On Jan. 1, 2019, the number stood at 8,110. In the last decade, the state lost 5,637 dairy farms, a decrease of 44%."
Seeing these statistics, it is growing more imperative to teach youth the important agriculture concepts as these concepts are not being taught at home on farms anymore. Kopp has first hand taught students how to clean an animal pen, push a broom, how to use a wheelbarrow, how to milk a goat, and how to lead a heifer.
Kopp is a key component of educating the future of agriculture right here in Medford's community. Her day starts with her Ag8 students coming to the MASH Barn, they bucket feed two 2-month old holstein/angus bull calves and then turn them and the neighbor pigs outside. Next, students grain and turn out two milking shorthorn steers and one Hereford heifer. Students are excited to feed and water egg-laying chickens while checking for eggs and documenting collection amounts.
See SCHOOL BARN page 8 As the day continues students feed the four hogs school cafeteria lunch waste (totaling over 250 pounds for September 5 to November 5). Kopp explains that this is kitchen waste such as food that is leftover after meals are served and that cannot be reused. She noted this waste would have ended up being thrown away and going to a landfill and instead is providing feed for the animals.
Students in the production animal science class fill up feeders, waters (checking for frozen waters), clean pens, apply lime to prevent slipping and smells, and last but most important-halter or handle the animals for a wellness check).
In an average week students recorded vitals on the farm cat, calves, and steers. The cat was de-wormed. Market animals (pigs and steers) were weighed and daily rate of gain was calculated. Feed inventory took place and students loaded and unloaded feed for the consecutive week. Another class, Exploring AgriScience helped tear out summer crops in preparation for winter months. Some of these students checked fuel and oil levels before using the tiller. The Agriculture Mechanics class has been working hard restoring a donated Farmall M tractor. Students lately had to troubleshoot an oil leak, change seals and gaskets and as soon as that dilemma was fixed now have to fix a broken part off one brake cover.
This fall, more than 120 area third graders from Stetsonville, Medford Area Elementary School, Holy Rosary Catholic School and Immanuel Lutheran School visited the school barn to have a Mini FFA Food for America Event. The annual event is normally held at the Schmeiser's Farm in the town of Molitor. Due to COVID-19 concerns this year, the large gathering of students had to be modified. Having the school barn allowed the event to continue with small groups coming through at a time.
On the weekend classroom students and FFA members take turns doing weekend chores two times daily. Kopp said the FFA members have really stepped up in making sure the chores get done especially while she was out with COVID-19 and during the Christmas break. She said FFA members are going above and beyond in making sure the animals are well cared for.
Last fall, FFA members held their annual Fruit and Nut sale which Kopp said went well with the products delivered to the school barn and distributed from there.
In addition to the barn being an educational resource for the agriculture classes, the addition of live feed cameras have helped improve agriculture awareness and education throughout the community.
There are three live feed cameras on the property that are linked to the MASH School Website as "BarnCam." If you'd like to see students engaging with the animals, or just simply watch the animals these cameras are posted publicly for you to view. People can also follow the MASH Barn on the Facebook group "Bringing the Barn to School" or on Instagram by following "medfordwiffa_ag."
Kopp said that recently there have been many people following the growth of the piglets born at the barn. They are watching the pigs grow and develop. She said she is getting comments not just from students, but from members of the community.
She said the cameras allow people to see the reality of animal agriculture first-hand as the animals will be raised and then eventually processed for meat.
In addition to the pigs, the FFA and agriculture program is also keeping busy in supplying eggs to the family and consumer sciences classes for use in cooking lessons. Kopp noted that the farm fresh eggs are always in high demand in that classroom versus the commercially produced eggs.
Kopp and Anderson said they are very lucky and blessed to have such a wonderful community to support the Medford Agriculture Education Program & Medford FFA.