Posted on
Expanded specialty clinic at Aspirus Medford now open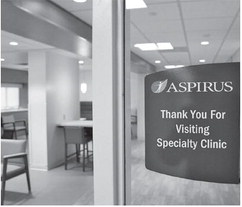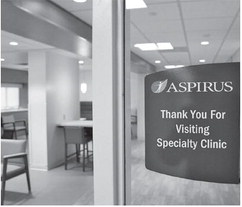 The newly remodeled and expanded specialty clinic at Aspirus Medford is now open.
The expansion and relocation of the clinic provides an additional 10 exam rooms and an enhanced patient experience, including:
• New check-in areas, waiting areas, and exam rooms
• Relocated and expanded spaces for allergy, audiology, ENT, nephrology, endocrinology, cardiology, pulmonary, urology and Surgical Associates
• Increased imaging services
• New exam space for plastic surgery Tamara Satterthwaite, Director, Aspirus Clinics, is excited this remodel allows plastic surgery services to be provided in Medford. "Previously patients had to travel to Wausau to seek specialty care in plastic surgery. Now we have a space for our expert physicians to care for patients locally," she says.
This new space is located just down the hall from its previous location. "The original location has been transformed into an oncology clinic," said Satterthwaite. "Our oncology clinic continues to offer a full range of advanced diagnostic and treatment technologies."
Satterthwaite adds that the floor plan of the new location increases efficiency for providers and staff. "This contemporary space includes more offices for visiting physicians to work from. We have more specialty care available now than ever before to focus on our patients' health needs."
The oncology and specialty clinic are located within Aspirus Medford at 135 S. Gibson Street. Call 715-748-2121 or visit aspirus.org for more information.