Posted on
Book shares the stories of the town of Greenwood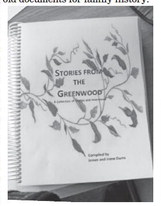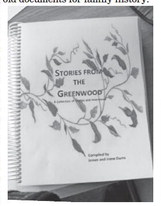 "It is not my book, it is their book, their stories," said Irene Dums, 81, about her recently completed local history book "Stories From The Greenwood."
The 500-page book includes a collection of stories and interviews with current and past residents of the Town of Greenwood as well as diving into the genealogy of the families in the community.
"In Greenwood we don't have a family tree, we have a vine," Dums said of the interconnections between the families there. The book has been a four-decade-long labor of love for Dums and her late husband James who passed away in 2007. The book is dedicated to his memory.
The dedication reads: "Dedicated to the memory of my husband, James. He is the inspiration for this work and without him it would not have been written. He put in many long hours with me at libraries studying old newspapers and at courthouses copying old documents for family history. He drove me all over the country visiting cemeteries. In his quest for more information he was the one brave enough to knock on strange doors of long lost relatives who immediately became close friends. Along with the information came many narratives, these are their stories."
Dums, whose maiden name is Thums, has lived in Greenwood for her entire life. "I am still here, a lot of my friends aren't around anymore," she said. The book had its beginnings back in 1981. The Dums' farm celebrated its centennial in 1983 and Irene and James wanted to get family history together. "It just mushroomed after that," Dums said.
Following up on the genealogy and stories became the couple's hobby. "We spent a lot of time in The Star News office doing research on microfilm," she said of the preliminary work begun in 1981. She commented that they would be out driving and see a cemetery and stop to check out names and dates and get information to fill in the gaps of their ever-growing story. They traced families' lines back to Germany and to places like Brazil. The stories trace the Thums family including the Dums, Haider, Gebauer, Seidel and Probst families, among others.
She spent time contacting family members discovering long-lost relatives along the way who also contributed to the project with stories and pictures. It was one of those relatives who became a friend who helped bring the book to its final form.
Sr. Mary Cassilda Obowa of Rice, Minn. who worked with Dums to get their research typed and put in a format to be printed. Dums said the plan had been to visit over the summer and work through the book to prepare it to be printed. With COVID-19, plans for in-person visits fell through and instead they worked over phone calls and sending packages of corrections and revisions back and forth.
"What else are you going to do when sitting home alone during this COVID thing," she said, of the many hours spent getting the book ready.
"I never would have thought our little scribblings and research would ever look like this fancy book," Dums said.
Dums is now in the process of determining how many of the hardbound books to have printed. She is working with Smith Printing of Ramsey, Minn. to have the books printed. Those interested in placing an advance order for the book may contact Irene Dums at 715-427-3488 or write her at W4182 Brehm Ave., Rib Lake, WI 54470.